Atlas of Canada created by Indigenous people coming soon
Teachers, students and families across Canada will now have access to a map of the country that doesn't include its modern boundaries.
There are no provinces, territories or capital cities on the Indigenous Peoples Atlas of Canada. Instead, it has information about land claim agreements, treaty areas, traditional lands, Indigenous languages and forced population movements of Canada's Indigenous peoples.
"It's so completely different from anything we've ever seen," said Charlene Bearhead, an Indigenous education advocate who worked on the project.
Although it's produced by the Royal Canadian Geographical Society, more than 100 Indigenous storytellers, knowledge keepers and writers contributed to creation of the atlas, said Bearhead. She said all decisions for the atlas were made by Indigenous peoples.
The four-volume atlas is not only a map; it's an encyclopedia about the various Indigenous groups of Canada — from First Nations to Inuit.
"And then there's a giant floor map which is the size of a gymnasium," said Bearhead.
The map is accompanied by a guide that's more than a hundred pages, and there are 17 lesson plans that go with it.
"This is so unique. There's not a political boundary on it," said Bearhead.
'She started to cry'
"I hope that the youth will feel proud of their people, of where they come from," said Karen Wright-Fraser, a Gwich'in contributor to the project. "We don't have too much of that."
Now they're going to see themselves. And they're going to feel like we matter.
Karen Wright-Fraser, Gwich'in contributor
She recalled a special moment when an Indigenous educator shared an emotional testimony in a sharing circle.
"She started to cry. And she said the youth that she works with in the school have never seen their name on a map," said Wright-Fraser. "Now they're going to see themselves. And they're going to feel like we matter."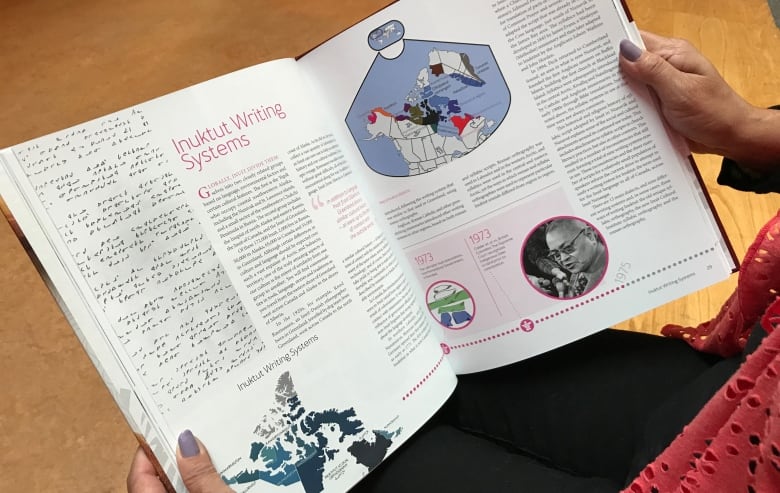 Wright-Fraser pointed out the blurb that starts each of the volumes.
"'Indigenous perspectives much older than the nation itself,'" said Wright-Fraser, reading from the page. "I love it."
The project was produced in partnership with organizations like Inuit Tapiriit Kanatami, the Assembly of First Nations, the Métis National Council, the National Centre for Truth and Reconciliation, and Indspire.
The atlas isn't available in stores until Sept. 20, but people are flocking to pre-order it.
Bearhead said she believes every school district in the country should have at least one of these kits.
With files from Rachel Zelniker, Lawrence Nayally
Related stories from around the North:
Canada: 10,000 pages of Indigenous language material published online in Northwestern Canada, CBC News
Finland: Budget cuts threaten international Sámi language cooperation, YLE News
Norway: Arctic Indigenous food culture takes the day at international cookbook awards, Eye on the Arctic
Sweden: Film exploring racism against Sami wins big at Swedish film awards, Radio Sweden
United States: Alaskan Inuit dialect added to Facebook's Translate app, CBC News