Canada's inquiry into violence against Indigenous women focuses on resilience to end hearings in Arctic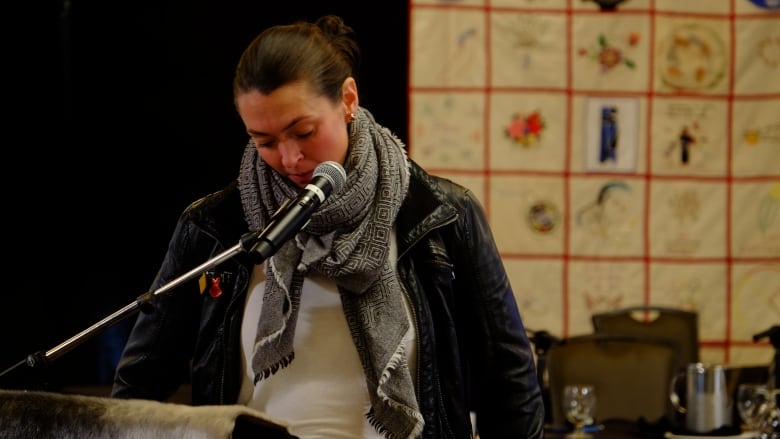 A passionate speech from one of the commissioners of Canada's national inquiry into missing and murdered Indigenous women and girls, challenging non-Indigenous people to make space for Indigenous voices, closed a four-day hearing in Iqaluit, Nunavut (east-Arctic) on Thursday afternoon.
Surrounded by elders and fellow commissioners, Qajaq Robinson — who is from Nunavut — gave her remarks during the closing ceremony of the hearing, which was centred on the topic of colonial violence.
"What I have learnt this week, that I think that is of most significance, is for those state actors, governments, whoever they were that came, came with the belief that they had the authority," Robinson said. "That they had the right to take it. A belief that was rooted in supremacy.
"But we've also heard about the resilience. And we've heard what we've always known: Indigenous people have the answers, and continue to have those answers."
Robinson challenged those in power to "vacate space that's not yours."
"There is no longer any reason for us to justify our existence as Indigenous people," she said. "Time's up."
"We know where the problem is and it's not with Indigenous people. It's with those in the halls of power who are not vacating the space."
The remarks came near the end of a closing ceremony featuring numerous examples of Inuit culture, including a traditional drum dance and a pair of young throat singers, ending four days of hearings that were often emotional for those in attendance.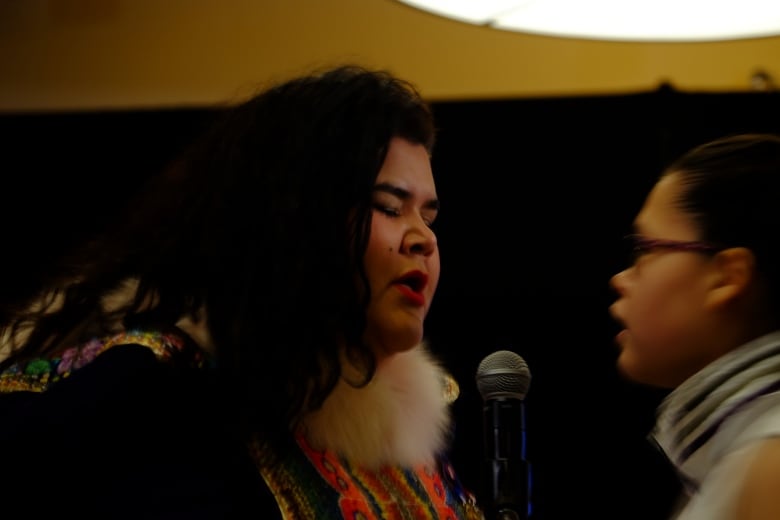 Impact of 'man camps' discussed by panel
The final day of the hearing featured cross-examination of a panel focused on decolonization and a gendered Indigenous perspective, following testimony on Wednesday from Jasmine Redfern, TJ Lightfoot, and Jared McNeil-Seymour.
One of the topics brought up was the impact of "man camps," a name given to communities of transient workers — mostly male — with the resource industry that often move in near remote communities to staff mining operations.
On Wednesday, the commission heard that these camps often result in increased rates of physical and sexual violence for Indigenous women, as well as social problems like higher alcoholism rates.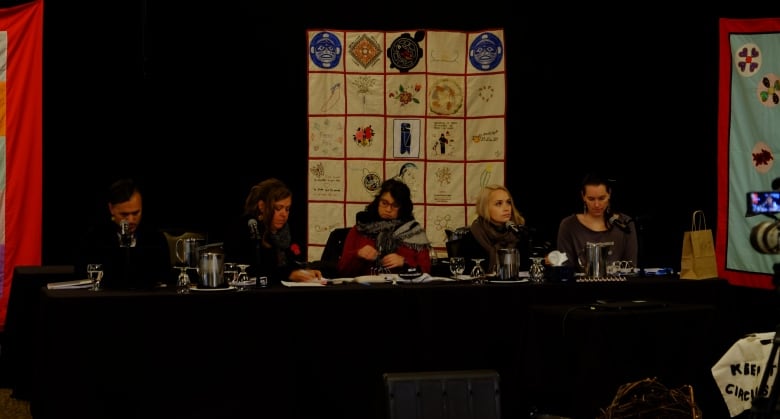 Without going into specifics, Lightfoot explained that there are articles and studies that mention Indigenous women and children being abducted and found in these camps, and missing people being last seen near them.
"This concentration of people influxing around vulnerable communities … brings those consequences."
Lightfoot also touched on man caps during testimony on the difficulty of Indigenous women and LGBTQ people obtaining justice for sexual assault, saying that if they've been transported to one of these camps, "it's very hard to get back to report."
"Settlement naturally occurred by having the land be something to be conquered, something to be won," added McNeil-Seymour. "And I don't think that Canadian culture has not necessarily looked at women in that particular way, too."
During her questioning, Robinson noted that the makeup of these camps has historically been seen in other institutions, such as clergy, RCMP, and other industries.
"You see this transient, gender-imbalanced dynamic with segregation and gender isolation in a number of areas, not just the extraction industry," she said, as the panellists nodded in agreement.
"Is this something we need to watch for, in every industry?"
"Yes," Lightfoot said.
In her closing remarks, chief commissioner Marion Buller commented on the fact that many difficult truths are being uncovered during the inquiry.
It will now head to Quebec City (eastern Canada) next week to begin another four-day hearing, this time centred on the impacts of police.
"I realized, for the first time, that the national inquiry is one big story," Buller said. "We hope to tell, in the end, the greatest story based on truth that we can. One that will change the world for the better."
Related stories from around the North:
Canada: Indigenous LGBTQ issues discussed at inquiry into violence against Indigenous women, in Northern Canada, CBC News
Finland: Sámi school preserves reindeer herders' heritage with help of internet, Cryopolitics Blog
Norway: Injustices against Sámi, Kven peoples to be examined by commission in Norway, The Independent Barents Observer
Sweden: Film exploring racism against Sami wins big at Swedish film awards, Radio Sweden
United States: Survey finds violence against women widespread in Western Alaska region, Alaska Dispatch News