Workers in southcentral Alaska fixing damaged roads and utilities after powerful earthquake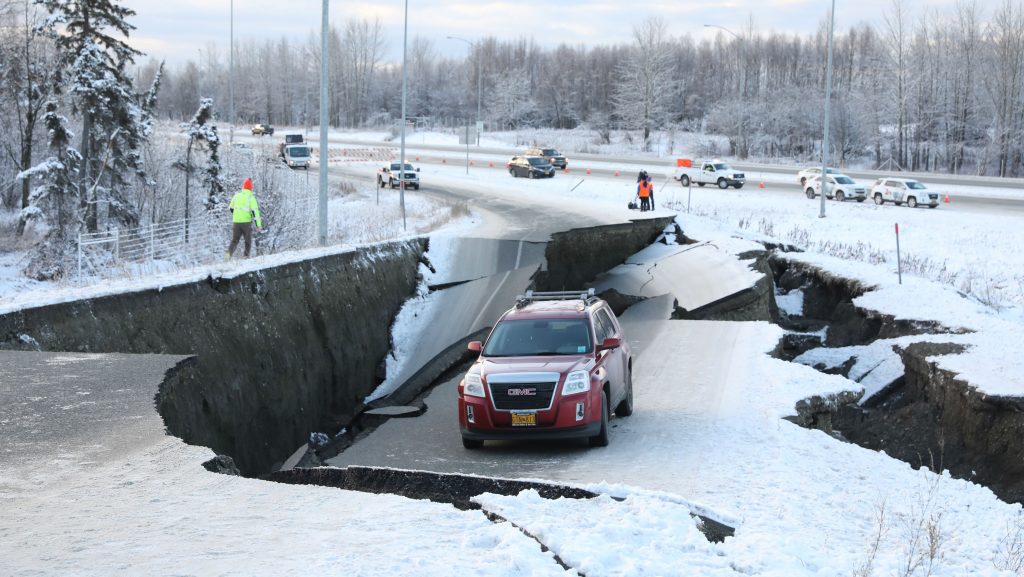 Officials in Anchorage, southcentral Alaska say the response to Friday's earthquake is shifting from an assessment phase to repairing damage. That task was expected to get more complicated with winter weather headed towards the area. Though high winds and rain pummeled Anchorage Saturday night, snow was in the forecast late Sunday.
Throughout Sunday, officials with different local and state entities briefed the public on where things stood two days after what some are now calling the "Point McKenzie Earthquake."
The Anchorage School District has canceled all classes for the week as it continues inspecting buildings, with schools set to re-open next Monday December 10th.
City Manager Bill Falsey told reporters that at this point, service to just about all utility customers has been restored.
"The general story on the electric side is that the event has largely been passed," Falsey said at the Emergency Operation Center Sunday. "The earthquake and wind events, we have dealt with them on the utility side, the electric side. I think that portion of the story is largely resolved."
Enstar, the local gas utility, is working its way through several hundred backlogged reports of residential damage.
The precautionary boil water advisory has ended, as testing has shown no evidence of any bacterial contamination in the water supply from damaged pipes.
"The bottom line is that everything is working, we expect it to remain working, the water from your tap is safe for all uses," Falsey said.
Damaged highway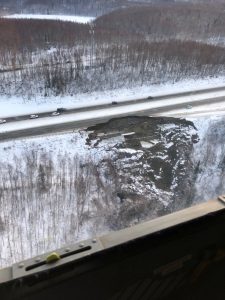 The most significant remaining problem is the highway heading north of Anchorage, connecting Eagle River and the Matanuska-Susitna Borough.
"The Glenn Highway is going be a continuing challenge as we step into the additional phases of this response. If you don't need to be on the Glenn Highway, you probably should avoid the area," Falsey said.
State offices are closed Monday in Anchorage, Eagle River, Wasilla, and Palmer. Some services at Joint Base Elmendorf-Richardson are suspended, and both military and civilian staff were being asked to check with their leadership about reporting for work Monday.
Many city offices are open to the public in a limited capacity. But most municipal employees were being asked to come to work, with the exception of residents living north of the Anchorage Bowl who would have to commute down the Glenn Highway. They are being asked to stay in place and work from home if possible.
"It's not going be a normal municipal Monday," Falsey said.
Snow could impede work
The Department of Transportation is hoping to have some of the most damaged sections of the Glenn resolved by Wednesday, but officials with the state stressed that could easily be hampered by the three to six inches of snow that was forecast for Sunday night into Monday morning. Speed limits will stay at reduced levels along the roadway.
The Seward Highway is open, but officials are asking people to stay off of it, as impending weather could cause rock-falls along the road.
Plowing and snow removal is expected to take place as usual in Anchorage.
At the Port of Alaska, ships are arriving regularly, meaning there is a typical supply of food and fuel available in the city.
Civil emergency
On Sunday morning, the Anchorage Assembly voted unanimously to extend the mayor's declaration of a civil emergency through Tuesday night. The move gives the city more flexibility with spending and staffing. It's not clear yet what the earthquake response means for the city's budget, however officials expect that federal funds will be released through the Stafford Act to recoup expenses. Already, $5 million have been passed through the Federal Highway Administration to help with repairs according to Transportation Commissioner Marc Luiken.
Though Saturday still saw serious aftershocks, the tremors had mostly subsided by Sunday. Anchorage Fire Department Chief Jodie Hettrick is advising residents to put some of their attention towards mental health.
"Now that the aftershocks have slowed down a little bit, people hopefully can sleep a little bit better and start reducing our stress and our worry about something else occurring," Hettrick said. "Now is the time really to focus on some self care."
The city has a list of health resources available on its website. It includes practical recommendations like sticking to routines, focusing on small, simple tasks, and maintaining social connections.
City, police, fire, and transportation officials all stress: with winter weather coming, and repairs still going on, don't use the roads unless you absolutely have to.
Related stories from around the the North:
Canada: Canadian military trains to respond to Arctic earthquake, Radio Canada International
Greenland: Greenland earthquake and tsunami – hazards of melting ice?, Blog by Deutsche Welle's Iceblogger
Sweden: Mining company LKAB won't pay for earthquake damage to homes in Arctic Sweden, Radio Sweden
United States: Gulf of Alaska quake prompts alerts, evacuations and review of response, Alaska Public Media