Vegan ham flying off Finnish shelves for Christmas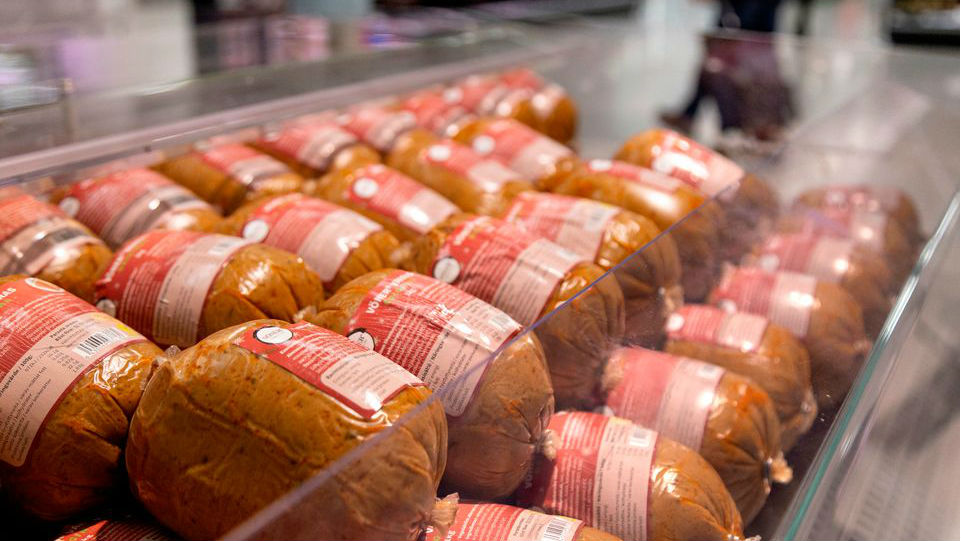 Wheat gluten, also known as seitan, is gaining ground in Finnish supermarkets alongside more traditional Christmas fare such as pork and turkey.
More domestic producers of meatless ham have appeared in recent years, leading to a broader range of vegan and vegetarian options for consumer. For instance, this year Prisma supermarkets will carry seitan Christmas ham substitutes for the first time.
"We got a domestic brand this holiday season, so we wanted to make sure it was visible and market it as a viable option for all consumers," said product manager Juha Nieminen for S Group, the cooperative retailer which owns Prisma.
Nieminen said it is difficult to gauge exactly how much the demand for wheat gluten products has grown, as seitan has never been so widely available.
"It's safe to talk about a breakthrough, since sales of these products are booming across the country," Nieminen said.
In competitor K Group's shops the availability of seitan is patchier. Sales chief Kirsi Pennanen said she does not think that vegan hams will be a holiday hit, even though vendors in Helsinki's K Supermarkets say demand for the one-kilo meatless hams has exploded.
"We were surprised by how popular seitan products have been, especially compared to previous years," Helsinki vendor Ilari Tikkala said.
Producers busy
Workers at vegan food producer Vöner have their work cut out for them this Christmas. The company's holiday rotisseries have been selling well, and Vöner has produced four full batches more of them than it originally intended.
"Retailers say our vegan rotisseries typically vanish from the shelves less than an hour after delivery," Vöner co-founder and CEO Siva Parlar said.
The company announced that shops have sold more than 10,000 units of their vegan Christmas rotisserie across Finland this year.
Demand for wheat gluten products is highest in the capital region and other large cities across Finland, Parlar said.
"We were surprised by [the northern city of] Oulu, though. They ordered a huge batch. At first we wondered if they had over-ordered, but just a few days later they called us up to restock!"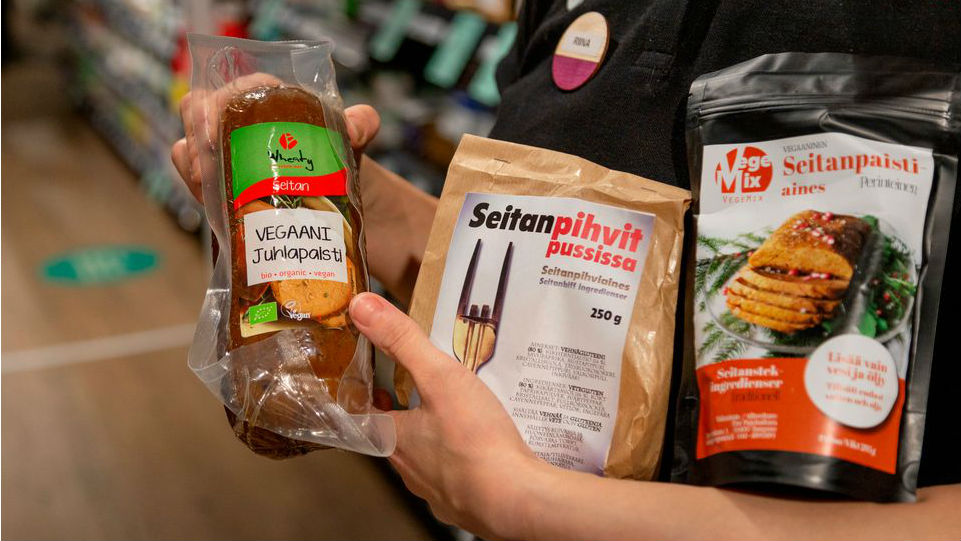 DIY seitan packs major seasonal seller
Specialist stores such as organic and health food chain Ruohonjuuri have long provided customers with meatless ham options. It is clear that vegetarian eaters now much prefer seitan ham over the earlier tofu product lines, with the latter widely considered to be too drab for Christmas tables.
Marketing chief Johanna Koskinen said that many of Ruohonjuuri's regulars and long-term vegans opt to prepare their seitan hams from scratch by mixing the basic ingredients themselves.
"Gluten flour and chickpea flour sales spike around mid-November, whereas the pre-packaged units with all the ingredients fly off the shelves closer to Christmas Eve," Koskinen said.
Ruohonjuuri sells complete seitan hams as well, but the ingredient packs will likely sell more as they can be bought online.
Producers are also getting more data on seasonal vegan trends. Koskinen said that meatless Easter faux-lamb products have not taken off at all compared to their Christmas offerings.
Santtu Sainio runs a small vegan food company in southern Finland's municipality of Lohja. The entrepreneur, who does his cooking at home in his own kitchen, said consumers appear to be ready for vegan options such as his "Santtu's Seitan."
"I think this is the result of change over time. People are more interested in ethical consumption, and both the quality and quantity of vegan products is constantly improving."
Related stories from around the North:
Canada: Indigenous chef in Canada willing to go to court to serve country food, CBC News
China: Arctic Indigenous food culture takes the day at international cookbook awards, Eye on the Arctic
Finland: Quality key to Finnish food industry's success in Asia, YLE News
Norway: Norway and Russia agree to slash cod quotas in Barents Sea, The Independent Barents Observer
Sweden: Swedes eating less meat than before, Radio Sweden
United States: What Congress's Farm Bill did for fish sticks in Alaska schools, Alaska Public Media