Canada's PM announces new marine conservation area in eastern Arctic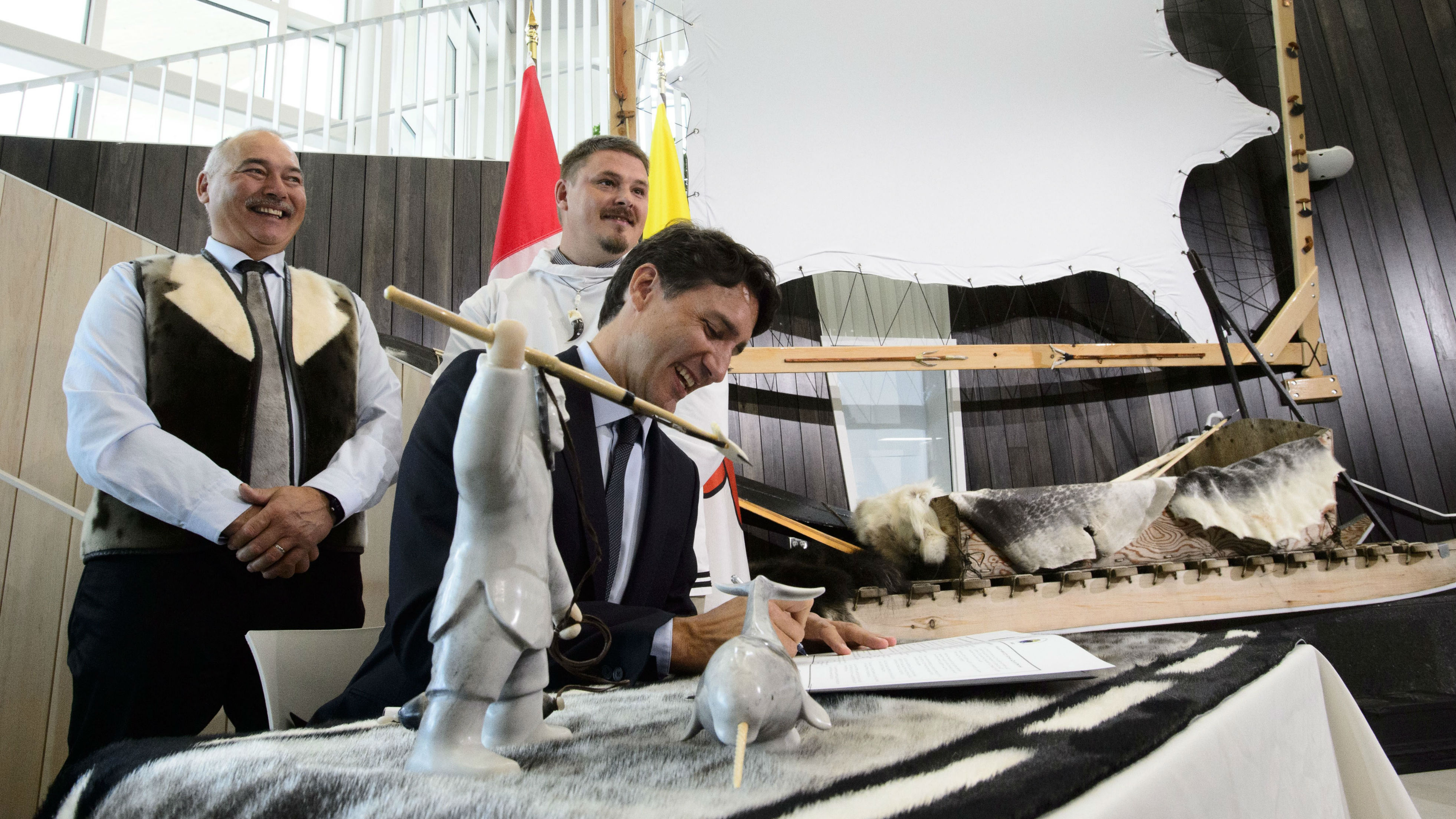 Canada's Prime Minister Justin Trudeau announced plans to create a new protected area off of Nunavut coast, in the Canadian Arctic, which the government says will help it exceed its target of protecting 10 per cent of marine areas by 2020.
Trudeau — along with Nunavut Premier Joe Savikataaq and president of the Qikiqtani Inuit Association P.J. Akeeagok — unveiled plans to create the new Tuvaijuittuq ​​​​​​(meaning "the place where the ice never melts") marine protected area off northern Ellesmere Island Thursday morning during a stop in Iqaluit. He also announced the completion of a national marine conservation area near the hamlet of Arctic Bay.
The order bans new or additional human activities in the area for up to five years, but still allows Inuit people to hunt and fish. There are also exceptions for emergency activities, some scientific research and "certain activities carried out by a foreign national, entity, ship or state."
Trudeau also said the Tallurutiup Imanga national marine conservation area in the northeastern region of Nunavut is now complete, making it Canada's largest.
A statement from the Prime Minister's Office said these areas cover more than 427,000 square kilometres, which is larger than Newfoundland and Labrador.
"There is no question the climate crisis is changing the face of the Arctic as we know it. Populations of belugas, narwhals, walruses, seals, polar bears and thousands of other species who depend on year-round sea ice to survive are now migrating, dwindling, or in some cases, disappearing," said Trudeau.
"For Inuit who have relied on hunting and harvesting to feed their families, climate change imperils their livelihoods and their way of life."
Trudeau takes aim at Scheer
The announcements feed into the Liberal government's messaging on climate policy, destined to be a key issue on the campaign trail this fall. Trudeau used his speech to take a swipe at the Conservative leader and his strategy for the North.
"In July, Andrew Scheer travelled to Whitehorse to outline his vision for the Arctic. Not once did he utter the word Inuit. It tells you a lot about the future he would build if he were prime minister," he said.
Scheer did visit Nunavut in June where he promised to spend millions to build social housing and an addictions treatment centre in the territory, plus a budget increase for Nutrition North, if elected.
It will also give the prime minister something to boast about when he attends a nomination meeting Thursday evening for Megan Pizzo Lyall, a former Iqaluit council member.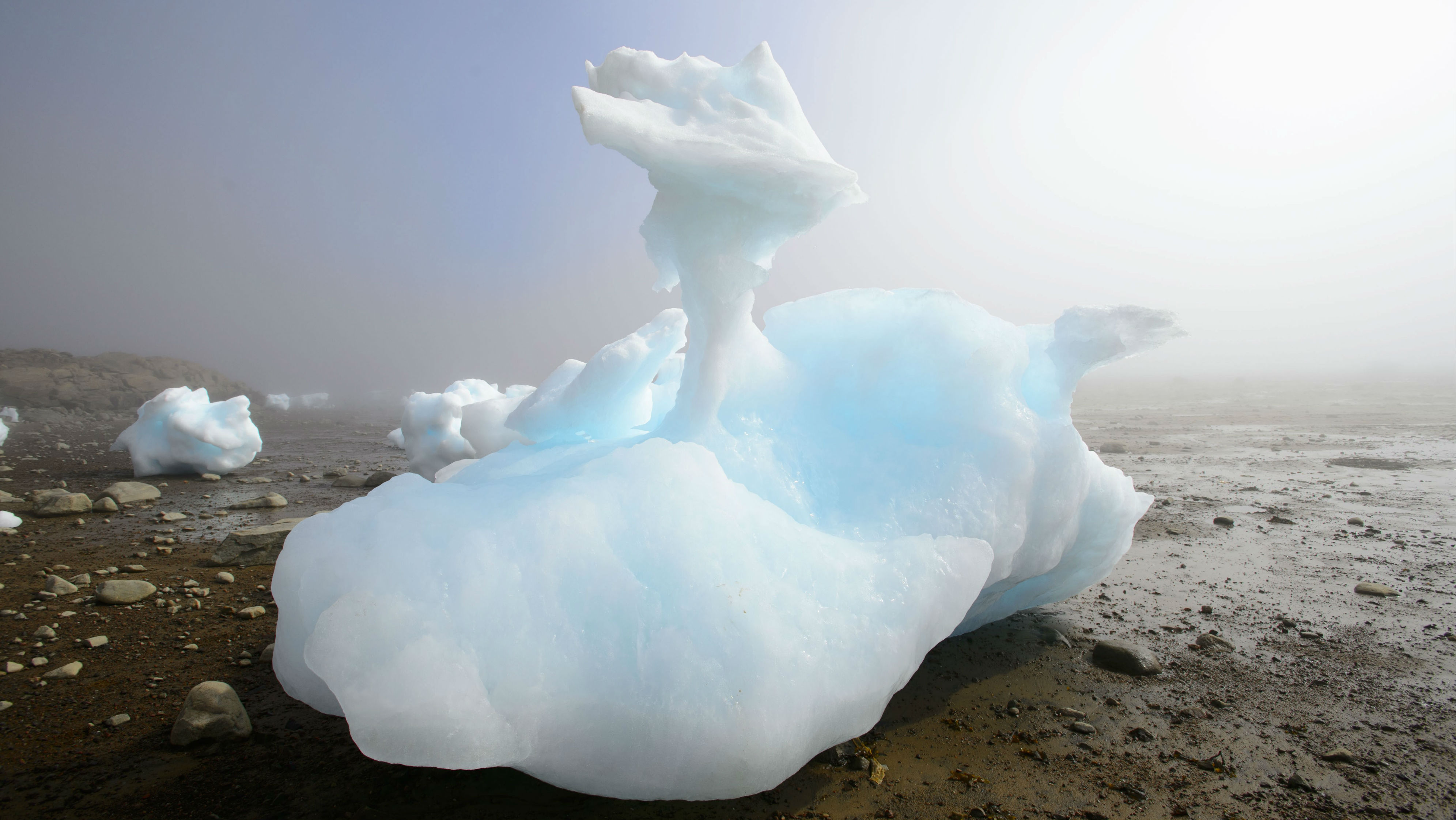 This is the second time Trudeau has visited Nunavut this year, and it's his third visit to the territory during his tenure as prime minister.
In March, he visited Iqaluit to apologize to Inuit for abuses suffered during tuberculosis treatment in the mid-20th century.
With a file from the CBC's Sara Frizzell
Correction
A previous version of this story stated the new marine protected area called Tuvaijuittuq was near Arctic Bay, Nunavut. Tuvaijuittuq is in fact off Ellesmere Island, located farther north, while another conservation area called Tallurutiup Imanga is found off Arctic Bay. This story has been corrected.
Related stories from around the North:
Canada: Inuit and Ottawa reach agreement in principle on marine conservation area in Northwest Passage, Radio Canada International
Finland: Forest protection well below target in Finland, despite UN obligations, Yle News
Greenland: Binding agreement on Arctic fisheries moratorium officially signed by EU and nine countries, Radio Canada International
Norway: Deal protects Arctic waters around Svalbard, Norway from fishing, The Independent Barents Observer
Russia: Russia adds small Arctic island to large national park, The Independent Barents Observer
United States: U.S. bill would give Alaska Native corporations share of ANWR oil revenue, Alaska Public Media