Inuit of northern Quebec are victims of systemic discrimination, concludes public inquiry report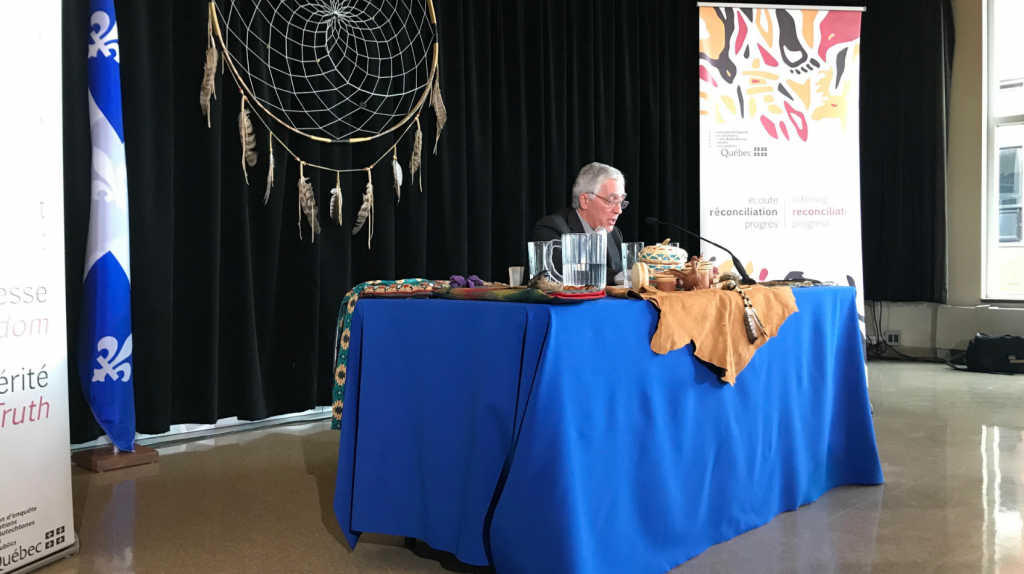 New housing in northern Quebec, support for homeless Inuit in urban areas and improvement of their detention conditions are among the specific recommendations for Inuit that were made public in the final report of the Public Inquiry Commission on relations between Indigenous Peoples and certain public services in Québec.
These recommendations are part of 142 calls to action laid out in retired Superior Court justice Jacques Viens's 520-page report released Monday. According to the commissioner, the province's Indigenous people, which include approximately 14,000 Inuit, are victims of systemic discrimination in their relation with the public services investigated.
"Existing structures and processes show a clear lack of sensitivity to the social, geographical and cultural realities of Indigenous peoples", said Viens in his public presentation of the report in Val-d'Or, the northern mining community where it was released. 
The commission held its hearings mainly in Val-d'Or, but also travelled to Kuujjuaq and Kuujjuarapik in northern Quebec. The team who worked on this document met with all 14 Inuit villages in northern Nunavik, said the commissioner.
Better access to justice
The report highlights the flaws of the travelling courts system, such as the large volume of cases that need to be handled or the fact that some courts only only sit once every three months in some communities and villages.
"As a result, victims are not inclined to press charges," says the report, adding that this also comes with a high turnover rate among the judges assigned to the Itinerant Court (only 116 prosecutors covered the territory of Northern Quebec between 2005 and 2018) and critical issues regarding judicial facilities.
In this context, the commission recommends to "invest in developing premises adequate to the exercise of justice in each of the communities where the Itinerant Court sits, as soon as possible."
READ THE FULL REPORT HERE
It also addresses the problem of pre-trial detention times for Indigenous people, which exceed those permitted by law (eight to ten days, compared to three days legally). This issue is particularly relevant to Indigenous women and Inuit.
This delay is mainly due to transportation issues and that is why the report recommends the implementation "of videoconferences for bail hearings as soon as possible for accused persons in remote areas, particularly in Nunavik."
Detention conditions are also problematic in Nunavik, as explained in a 2016 report by Quebec's ombudsman. This report draws a long list of problems, such as being locked in a cell 24 hours a day, handcuffed for several hours in the hallway or forced to share a cell with others.
The commission reviewed it and now asks the provincial government to "immediately implement all the recommendations set forth by the Québec Ombudsman in its special report on detention conditions, administration of justice and crime prevention in Nunavik".
Better housing conditions
The report also addresses housing issues concerning Inuit in Quebec. One of its recommendations is to "continue the financial investments to build housing in Nunavik, taking families' actual needs into account.".
The case of housing dedicated to homeless Inuit in Montreal is also raised. The city is the most frequented by Nunavik Inuit and a significant portion of this population is homeless.
The Viens commission examined this issue thoroughly and the report concludes that "the situation of Inuit who are homeless requires immediate, exclusive action," such as "creating a space that is specifically administered, run and reserved for Montreal's Inuit population".
As a result, the commission recommends funding "the creation of a shelter specifically reserved for homeless Inuit clientele in Montréal".
Working conditions for Inuit are also highlighted in the report.
For example, in Nunavik, benefits (annual trips, accommodation, moving costs, etc.) granted to external candidates (hired from more than 50 km away) are worth almost four times more in financial terms than those of their Inuit colleagues: $40,171 compared with $10,809 annually.
- Extract from the final report of the Public Inquiry Commission on relations between Indigenous Peoples and certain public services in Québec
Solutions have been proposed to the Ministry of Health and Social Services of Quebec, which has yet to act on them.
So, the Viens commission asks the provincial government to "Follow up as quickly as possible on proposals to improve working conditions from the Nunavik Regional Board of Health and Social Services".
With regard to Indigenous peoples in general, improvements are needed across the spectrum, including in policing, social services, corrections, justice, youth protection and mental-health services, as well as to the school curriculum to properly reflect the history of First Nations and Inuit in the province, says the report.
Jacques Viens also recommends the province's ombudsman be put in charge of ensuring the calls to action are implemented.
This report comes after more than nine months of testimony about the decades of abuse, mistreatment and neglect endured by Indigenous people in Quebec.
The inquiry was launched in December 2016 by the former Liberal government, under pressure to act in the wake of a Radio-Canada investigation into allegations of police misconduct against Indigenous women in Val-d'Or, a city 500 kilometres northwest of Montreal.
Related stories from around the North:
Canada: Death in the Arctic: A community grieves, a father fights for change, Eye on the Arctic special report
Finland: Police in Arctic Finland overstretched, says retiring officer, Yle News
United States: Alaska reckons with missing data on murdered Indigenous women, Alaska Public Media