Estonian president favorable towards Arctic railway project, cautious about future of Arctic shipping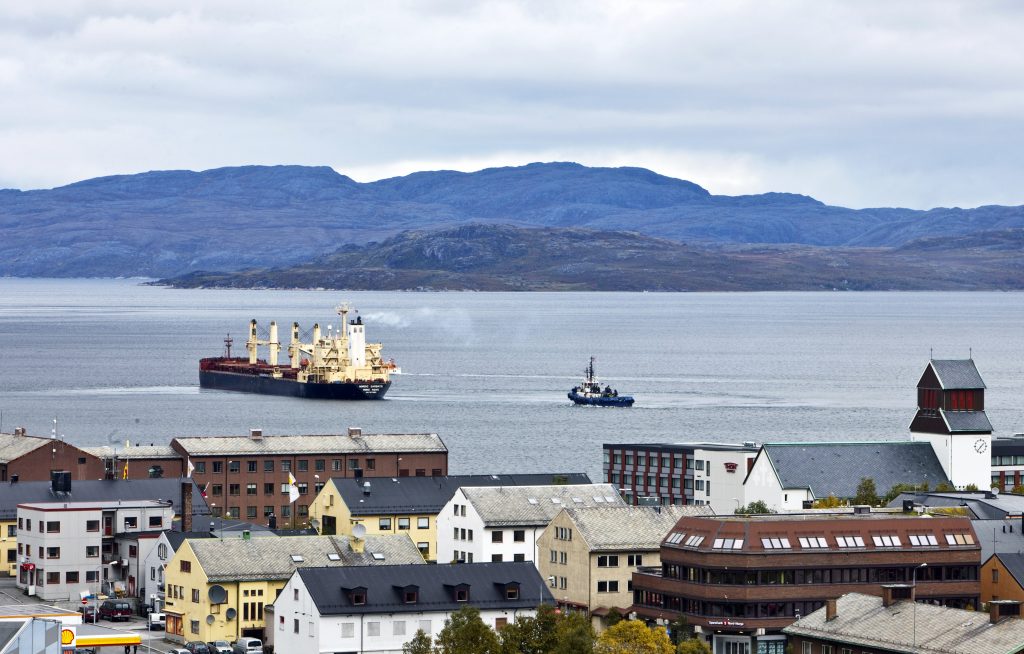 The president of Estonia says the country is favourable to railway projects that would better connect it to the rest of Europe and the Arctic, but expressed caution about the future of Arctic shipping.
"Estonia and Finland are also discussing that maybe sometime in the future, if there is the railway, we could have a tunnel between the two countries,"  Kersti Kaljulaid said.  "We have been quite forward looking on this."
"On the other hand, if I look at what scientists are telling me, then all the sea routes in the Arctic would be, for considerable time, unpredictably accessible. They are opening and closing. The ice is moving, the ice is coming and going. We are not so close to having reliable passage, and I'm not so sure I want to have [it], because after all, we want the Arctic to retain its ice cover as much as possible and we know that, right now, things are looking relatively bad.
"We still see that quite a lot of North-South traffic could be better organized, and in a more climate-friendly way if it is taken away from ships and put on railways before it goes to central Europe. It's also much quicker and the arrivals times become much more predictable."
Arctic mega-project
Kaljulaid's comments were made last week as part of an Arctic Circle conference virtual event on January 14 discussing Estonia's application to become an Arctic Council observer state.
In a Q&A session she was asked for her view on polar mega-projects, such as the proposed Arctic Railway project that would create a transportation corridor from the Arctic Norwegian city of Kirkenes, through Finland and which would then be connected to Estonia through an undersea tunnel between Helsinki and Tallinn.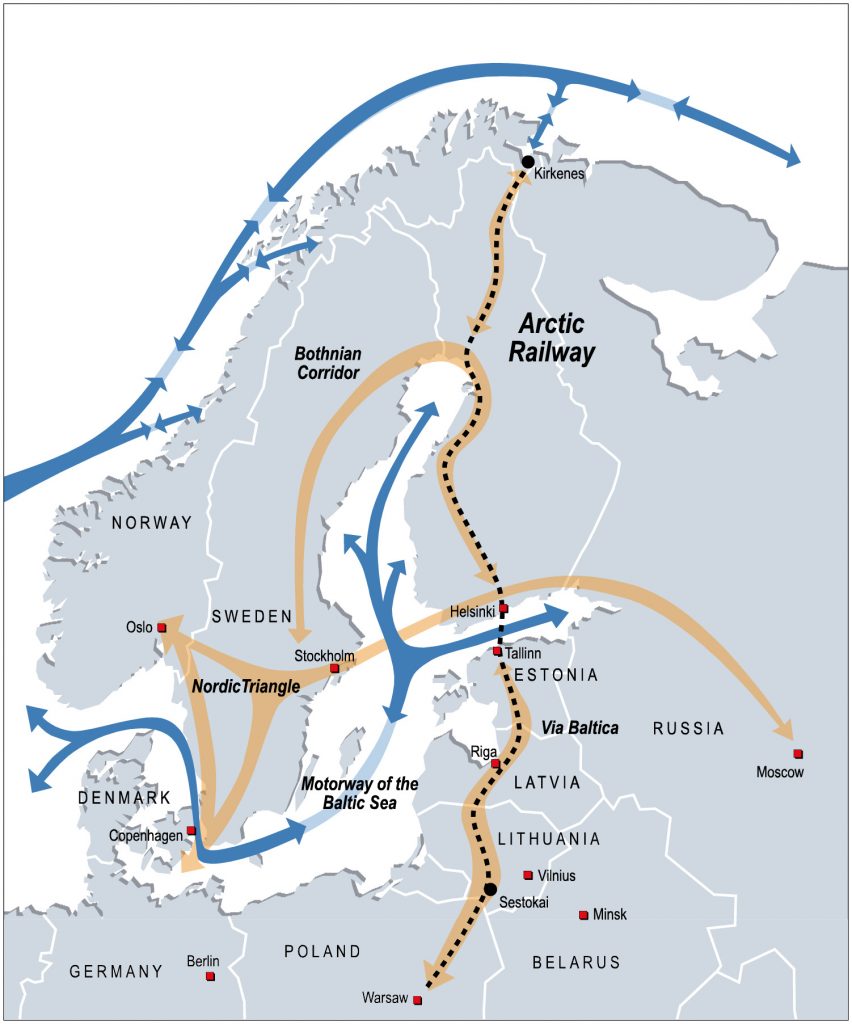 The project is spearheaded by Finest Bay Area Development in Finland, who took up the project after a joint Finnish-Norwegian working group, put together by Finland's Ministry of Transport and Communications to examine the plan, concluded that projected cargo loads couldn't justify project's €3-billion ($4.4 billion CDN) price tag and the exorbitant knock-on costs of updating infrastructure in southern Finland to feed the new route.
In 2019, Finest Bay Area Development signed a memorandum of understanding (MoU) with Sor-Varanger Utvikling, the public, Kirkenes-based business development company for the Arctic Norwegian municipality of Sor-Varanger, to study the feasibility of building an Arctic railway between the city of Rovaniemi, Finland and Kirkenes, Norway.
The project is supported by many in Arctic Norway and Finland who say the project is key to the economic prosperity of their remote regions. But the Indigenous Sami in the two countries say the project would cut through their traditional lands and reindeer grazing areas and devastate their culture and their livelihoods.
Estonia has said it supports the project in principal if it's pursued through the public sector in collaboration with the Finnish government.
Caution over projected Northern Sea Route boom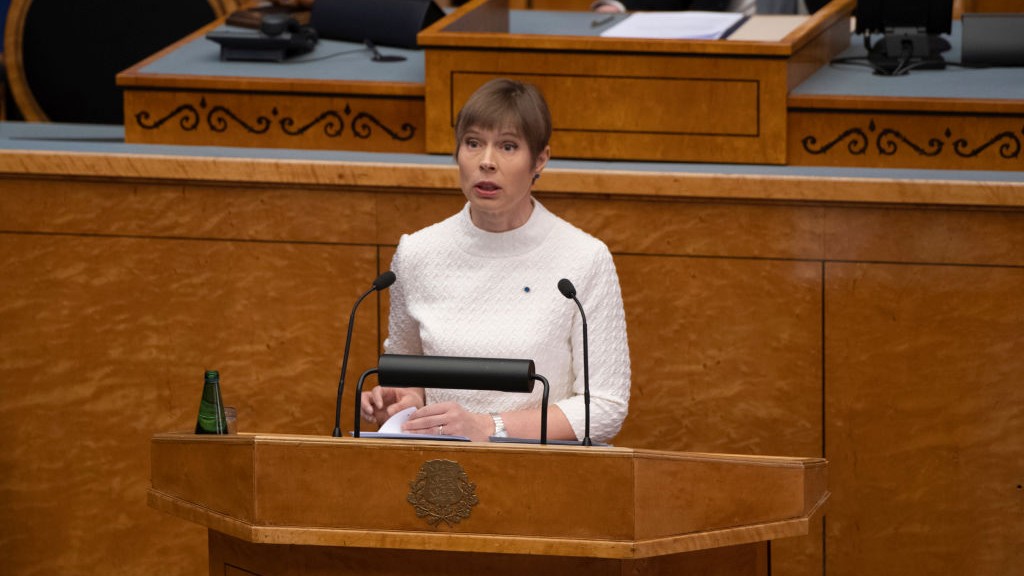 Kaljulaid pushed back against suggestions that the increased shipping traffic in and out of Sabetta, Russia, the location of an Arctic port and LNG plant that has attracted investment from countries like China, was an indication that the Northern Sea Route would yet become a major international transportation route. 
"I know it's developing quite quickly and a lot of investment is made. But we can see these convoys find it difficult to pass the passage and that is the reason that the reliability of the delivery has always been a question," Kaljulaid said.
"And I always feel a little bit uneasy when we are taking advantage of something we are regretting, which is the Arctic melting. And I'm not sure LNG will be part of our energy mix for a very long time. I am an idealist. I believe that all countries can rely on totally renewable sources."
May ministerial
Estonia's application to become an observer state at the Arctic Council will be discussed at forum's next ministerial in May.
Write to Eilís Quinn at eilis.quinn(at)cbc.ca
Related stories from around the North:
Canada: Chinese barges headed for Canadian Northwest Territories on cross-continental delivery mission, CBC News
Finland: The Arctic Railway – Building a future or destroying a culture?, Eye on the Arctic
Norway: Arctic shipments to Asia grow as LNG carriers shuttle to eastern markets, The Independent Barents Observer
Russia: Russian transport minister says Northern Sea Route a step closer to year-round passage, The Independent Barents Observer
United States: Biden signals plans to halt oil activity in Arctic refuge, The Associated Press