COVID-19 cases in Nunavik associated with Kangiqsualujjuaq infection, community put on red alert; 54 cases in region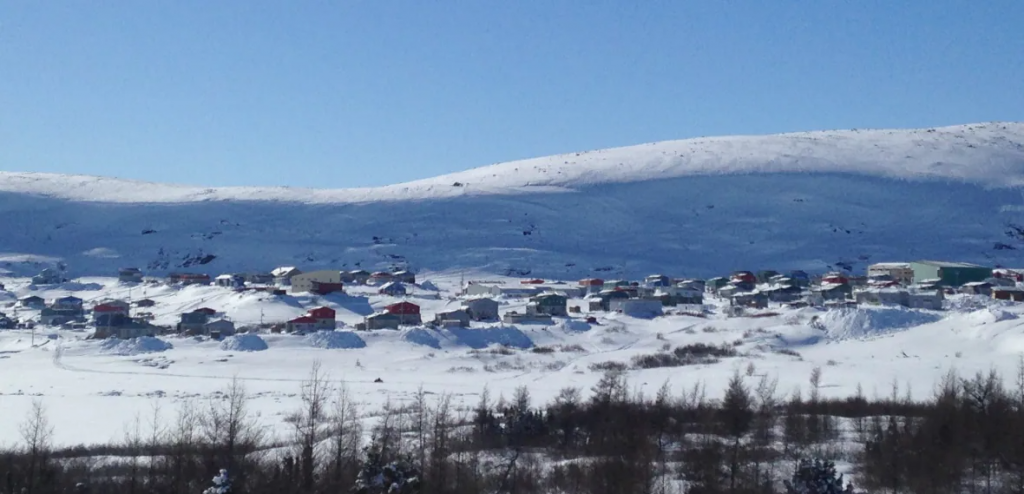 Health investigators in Nunavik, the Inuit region of Arctic Quebec, have traced a slew of recent COVID-19 cases to an infection in the Ungava Bay community of Kangiqsualujjuaq, and have put that community on red alert. 
Red alert means the community is on lockdown until further notice, shutting down all non-essential services, and prohibiting visits between people living in different households.
"There is evidence that there could be community transmission in Kangiqsualujjuaq," the Nunavik Regional Board of Health and Social Services (NRBHSS) said in a Facebook post Friday at 3pm. "Cases found in other communities were associated with an infection in Kangiqsualujjuaq."
The NRBHSS did not elaborate on the nature of the Kangiqsualujjuaq infection which was not included in their most recent public case number data released Friday.
"Even if there are no active cases reported in a community, it does not mean that there is no threat of community transmission," the NRBHSS said. "For this reason, it's important to limit travel to essential travel only."
Reported Nunavik Case Counts as of Friday, October 22
As of Friday at 3:30pm, the most recent community case counts in Nunavik were:
Ivujivik – 16 active cases
Inukjuak – 1 active cases (1 person recovered)
Kangirsuk – 28 active cases
Salluit – 4 active case
Kangiqsujuaq – 1 active case
Kuujjuaq – 4 active cases
There were also nine active cases outside of Nunavik:
4 are linked to airports within the region
5 are at Ullivik, the Dorval residence used for Nunavik residents in Montreal for health services
People are still under observation in Ivujivik, Inukjuak, Kangirsuk, Salluit, Kangiqsujuaq and Kuujjuaq and numbers will be updated as required.
-Source: Nunavik Regional Board of Health and Social Services
 Kuujjjuaq under curfew
Nunavik had had no community transmission of COVID-19 since March 2020, but in recent days has seen outbreaks in several communities.
As of Friday, five communities have been put on red alert: Kuujjuaq, Kangirsuk, Salluit, Ivujivik and Kangiqsualujjuaq.
In addition, the NRBHSS announced Friday, that  Kuujjuaq, the region's main administrative centre, has been put under a 10pm to 7am curfew and that only essential air travel to and from the community is allowed.
Mass screening will also take place in Kangirsuk, a community of 549 people, which now has 28 active total cases, the NRBHSS said.
Only 33 per cent of the total population in the community have been vaccinated according to the most recent figures.
The Nunavik region has low vaccination coverage over all.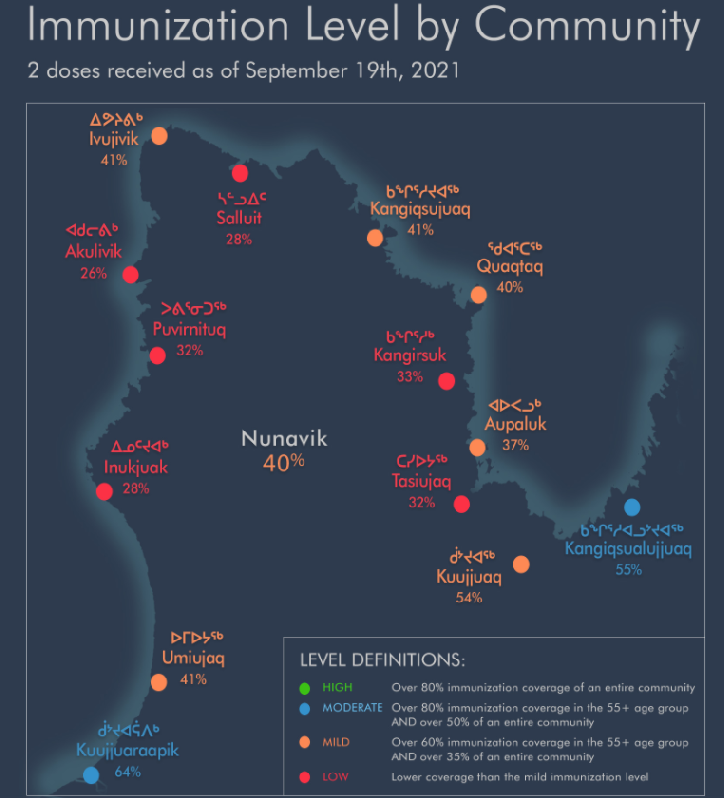 Region-wide, only 40 per cent of Nunavik's total population of approximately 13,000 was fully vaccinated as of September 19th, according to the most recent data released September 29.
Fifty-two percent of the eligible population has received two doses.
All communities not on red alert have been put under orange alert, the second highest COVID-19 alert level in the region. 
Write to Eilís Quinn at eilis.quinn(at)cbc.ca 
Related stories from around the North:
Canada: Health officials in Canada's Northwest Territories extends Behchokǫ COVID-19 containment order until Oct. 29, CBC News
Greenland: Greenland lifts COVID-19 restrictions on direct travel to small communities, Eye on the Arctic
Iceland: Iceland to soften COVID-19 rules on Oct. 20, plans full lifting of restrictions next month, Eye on the Arctic
United States: Rural Alaska at risk as COVID-19 surge swamps faraway hospitals, The Associated Press
Antarctica: U.K. delivers COVID-19 vaccine to British station in Antarctica, Eye on the Arctic