All communities in Nunavik, Quebec moved to COVID-19 red alert level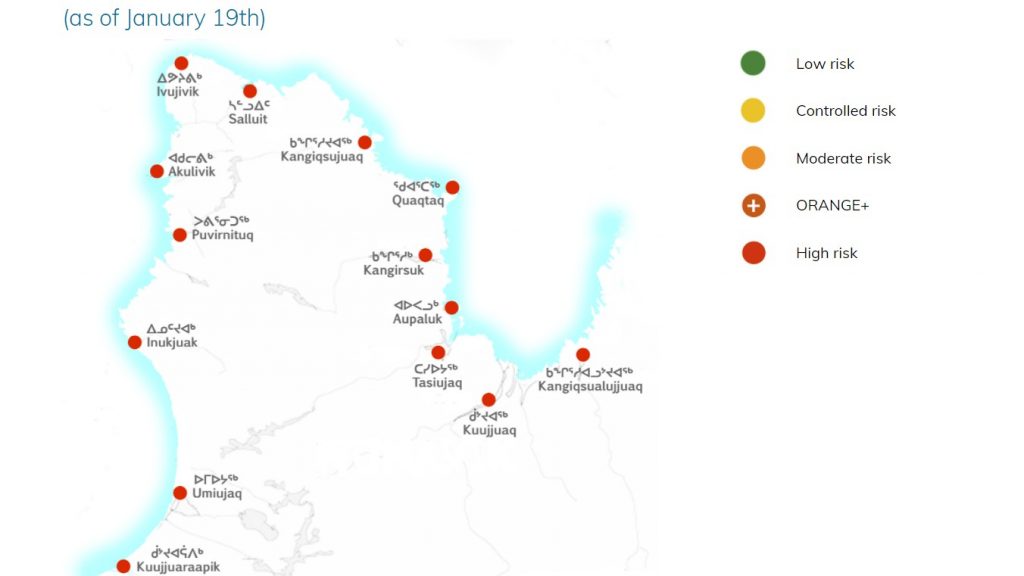 As of January 19, all communities in Nunavik, the Inuit region of northern Quebec, have been put at the COVID-19 red alert level.
The Nunavik Regional Board of Health and Social Services (NRBHSS) made the announcement in a Facebook post on Tuesday.
"The Red alert level measures have been adapted regarding the Omicron situation in order to minimize as much as possible important outbreaks that could overload the health care system, while maintaining basic and essential services in communities," the NRBHSS said.
Nunavik's COVID-19 alert system has five levels:
Green

 

– low risk
Yellow

 

– controlled risk
Orange

 

– moderate risk
Orange (+)

 

– moderate risk plus some additional public health measures including curfew
Red

 

– high risk
As of January 18, seven of Nunavik's 14 communities were on red alert: Puvirnituq, Ivujivik, Salluit, Kangiqsujuaq, Tasiujaq, Kuujjuaq and Kangiqsualujjuaq.
The remaining seven communities (Umiujaq, Inukjuak, Akulivik, Quaqtaq, Kangirsuk and Aupaluk) were at the orange plus level, the region's second highest.
"Omicron will spread in all communities"
The NRBHSS said putting the entire region at the highest level was necessary to help combat the highly contagious Omicron variant.
"The entire region is at high risk since community transmission is present in more than half of the communities," the board said.
"It is just a matter of time until Omicron will spread in all communities."
COVID-19 cases in Nunavik
Nunavik is reporting 260 active COVID-19 cases as of January 18:
Puvirnituq: 79

Kuujjuaq: 69

Kangigsualujjuaq: 42

Kangirsuk: 17

Salluit: 16

Ivujivik: 9

Kangiqsujuaq: 9

Kuujjuaraapik: 6

Tasiujaq: 6

Quaqtaq: 5

Aupaluk: 2

Akulivik: no active cases

Inukjuak: no active cases

Umiujaq: no active case 
Source: Nunavik Regional Board of Health and Social Services
'Modified' red alert
The board described the region-wide red alert as a "modified" red level, intended to send the message that community transmission of the Omicron variant is "highly likely" in each community.
Health authorities say the updated red alert measures continue to call for a complete shutdown of all non-essential services, but that schools and daycares can reopen and funerals can take place with a maximum of 25 people.
Outdoor gatherings of up to 20 people are also allowed.
Variant first detected in region in December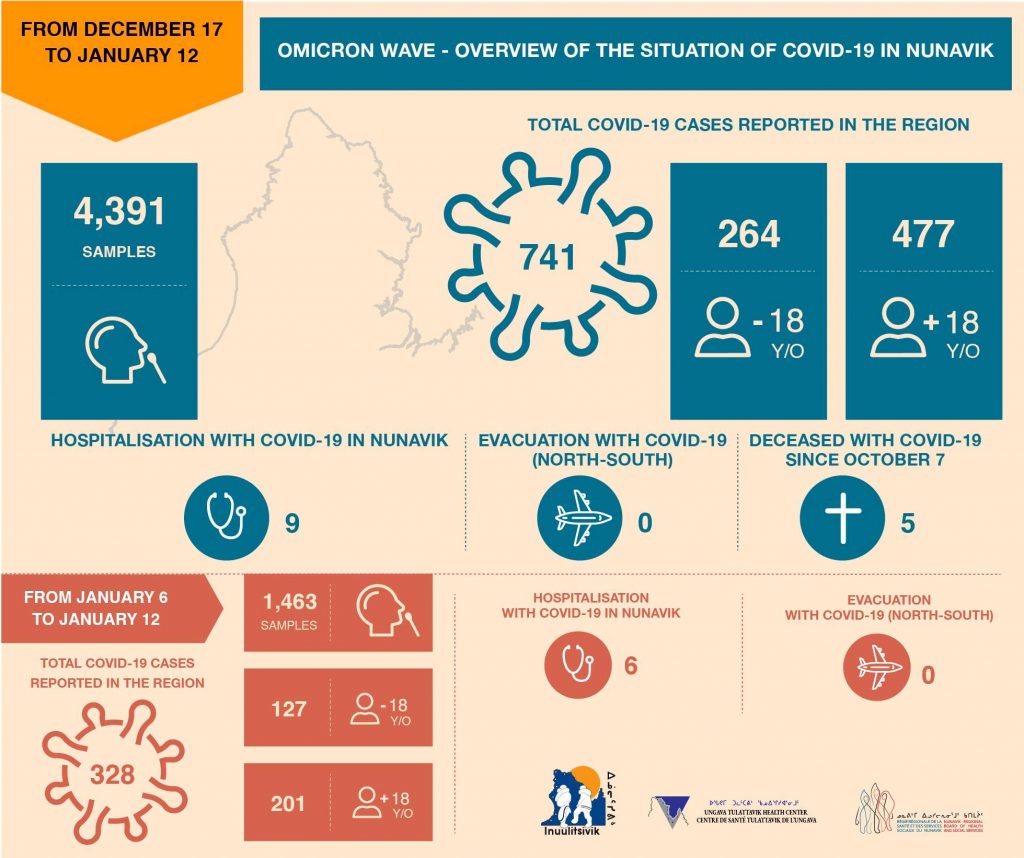 From the time Omicron was first detected in Nunavik on December 17, until January 12, there's been 741 cases reported in Nunavik.
Of those cases, 328 were reported between January 6-12.
There's been nine people hospitalized.
So far, no patients have needed to be sent to the South for treatment.
Write to Eilís Quinn at eilis.quinn(at)cbc.ca 
Related stories from around the North: 
Canada: Layoffs of 12 unvaccinated employees at Canadian North had 'minimal' impact on operations, says airline, CBC News
Greenland: Greenland gov grants mayor's request for alcohol ban amidst rising COVID-19 cases, Eye on the Arctic
Sweden: Swedish government announces new restrictions following sharp rise in COVID-19 cases, Radio Sweden