Yukon to lift 'nearly all' COVID-19 restrictions next week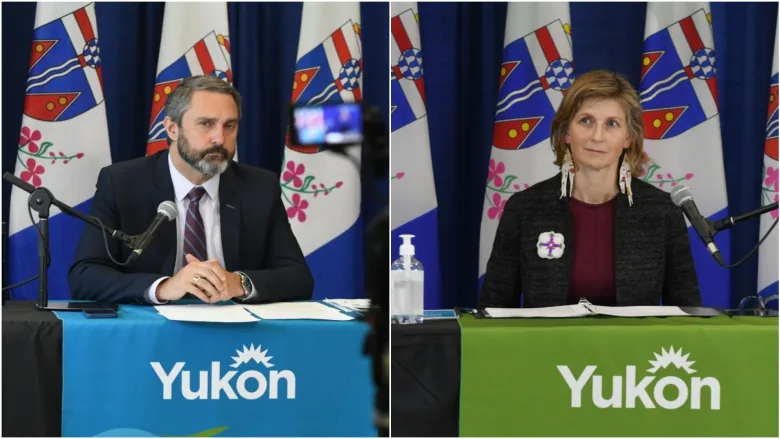 'We're in a place now where we've managed to weather a storm,' said Premier Sandy Silver
Yukon will lift "nearly all" remaining COVID-19 public health restrictions next week, Premier Sandy Silver announced on Thursday morning.
As of March 4, there will be no more capacity limits or size limits for gatherings, and bars and restaurants will be able to resume normal service without six-foot spacing between tables. Dancing and mingling between tables will also be allowed again.
"It's because of you, and the power of the safe and effective vaccines, that we are able to forge ahead," Silver said, at a news conference alongside the acting chief medical officer.
Some public health measures will remain for the foreseeable future, including:
Mandatory masks in all indoor public settings, including schools, and outdoor settings where physical distancing is not possible.
Mandatory vaccinations for public servants, volunteers and contractors.
Proof of vaccination to access some sites.
"I'm very excited to get to a place where there's only three public health measures left," Silver said.
"We're in a place now where we've managed to weather a storm and we've managed to reduce the harm to Yukoners."
Entering a time of "more choice and more opportunity" 
As of Thursday, the government's new COVID-19 data dashboard said there 47 known active cases in the territory. That figure does not reflect the true number of infections in Yukon, as people testing at home are not all required to report their results.
The positivity rate for lab-based PCR testing was at 22.9 per cent.
As of Tuesday morning, there was "extremely limited" or no space available among inpatient beds at the Whitehorse hospital, including in intensive care, according to the Yukon Hospitals website. The site also said there was space available in both the Dawson City and Watson Lake hospitals as of Tuesday.
The territory has been gradually lifting or easing public health restrictions this month.
On Thursday, acting Chief Medical Officer Dr. Catherine Elliott said there was still "considerable" transmission of COVID-19 in the territory, and she urged Yukoners to continue to stay home if and when they feel sick.
She said the territory is now entering a time of "more choice and more opportunity."
"Be safe and respect each other around different judgments. Everybody's going to make their own decisions about how they feel safe and the extra things they want to do along the way," Elliott said.
Related stories from around the North: 
Canada: Nunavik, Quebec further eases COVID-19 health restrictions, Eye on the Arctic
Iceland: Iceland to axe all COVID restrictions Friday saying "as many people as possible" need to catch virus, Eye on the Arctic