Canada's northern premiers use Arctic security concerns to press Trudeau for infrastructure investments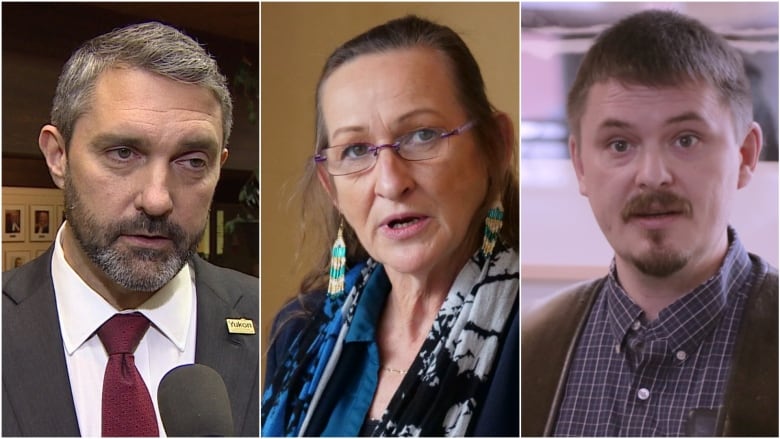 The three Northern premiers used a meeting with the Prime Minister Justin Trudeau and Defence Minister Anita Anand Monday to make the case for greater investment in the North as a way of reinforcing Canada's sovereignty and security.
The premiers called for the meeting in a letter to the prime minister in early March as Russia ramped up its invasion of Ukraine. They cited Russia's expanded Arctic infrastructure in recent years, including new ports, an expansion of its icebreaker fleet and a strengthened military presence, as causes for concern.
"You can't talk about Arctic security without talking about Arctic sovereignty," N.W.T. Premier Caroline Cochrane said following the meeting.
She said it was a message the three premiers were unified on. And for all three premiers that means investments in housing, healthcare, education and improved telecommunications.
Bolstering their case was Nunavut Premier P.J. Akeeagok's trouble connecting to the virtual online meeting.
"Couldn't ask for a better example for bumping that up," Cochrane said.
Akeeagok wasn't available for an interview following the meeting.
Importance of the Canadian Rangers
But Yukon Premier Sandy Silver said Akeeagok said it best when he spoke about his own family experience in the 1950s of being moved to the High Arctic to fortify Canada's sovereignty.
"Previous federal governments saw that as a use-it-or-lose-it mentality. And that cannot be the way that we move forward," Silver said.
Silver also repeatedly spoke of the importance of the Canadian Rangers as eyes and ears on the Arctic, but also as an organization that builds skills and self-esteem in Northern youth.
"So as folks talk about NORAD, and folks talk about, you know, submarines from Russia, I'm talking about the importance of resilient communities," he said.
Cochrane said she's also looking forward to seeing federal government investment in modernizing security systems in the North.
Modernizing NORAD
Ottawa has repeatedly promised to modernize the North American Aerospace Defence Command (NORAD) and the minister of national defence reiterated that this morning while speaking in the Senate.
Defence Minister Anand said the 2021 budget invested $252 million over five years to support its commitment, including research to improve the North warning system, modernization of long range communications and over the horizon radar systems.
"What we are doing is working with the United States to ensure that our systems are interoperable, our systems are compatible and our systems will serve continental defence in the long term," she said.
Cochrane said that Russia's invasion of Ukraine has been an eye-opener for the North.
"We're starting to realize that we just need to be more prepared now," she said.
"Nobody thought we'd be where we are today. So it's a matter of making sure that the three territories and that Canada as a whole is preparing for the unpredictable that may be coming."
In a statement from the prime minister's office Monday evening, Trudeau committed to staying in close contact with the northern premiers, and "reaffirmed his commitment to continuing to work in partnership with them."
"Prime Minister Trudeau and Minister Anand underscored that the Government of Canada remains deeply committed to supporting the health, security, and prosperity of the Arctic while defending Canadian sovereignty and upholding regional security," the statement read.
With files from Hilary Bird
Related stories from around the North:
Canada: 30–50% of critical northern infrastructure could be at high risk by 2050 due to warming, says study, Eye On The Arctic
Norway: U.S. Navy to build airport infrastructure in North Norway to meet upped Russian submarine presence, The Independent Barents Observer
Russia: Putin speech takes on social issues, crisis with the West and grand plans for Arctic infrastructure, The Independent Barents Observer