Oslo and Moscow agree about joint exploration of Arctic borderland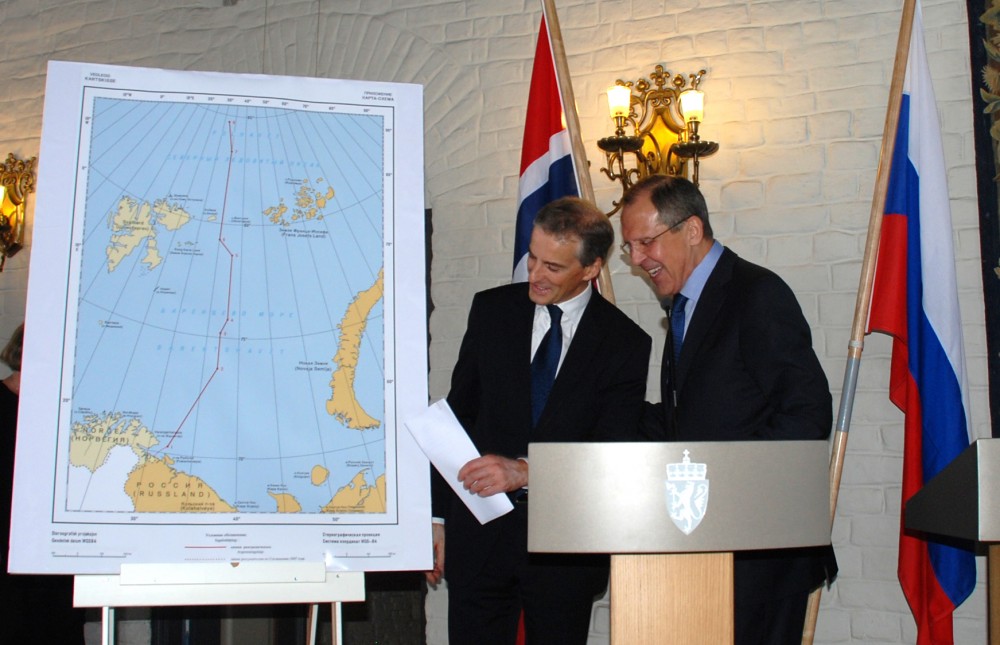 Seismic vessels will be allowed to cross the border to collect data. Oil and gas reserves in the area could be substantial.
Despite the political freeze, the two countries have managed to agree about a so-called Full Fold seismic deal for their joint border areas in the Barents Sea, NRK reports.
The agreement will enable seismic vessels to map all waters adjacent to the borderline. They will be allowed cross the borderline with their streamers.
Negotiations between the two governments have proceeded over time. "The purpose of the talks is to make it technically possible to collect seismic data along the delimitation line", Senior Communication Officer Harald Eikenæs Vengen told the Barents Observerin an email last December.
«The agreement will be a natural extension of the border delimitation deal with Russia", he underlined.
Hydrocarbon potential
Norway and Russia in 2010 signed a long-awaited delimitation agreement for the Barents Sea and split a 175,000 square kilometer area into two equally big parts. As soon as the deal was ratified and approved on 7 July 2011, Norway sent a seismic vessel to the area.
The hydrocarbon potential of the area is significant and experts believe it could hold «an elephant».
According to NRK, the deal might be signed by Norwegian Minister of Petroleum Tord Lien and Russia's Minister of Natural Resources Sergey Donskoy in a meeting in Norway in November.
However, some formalities still remain to be settled by the Russian side, sources say. The signing ceremony has already been postponed once.
The two counties in summer this year signed an agreement on exchange of seismic data.
Oil exploration
The Norwegian-Russian talks take place on the backdrop of a quickly expanding oil industry in the area. On the Norwegian side, new exploration acreage has been made available to oil companies, including directly along the border. 
Among the companies with stakes in the area is Lukoil, the Russian company, whichholds a 20 percent share of a license located directly along the borderline.
In a comment to the Barents Observer, the company underlines that «our knowledge and experience will provide competitive advantages both for Russian and Norwegian Shelf».
Related stories from around the North:
Canada:  Canada calls for Arctic wildlife enforcement network, Radio Canada International
Finland:  Asylum seeker traffic dries up at Finland's Arctic border crossings, Yle News
Greenland: Inuit in Canada and Greenland seek control of marine oasis, Radio Canada International
Norway: Norwegians detained for 'cross-border stone throwing' at Russia, The Independent Barents Observer
Russia: Looking back at the 2010 Norway – Russia deal on Arctic borders, The Independent Barents Observer
Sweden:  Finnish-Swedish police launch cross-border cooperation, The Independent Barents Observer
United States:  The US-led Arctic Council: Still trying to get Americans to care about Arctic, Alaska Dispatch News