Glowing snailfish full of antifreeze proteins found off coast of Greenland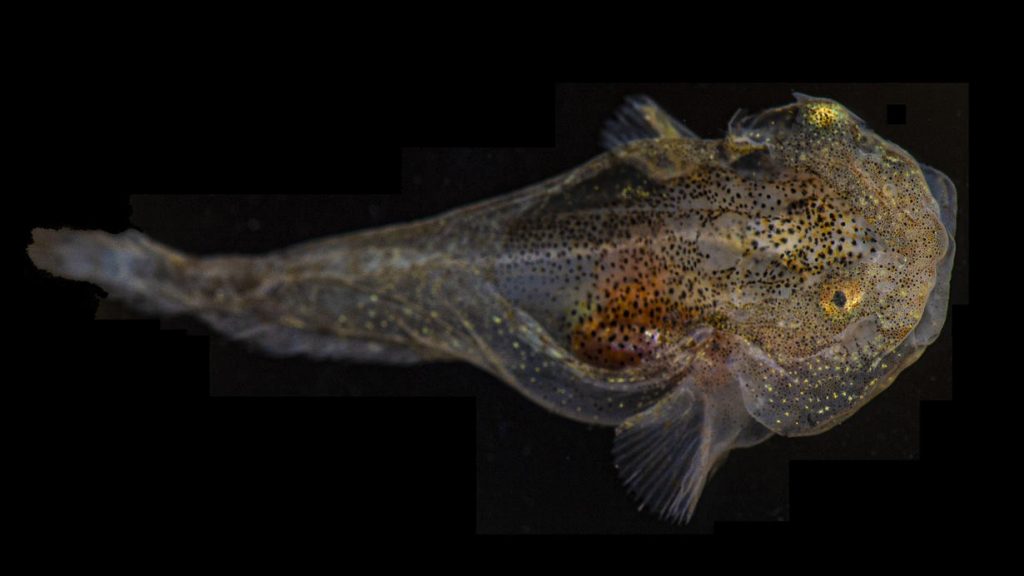 A fish detected off the coast of Greenland has attracted researchers' attention, not only because of its green and red glow, but because of its high levels of antifreeze proteins. 
"Similar to how antifreeze in your car keeps the water in your radiator from freezing in cold temperatures, some animals have evolved amazing machinery that prevent them from freezing, such as antifreeze proteins, which prevent ice crystals from forming," said David Gruber, a research associate at the American Museum of Natural History and a biology professor at Baruch College, City University of New York, who co-authored a study about the fish this month.
"We already knew that this tiny snailfish, which lives in extremely cold waters, produced antifreeze proteins, but we didn't realize just how chock-full of those proteins it is—and the amount of effort it was putting into making these proteins," Gruber said in a statement about the findings published in the journal Evolutionary Bioinformatics this month.
Repelling formation of large ice crystals
The juvenile variegated snailfish, also known as liparis gibbus, was collected from an iceberg area near Qaattu in eastern Greenland in August 2019.
After examining it, researchers found it had high levels of antifreeze proteins.
What is the snailfish?
Name: Juvenile variegated snailfish (Liparis gibbus)
Where: found in the Arctic, North Atlantic and oceans around Greenland, Canada, Russia, the Norwegian Arctic archipelago of Svalbard and parts of Alaska.
Size: averages 11 cm long but can grow up to 52 cm in some cases
Habitat:  depths of 100 and 200 metres, but also frequently found at shallower depths
Eats: crabs and amphipods
The antifreeze proteins are produced in the liver and keep large ice crystals from forming in the fish's body.
The ability of fish to produce these proteins has been known for 50 years and was first discovered in Antarctica, the paper says.
Such proteins are also found in certain bacteria, lichens, plants, insects, and vertebrates so they can survive the sub-zero temperatures they live in. 
'Highest expression of proteins ever observed'
But the snailfish looked at by the researchers has the highest expression of proteins ever observed, said an American Museum of Natural History news release on the findings. 
"[Antifreeze proteins] offer an advantage to animals that dwell in places below the freezing point by preventing the formation of large ice grains inside cells and body fluids, thus preserving body fluids in a liquid state," the researchers say in the paper.
"[Antifreeze proteins] limit the growth of ice crystals to manageable sizes, rather than fully inhibiting the growth of ice crystals inside fishes."
Understanding biofluorescence
"Biofluorescence is the process of animals absorbing blue ocean light and transforming that light into other colours,"  David Gruber said in a video on the American Museum of Natural History's YouTube channel.
Liparis gibbus is currently the only Arctic fish that's been detected to have

biofluorescence.

it glows in two colours, red and green, which researchers describe as "

very unusual in a single species"

the reachers published a 2021 paper explaining their findings in American Museum Novitates.
The researchers say in-depth understanding of the physiology of liparis gibbus will help scientists better understand how the fish might be impacted by global temperature change in the Arctic. 
"Since the mid-20th century, temperatures have increased twice as fast in the Arctic as in mid-latitudes and some studies predict that if Arctic sea ice decline continues at this current rate, in the summer the Arctic Ocean will be mostly ice-free within the next three decades," John Sparks, a curator in the American Museum of Natural History's Department of Ichthyology, and study co-author said.
"Arctic seas do not support a high diversity of fish species, and our study hypothesizes that with increasingly warming oceanic temperatures, ice-dwelling specialists such as this snailfish may encounter increased competition by more temperate species that were previously unable to survive at these higher northern latitudes." 
Expedition
For more on the research project project, a video about the expedition is available on the American Museum of Natural History's YouTube channel:
Write to Eilís Quinn at eilis.quinn(at)cbc.ca
Related stories from around the North:
Canada: Microbe discovery in Arctic Canada could help better understand life on Mars, Eye on the Arctic
Finland: What a Saami-led salmon rewilding project in Arctic Finland can teach us about Indigenous science, Eye on the Arctic
Iceland: Visitors cautioned about gas pollution at eruption site in Iceland's Meradalir valley, Eye on the Arctic
Greenland: Researchers identify polar bear population that hunts off glacier ice, Eye on the Arctic
Russia: Oral histories unlock impact of climate change on nomadic life in Arctic Russia, says study, Eye on the Arctic