AI tool developed for polar shipping to help vessels reduce emissions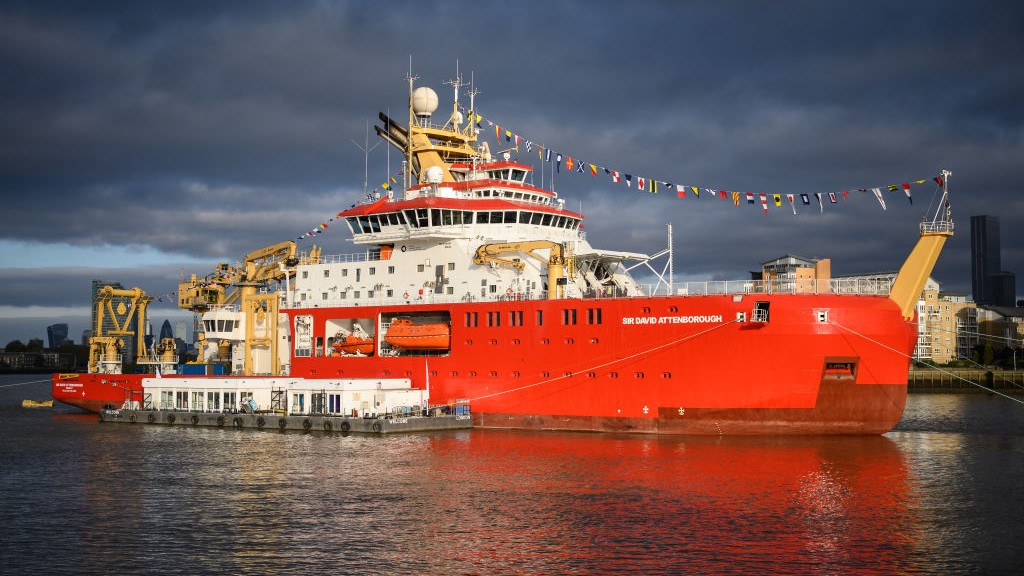 An AI polar navigation tool has been developed by the British Antarctic Survey with a view to reducing emissions and more easily facilitating science in one of the most remote and unpredictable environments in the world.
"In the same way a car navigation system proposes different routes to a driver, where one might be the fastest route and one might be the lowest fuel route, we decided we'd generate a kind of analogue," Maria Fox, the project leader at the British Antarctic Survey (BAS) AI Lab, told Eye on the Arctic in a phone interview. 
The tool was developed for use on the British polar research ship RRS Sir David Attenborough and will help captains identify the most fuel efficient trajectories possible, something that in the ever-changing Antarctic environment can be a lot more difficult than one might expect.
Confronting hostile navigation conditions
Conditions at the poles can change rapidly, and captains have to contend with hazardous and hostile navigation conditions ranging from extremely high winds and icebergs, to giant waves and extensive surface sea ice.
The tool processes available data on currents, weather, visibility, forecasts and will propose different navigation options.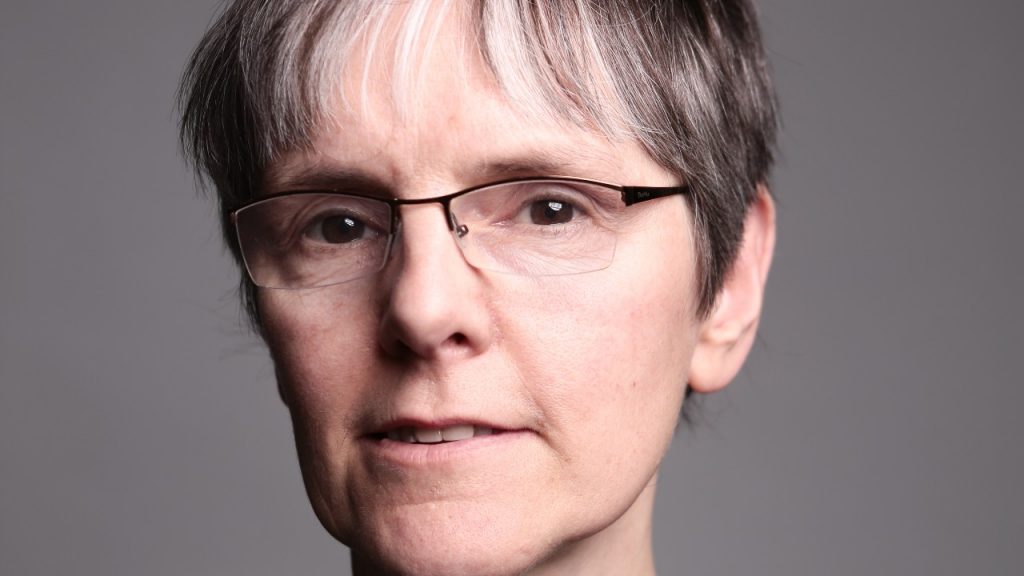 The models will be dynamic and updated as weather changes. But the limited communications infrastructure in Antarctica means those updates aren't able to happen in real time, making modelling all the more important.
"We can update our routes as weather conditions change, but that will be something that happens on a fairly infrequent basis through the day because communications in Antarctica is somewhat restricted," Fox said.
"Satellite updates only happen once or twice a day so a lot depends on having very good models to predict how we expect the wind and ice to move over time. But we can now know what to expect based on these models constructed by expert scientists who understand these dynamics."
Apparent best routes can be deceiving…
This is particularly important in the polar regions where the shortest route isn't necessarily the best one.
"Sometimes, the shortest route between two points involves going through quite high ice resistance," Fox said.
"And if you're going through ice resistance, then you have to exert more power in order to cross that ice. Exerting more power consumes more fuel and therefore produces more emissions, whereas maybe if you take a longer way round and avoid the ice, you consume less fuel and produce less emissions."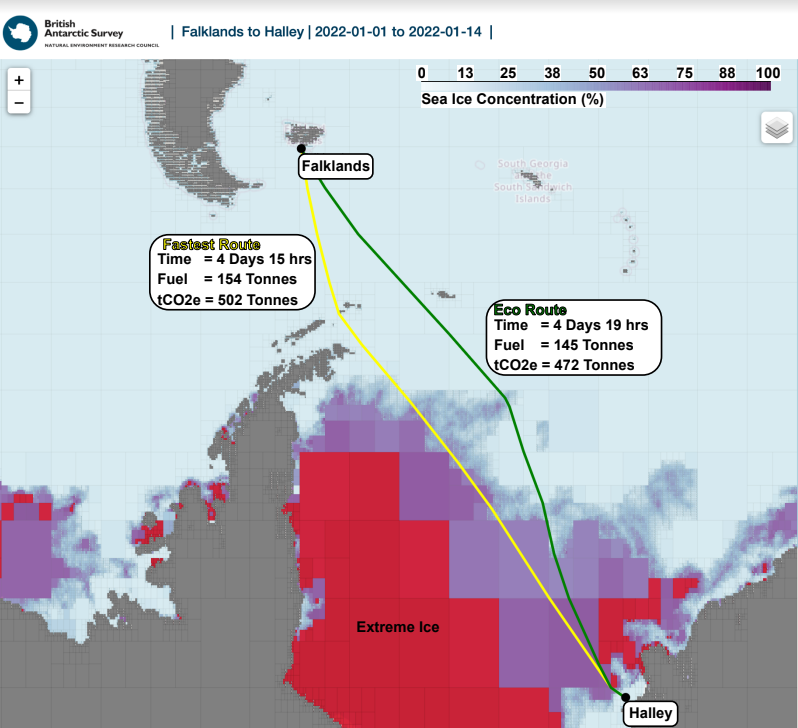 Conserving fuel can lead to more science
The Attenborough fuels at the Falkland Islands before heading off on its research trips. So, besides the environmental benefits of reducing emissions, the tool will help conserve the Attenborough's fuel budget, meaning more time to do science, Fox said. 
"Everything that [the Attenborough] wants to do has to be done within the amount of fuel that it has on board at the point when it leaves the Falkland Islands," she said.
"Therefore, if we can spend less fuel navigating from A to B, then we can perhaps even visit additional locations in order to carry out science experiments that wouldn't otherwise be within budget if we'd been less careful with our fuel use."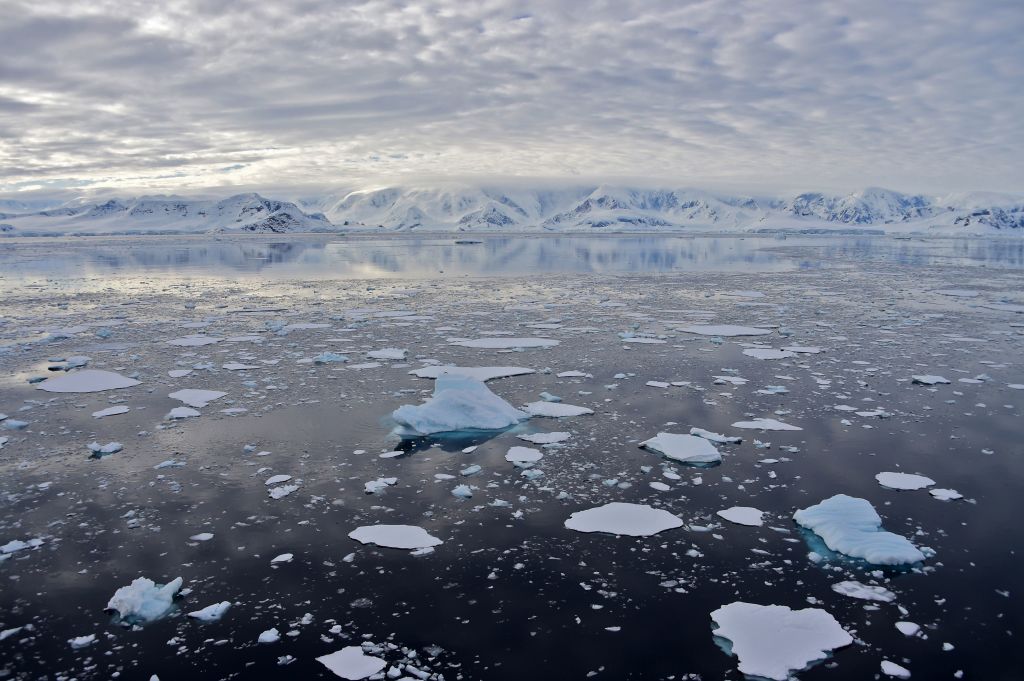 Applications for the Arctic? 
There's been no field testing of the tool at the North Pole, but the capabilities of it in the Arctic have been tested in the lab.
The tool's code is also open source.
"In principle, anyone who's got a ship could come along and generalize our code," Fox said.
The tool is currently getting feedback from the Attenborough captain and crew and is expected to be in use in Antarctica within the next two years.
Phase 1 of the project is focused on using external data sources for environmental modelling and decision-making will wind up in March 2023.
Phase 2 will run until March 2025 and work on route-planning in complex ice conditions and scheduling science and supply operations.
After March 2025, the team will work on extending science mission planning using the Attenborough as one of a fleet of vehicles that are coordinated to increase the efficiency of science.
Write to Eilís Quinn at eilis.quinn(at)cbc.ca
Related stories from around the North: 
Canada: Canada's inaction on Arctic surveillance could affect future sovereignty: report, Eye on the Arctic
Iceland: New guideline launched for Arctic-specific risk assessment in shipping, Eye on the Arctic
Russia: Ice conditions on Northern Sea Route may pose navigation challenges this season, The Independent Barents Observer