Ottawa exhibition spotlights the art and artists of Nunavik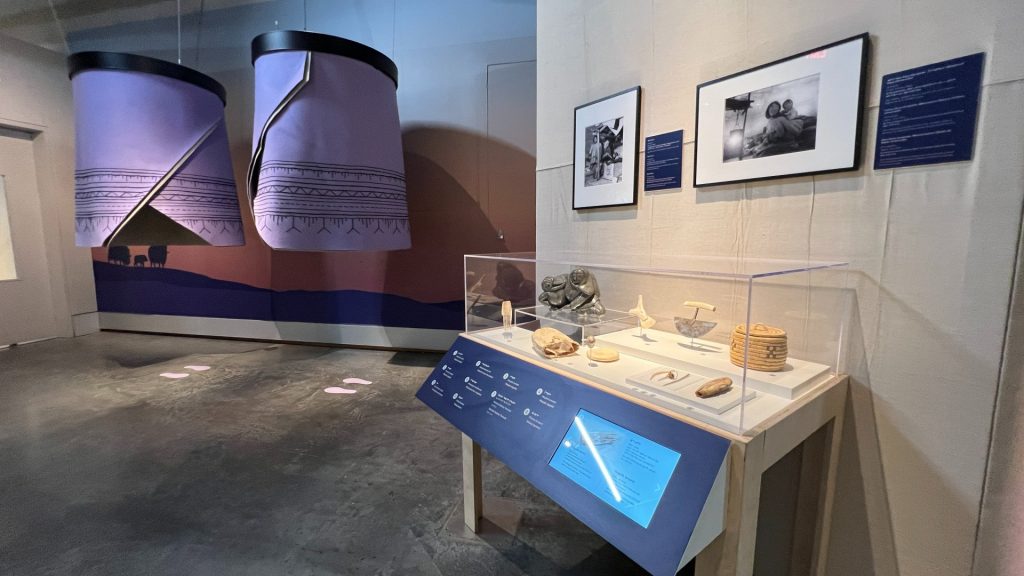 A exhibition spotlighting the art and artists of Nunavik opened this Friday in Ottawa with a view to showcasing the region's art and artists. 
Our Land, Our Art is taking place at the Canadian Museum of Nature and features the works of several Nunavik artists, created especially for the show. The works include a range of mediums from visual arts to video to beadwork to singing to circus performing.
It was put together by the Avataq Cultural Institute, which works to promote and preserve the language and culture of Inuit in Quebec.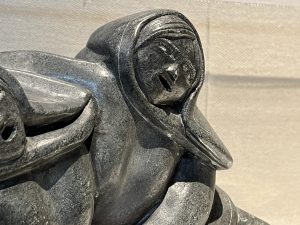 "At Avataq we have things like archeology, cartography, genealogy, and art is a great way to talk about the link with the land," Andrée Anne Vien, the coordinator for Aumaaggiivik, the Nunavik arts secretariat, told Eye on the Arctic in a phone interview.
"The choice of artists was really about showcasing the variety of disciplines as well as connecting with the young generation of emerging artists as well as established ones."
Using the past to inspire the present 
Nunavik is the Inuit region of Arctic Quebec and has a population of approximately 13,000 people, with 14 communities. 
The show is an important moment to showcase the unique Inuit culture of the region, Vien said. 
"Many people don't know there are four distinct Inuit regions in Canada, and that Nunavik is one of them," she said. "An exhibition like this can show some of what makes Nunavik unique and we hope visitors see just how much talent there is in Nunavik." 
Artists include throat singers Evie Mark and Akinisie Sivuarapik; Taqralik Partridge, a visual and spoken-word artist originally from Kuujjuaq; Kangiqsujuaq photographer and video artist Lucasi Kiatainaq; and visual artists Qumaq M Iyaituk and her sister, Passa Mangiuk, who grew up in Ivujivik.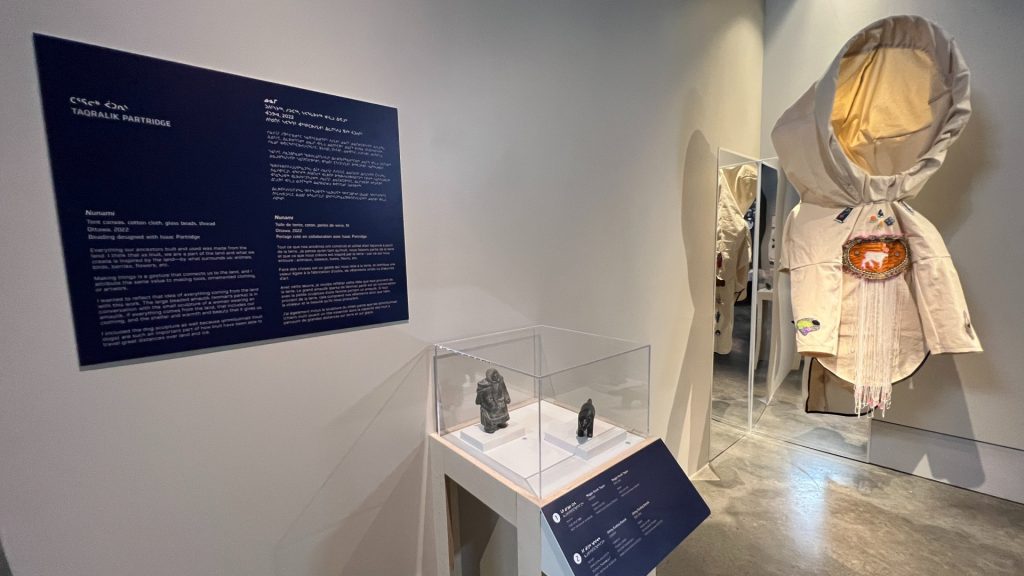 In addition, 32 items from Avataq's collections are also on display, carefully chosen by the artists themselves and used to inspire the works for the show.
"The works themselves transmit so much about the land and the traditions, at the same time as how Nunavimmiut [people from Nunavik] live their culture today," Vien said.
Those objects include things like contemporary carvings as well as objects traditionally used by Inuit including igaak (snow goggles), a nariarsaq (fishing lure) and a soapstone qulliq (oil lamp).
Some of the other objects include a pana (snow-knife blade) and a panak (knife handle ) made of walrus ivory.
A wooden rod and seal bone, ajaqaq—similar to a cup-and-ball game—is also on display along with a wooden figure, believed to have been used as doll.
Throat singers Evie Mark and Akinisie Sivuarapik's installation in the show is made up of two hanging pods that visitors can enter to hear the duo's singing. The traditional items they chose includes archive photos and items associated with or used mostly by women.
For photographer and video artist Lucasi Kiatainaq, inspiration came from a 1957 soapstone sculpture of a hunter by Salluit artist Thomasie Kaitak.
"For me, it embodies that moment when a hunter experiences a feeling of uncertainty mixed with the adrenaline rush that comes with a success to come—a feeling that myself, my father and our ancestors have felt so often," Kiatainaq told the museum. 
Our Land, Our Art runs until October 2024.
Write to Eilís Quinn at eilis.quinn(at)cbc.ca
Related stories from around the North: 
Canada: New podcast series spotlighting Inuit artists to launch in January, Eye on the Arctic
Russia: German project to house everything published in Siberian and Arctic languages to seek new funding, Eye on the Arctic
Sweden: Award-winning novel set in Sapmi to get Netflix treatment, Eye on the Arctic
United States: American cartoonist says his new book on Canadian Indigenous history helped decolonize part of himself, CBC News