2022 Gollegiella Nordic Sami language prize awarded in Stockholm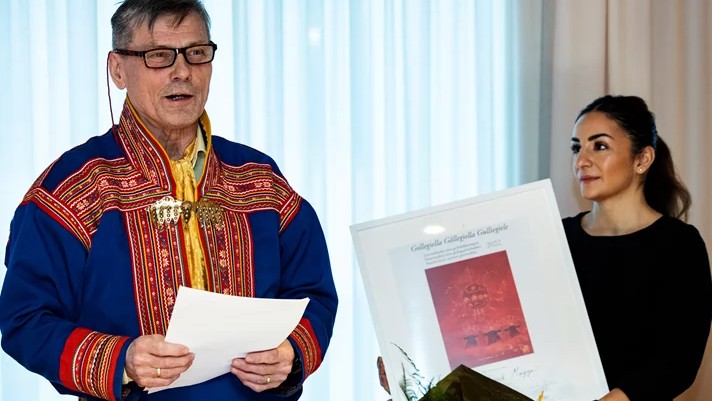 A professor who devoted his career to preserving and promoting Sami languages received the 2022 Gollegiella Nordic Sami language prize on Wednesday. 
Professor emeritus Ole Henrik Magga spent his career on academic research into Sami languages as well as developing teaching methods and aids that could be used in classrooms. 
"Through his life's work, he has shown the Sami people and the world that the Sami languages are alive and meaningful," the ministry of culture in Sweden, the host country awarding the price, said in a statement on Wednesday. 
Magga received the award in Stockholm where the ministerial meeting, and the Sami Parliament's presidential meeting, was taking place.
"Preserving and developing the Sami languages is incredibly important work," Parisa Liljestrand, Sweden's Culture Minister, said.
 "Ole Henrik Magga has long been a strong voice for the use of the Sami languages, which is why I am proud to award the Gollegiella language prize to Ole Henrik today."
Sami Languages—Quick Facts
There are numerous Sami languages and dialects spoken across the Sami homeland but according to UNESCO, all are in danger
North Sami is the most widely spoken Sami language with most estimates of around 25,000 speakers.
Pite Sami is now extinct in Norway but is believed to still have around 30 speakers in Sweden
Known for working on orthographies 
Magga was born in Kautokeino in Arctic Norway. 
In the course of his work, he became known for his work in establishing standardized writing systems for several Sami languages.
He developed modern North Sami orthography, wrote a South Sami grammar with co-author Lajla Mattson Magga, and was also involved in developing Ume Sami and Pite Sami orthographies.
"I am extremely pleased to congratulate Ole Henrik Magga on winning the 2022 Gollegiella prize," Hakan Jonsson, president of the Sami Parliament in Sweden, said. 
"His life's work shows that he deserves to be recognized and rewarded." 
Magga also served as first Chair of the United Nations Permanent Forum on Indigenous Issues and was involved in setting up the Sami Parliament in Norway.  He was also that parliament's first president. 
Write to Eilís Quinn at eilis.quinn@cbc.ca 
Related stories from around the North: 
Canada: Mark Indigenous languages decade by making Inuktitut official in Canada: Inuit UN rep, The Canadian Press
Finland: Everyone encouraged to boost Sami language visibility in Finland, Norway and Sweden this week, Eye on the Arctic
Norway: Indigenous and minority language names for Norway now have official status, The Independent Barents Observer
Russia: German project to house everything published in Siberian and Arctic languages to seek new funding, Eye on the Arctic
Sweden: Can cross-border cooperation help decolonize Sami-language education, Eye on the Arctic 
United States: Inuit leaders applaud UN move to designate International Decade of Indigenous Languages, Eye on the Arctic