Federal gun bill shows Liberals 'out of touch' with Nunavut, says MP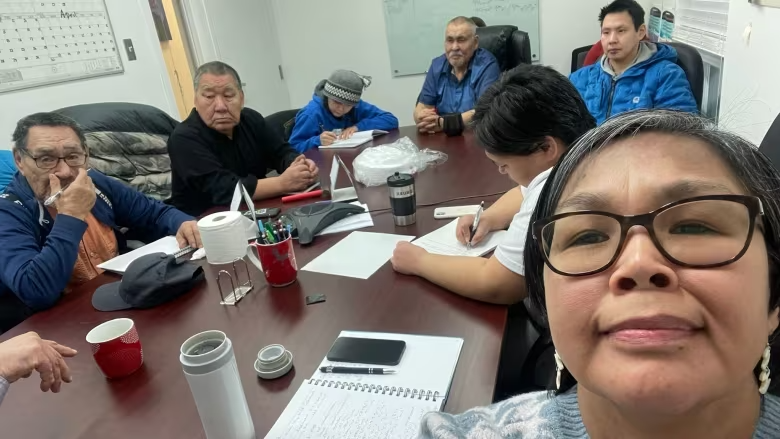 NDP MP Lori Idlout visited Arctic Bay, Pond Inlet, Grise Fiord this week and heard many questions about bill
Nunavut's NDP MP Lori Idlout says her visits this week to three communities in the territory showed one issue was top of mind for many of her constituents — the new federal gun bill, C-21.
"We didn't go into the communities with any specific topic item," Idlout said.
"We left that up to each community… though in every community the first question has been about Bill C-21, and what the potential impacts are of Bill C-21."
Bill C-21 was initially aimed at banning handguns. An amendment now proposes certain long guns, including rifles and shotguns, be added to the list, prompting outcry from some northerners.
Nunavummiut need to hunt, protect themselves from predators 
Idlout has also spoken out against the amended bill. Speaking in the House of Commons, she said it showed the Liberal government was "out of touch … with the daily life of Nunavummiut."
"Nunavummiut need to hunt to feed their families and to protect themselves from dangerous predators such as polar bears," she said.
At Question Period, I asked about B-21. I stated that the last minute amendment is out of touch with Nunavut reality. I am hopeful, that changes will be made, changes that protect Nunavummiut to feed families and protect from predators like polar bears. pic.twitter.com/QGKF27RROB

— ᓘᕆ ᐃᓪᓚᐅᖅ Lori Idlout❄️ (@LoriIdlout) January 23, 2023
Jaime Battiste, parliamentary secretary to the minister of crown-Indigenous relations, responded to Idlout in the House, saying the government has heard the concerns while adding that there's also "been some minsinformation on C-21."
Battiste referred to upcoming committee meetings that will focus on the bill.
"We always want to make sure that we're respecting Indigenous hunting rights — we know it's a constitutional right, but we also know it's the right thing to do," Battiste said.
Position has changed
Speaking to CBC News frm Pond Inlet, Nunavut, this week, Idlout said her party initially supported C-21, as it was intended to address gun violence in larger cities. But the amendments affect hunters and Indigenous rights, she said.
"So that's when we had to change our position on C-21," Idlout said.
"We very much are advocating for Indigenous peoples' inherent rights to hunt. So we're going to be fighting against the additions of the rifles, so that we could help protect Indigenous rights."
Besides Pond Inlet, Idlout also visited the communities of Grise Fiord and Arctic Bay, Nunavut, this week. She was travelling with Nunavut's Enivronment Minister, David Akeeagok.
To Idlout, the amended bill "makes it obvious that [the Liberals] don't care about Indigenous peoples' rights to hunt. They don't seem to care that Nunavummiut need rifles to thrive."
She says she wants the amendments removed, and that it's important to hear from Nunavummiut.
"We're still at the debate stage. We still have an opportunity to make changes," she said.