Another AWG win for knuckle-hop champ Chris Stipdonk — but no record this time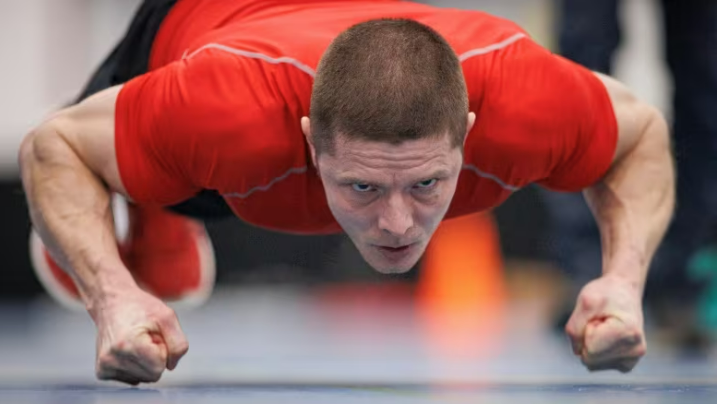 Mere feet away from breaking the all-time Arctic Winter Games record in the gruelling knuckle hop, Team N.W.T.'s Chris Stipdonk hit the floor.
Knuckle hop is an Arctic sport where competitors bounce across the floor as far as they can on their knuckles and toes. Stipdonk, a veteran of the sport, made it 188 feet on Wednesday — 21 and a half feet farther than the next competitor — seizing gold.
It's the last major run for him, Stipdonk told reporters afterward. At 37, he might make an appearance at future events, but he won't be seriously competing in the future.
"I'm not trying that again," he said. "I'm exhausted."
Stipdonk, who is from Fort Simpson, holds the world record in knuckle hop. In 2020, at the Arctic Winter Games trials in Inuvik, he hopped 200 feet and eight inches. This past July, he broke his own record, knuckle hopping 206 feet at the Indigenous Summer Games.
Both of those surpass the 191-foot Arctic Winter Games record set by Alaska's Rodney Worl in the 1980s, but this Wednesday was the first time in seven years Stipdonk has been able to try for that record. He missed trials in 2018 due to weather, and the 2020 Games were cancelled due to the COVID-19 pandemic.
Stipdonk said he has no regrets, even though he came up short of the record.
"It's a really, really difficult thing to do — that's why [the record] has been there since the '80s," he said. "It's pretty cool that it's still standing, here at the Arctic Winter Games, and it really does show how difficult it is to do that."
An Arctic Winter Games official described the knuckle hop as "a test of pain threshold and endurance."
Stipdonk said he trained by doing 1,000 pushups a day.
Taking silver in the knuckle hop at 166 and a half feet was Kyle Worl from Team Alaska, the son of record-holder Rodney Worl.
Bronze went to Team Alaska's Parker Benjamin Kenick, who made it just over 95 and a half feet.