Int'l arctic cooperation needs to continue despite rupture with Russia: Canada's GG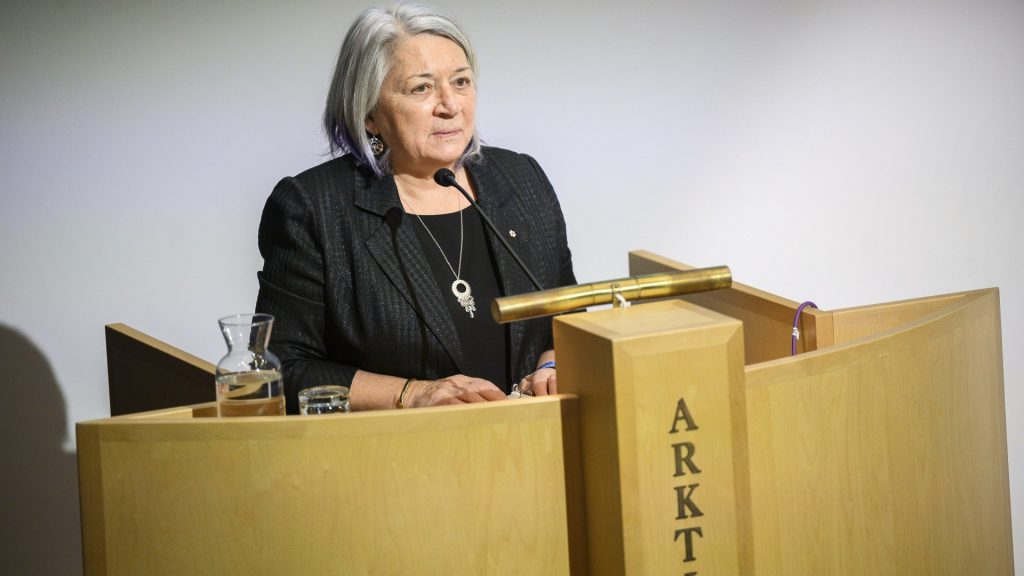 By Dylan Robertson, The Canadian Press 
Governor-General Mary Simon says Canada needs to find a way to continue cross-polar collaboration while holding Russia accountable for its invasion of Ukraine.
"In terms of Indigenous Peoples, and research and climate change, these are issues that transcend boundaries, really," Simon said in an interview following her state visit to Finland.
"It's a very difficult situation."
Prime Minister Justin Trudeau sent Simon to Helsinkiin early February to mark the 75th anniversary of diplomatic relations between Canada and Finland, alongside a delegation of Arctic research and government officials.
The visit comes as Finland seeks closer military ties with other western countries following Russia's invasion of Ukraine.
Finland shares a 1,340-kilometre border with Russia. The country has maintained a strong military in recent decades, but avoided any official alignment with the NATO military alliance.
That is until last year, when both Sweden and Finland applied to join NATO, with Canada being the first country to vote in support of both joining the group.
Last October, the Finnish government tweaked the Arctic strategy it had released a year prior, saying that the Ukraine invasion meant a new Cold War was underway.
The report calls for Finland to try to keep a "functioning relationship" with neighbouring Russia on matters like climate change and Indigenous Peoples, but little else.
"There will be no return to the prewar reality," reads the report's English summary, which urged Finland to examine everything with Russia through a security lens. "Even chaos is possible."
In an interview, Simon said it's clear Canada will need to still collaborate with people within Russia and all Arctic countries on issues like climate change and Indigenous Peoples.
"Something that's important in each of the countries is to figure out how you can continue working together when a terrible war is going on (which is) contradictory to the rules-based international order," she said.
Cooperation doesn't mean deep ties, Simon says
Simon stressed that this doesn't mean deep ties with Russia.
"For Canada, we take our responsibility very seriously to defend our, northern sovereignty. And we will definitely continue to protect Canadian interests at home and abroad," she said.
"What happens in the North impacts the world, and when you look at security issues and climate change, the world is paying attention more than ever," said Simon, an Inuk who grew up in northern Quebec.
Before becoming viceregal, Simon did the heavy lifting on Canada's Arctic and Northern Policy Framework, leading dozens of consultations throughout Northern Canada.
Before that, she was Canada's ambassador to Denmark, a role with a large focus on collaborating with the Inuit of Greenland.
Arctic challenges not stopping because of war
Simon noted that the Far North has generally avoided geopolitical conflicts through the decades, but is facing increasing attention as a venue for resource extraction and shipping routes.
"The Arctic … has historically been the region of co-operation. And safety and security challenges have recently emerged as the region's strategic importance grows," she said.
The tension has been particularly notable at the intergovernmental Arctic Council forum, which has been largely on hiatus since Russia's invasion.
The body, which Simon helped found, co-ordinates circumpolar research, shipping routes and search-and-rescue services among eight countries as well as Indigenous nations.
But all members except Russia have pulled out of the body, and started side projects involving things like fisheries without any input from Moscow.
Simon noted the tricky situation the Arctic Council faces.
"The sea level rising is having a direct impact," she said of the region.
"These are things that we have to continue to work together on."
Meeting with Sami 
While in Helsinki, Simon met with Finnish President Sauli Niinistö to discuss security and climate change.
Simon then headed up to the Arctic Circle to meet with officials working in education and those representing the Indigenous people of the region, the Sámi.
She noted Finland's moves toward truth and reconciliation with Sámi people, which she described as being "at the beginning stages," while also holding lessons for Canada on engaging Indigenous youth.
Finland's coalition government recently attempted to incorporate an existing Sámi legislative assembly as part of the country's governance, though the legislation collapsed this week over uncertainty of what role the council would hold.
Simon also said Finland's renowned education system might hold lessons for Canada, in reaching higher graduation levels across the country.
Meanwhile, Simon says she wants to maintain frank discussion with Canadians, a few weeks after Rideau Hall closed down the comment section of all social media accounts, citing harmful vitriol.
"These are difficult decisions we have to make sometimes," she said.
"We support constructive criticism; I've always been very supportive of that. If people don't agree with me, I like to hear about it. But it should be done in a very respectful way; it's important to do that."
Simon declined to elaborate on how the comments affected her personally, but said her staff had coped for "a long time" with a deluge of inappropriate comments.
"We're not trying to block anything here, but I think it's important to realize that we also can't let abuse, harassment and misogyny, that is harmful in our space, continue."
Related stories from the North: 
Canada: One year after Russia's Ukraine invasion, circumpolar diplomats take stock, Eye on the Arctic
Finland: Russian shoppers take Norway's Schengen shortcut to Arctic Finland, Yle News
Greenland: Historic Hans Island agreement with Canada moves from Copenhagen to Greenland, Eye on the Arctic
Iceland: Climate, integration & Arctic among priorities in Iceland's Nordic Council of Ministers program, Eye on the Arctic
Norway: Last Norwegian businessmen in Murmansk mum on customers, The Independent Barents Observer
Russia: Putin's hope for Sarmat missile launch from Plesetsk failed, The Independent Barents Observer
Sweden: Sweden, Norway and Finland cooperating to attract workers to the Far North, Radio Sweden
United States: A year after Russia invaded Ukraine, a walrus discovery is caught up in geopolitics, Alaska Public News