The 2023 Iditarod starts this weekend. Here's what to know
The 2023 Iditarod kicks off Saturday with a ceremonial start in Anchorage followed by an official race start in Willow.
From there, 33 mushers and dozens of sled dogs will make the 1,000-mile dash to Nome.
It's the smallest group of teams in the Iditarod's history, but it's a pretty competitive one.
Here's what to know about this year's race:
When will the Iditarod start?
The race begins with a parade-like ceremonial start in Anchorage on Saturday, March 4.
Mushers and their sled dogs will gather downtown early that morning to get ready.
Starting at 10 a.m., they'll take off one-by-one every couple minutes from Fourth Avenue, near D Street. They'll head down city streets, onto the trails and end at the Campbell Airstrip.
Here are places to watch from. People gather all along the trail for the event, but some hotspots include downtown, the hill on Cordova Street and the Trailgate party in the Eastchester Park area.
Next up: the official race start on Sunday.
After the ceremonial start, mushers and their dog teams truck to Willow for the official start at 2 p.m. on Willow Lake. They'll again leave at two-minute intervals, and head to Nome.
The Iditarod says folks wanting to watch the start should look for signs on the Parks Highway in Wasilla and at Houston High School that will have information on available parking.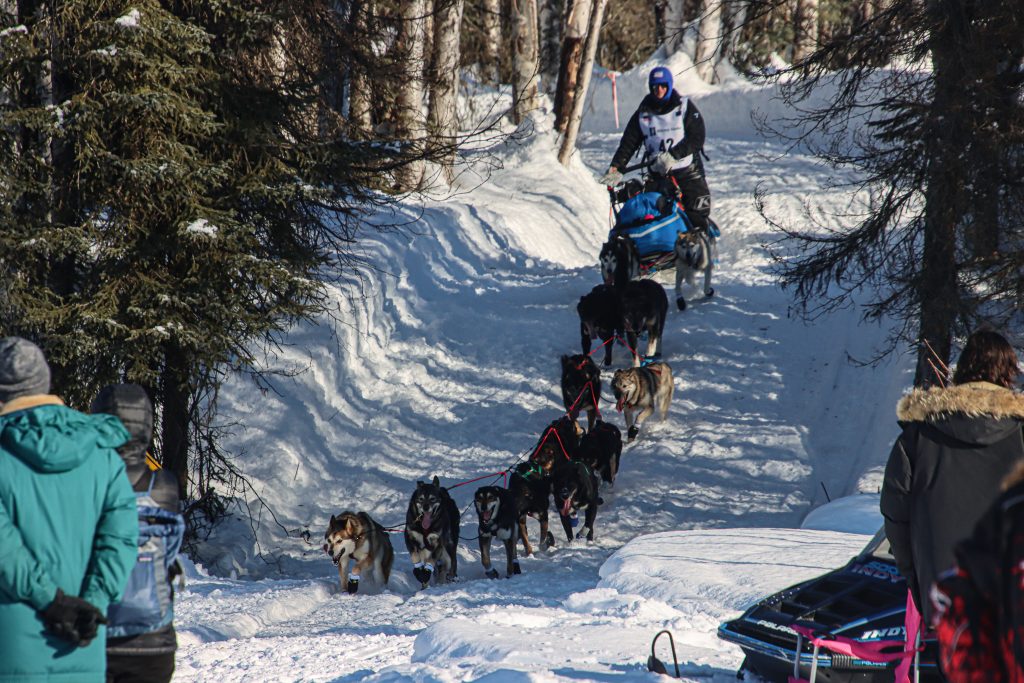 What's the trail route this year?
The trail will go from Willow to Nome along what the Iditarod calls its "southern route." Teams have not taken that route since 2019.
The first part of the southern route is the same as the northern one. Then, once teams get to Ophir, it cuts south through the Beaver Mountains to the ghost town of Iditarod. From there, there's a lot of river running through Shageluk, Grayling and Anvik before linking up with the main trail in Kaltag.
The southern route is slightly longer and is thought to be more challenging with mountains and lots of mushing on the exposed Yukon River.
How are the trail conditions? 
Generally, very good, according to race director Mark Nordman.
Snow has hammered much of Southcentral, including the first chunk of the trail up to Rainy Pass Lodge.
From there, teams must tackle the notorious Dalzell Gorge — a twisty trail marked by a series of steep downhills and some very tight turns. Nordman said the gorge is in good condition.
But then things get tough: He said the route from Rohn to Nikolai has among the worst moguls in race history.
"Imagine a washboard except every ridge in the washboard is 4-feet high," said Nordman, "So it's just this up and down, up and down."
From there, the trail is in good condition until the ghost town of Ophir, said Nordman. He said the snow level is still lower than he'd like from Ophir to Shageluk, though some snowfall is in the forecast.
Once mushers hit the coast, there may be some rerouting.
Traditionally, teams go across the sea ice on Norton Sound and Golovin Bay, but winter storms have pushed some of that ice out. He said it's unclear if mushers will travel over the ice or take an overland route around it.
Who's competing in this year's race?
There are 33 teams signed up including most of last year's top 10 mushers. That includes reigning champ Brent Sass and 2019 winner Pete Kaiser, plus Jessie Holmes, Dan Kaduce, Richie Diehl, Ryan Redington and Aaron Peck.
Noticeably absent: There are no Seaveys in the race for the first time in more than a dozen years. Five-time champion Dallas Seavey said he's sitting out to spend time with his family and his dad, three-time champ Mitch Seavey, said he's taking a year off to let his body recover. But they both have dog teams in the competition: Kelly Maixner is running dogs from Dallas, and Christian Turner is running Mitch's team.
Here's the full list of teams.
Why are there so few mushers racing this year?
The Associated Press crunched some numbers and found the average number of mushers starting the Iditarod over the last 50 years was 63. The highest? 96 in 2008.
So 33 teams is not only the smallest field ever, but it's just about half the average size.
The Iditarod community has cited a variety of reasons for the low turnout.
A couple of them:
• There are quite a few longtime Iditarod mushers who have stepped away from mushing in recent years, and there isn't a big group of teams to replace them. Aside from the Seaveys, Aaron Burmeister and former champ Joar Leifseth Ulsom say they're taking a break to be with family. Four-time winners Jeff King and Martin Buser, plus fan-favorite Aliy Zirkle also aren't racing. Race icon Lance Mackey died last year.
• There's also the cost. Many mushers say inflation has hit them hard with dog food prices doubling in the last couple years, plus many missed out on tourism income during COVID-19. Some estimate that running the Iditarod takes at least a $20,000 investment, and prize money has been stagnant for years as the Iditarod loses big-name sponsors.
How many dogs are on a team?
Mushers can start with up to 14 dogs and as few as 12. They must have at least five dogs pulling the sled across the finish line in Nome.
Where do the dogs go that don't make it to the finish line?
Mushers can leave dogs with veterinarians at race checkpoints along the trail. Mushers must provide them with four pounds of food and coats, according to race rules.
There's a variety of reasons a musher may send a dog home, including illness and injury or because the dog can't keep up. Also, near the end of the race, mushers will often slim down their teams to just their fastest dogs.
The dogs left behind get flown back to Anchorage or Nome depending on their location.
Are there any COVID-19 protocols this year?
COVID precautions are basically gone this year, with the vaccine requirement removed and no regular testing out on trail. All the checkpoints that were closed down before will be open this year. Race director Mark Nordman said that there will be an epidemiologist out on the trail in case there are COVID infections.
When can we expect a winner?
Historically, the race winner has arrived in Nome in as little as eight days, so that would mean a finish late Monday night, March 13, or early Tuesday morning, March 14.
How do I follow along? 
Bookmark alaskapublic.org/Iditarod!
Alaska Public Media reporters Lex Treinen and Ben Matheson are headed out on the trail this year. We'll have stories and photos from them on alaskapublic.org and on 91.1 FM.
Plus, keep an eye out for the latest episodes of our Iditapod podcast, now in its seventh season. You can listen on iTunes, Spotify or wherever you get your podcasts.
On top of that, we have the Iditarod newsletter! Subscribe here. During the race, we'll send you a daily round-up of the latest Iditarod stories, podcast episodes and even dog profiles straight to your inbox.
Other local news outlets will also be following the race, and there's coverage provided by the Iditarod itself on iditarod.com. 
Related stories from around the North:
Canada: 'A little scary': Alaska's Iditarod to begin with smallest field ever, The Associated Press
Finland: Duo aiming to raise funds for jobless sled dogs in Arctic Finland, Yle News
Norway: Could drones help prevent polar bear attacks on the Arctic archipelago of Svalbard?, The Independent Barents Observer
Sweden: Moose on the move — the latest subject for "slow TV" in Sweden, Radio Sweden.
United States: 'A little scary': Alaska's Iditarod to begin with smallest field ever, The Associated Press