Trailblazing Nunatsiavut researchers study the ocean, and add Inuit context for other scientists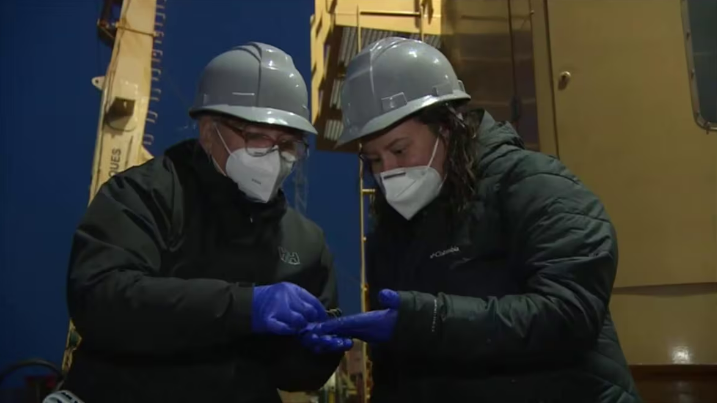 Every year, the Canadian Coast Guard ship Amundsen makes a trek through the Labrador Sea, operating as an icebreaker and research vessel. On the most recent trip in 2022, the scenery was brand new to many of the scientists on board, but for two of them, northern Labrador is home.
"There's a nice little beach up inside there," said Carla Pamak, the research adviser for the Nunatsiavut government, as the ship drifted near Hebron Fiord.
"That's where I caught my first char," replied Michelle Saunders, a biologist and research manager.
Pamak and Saunders are the first members of Nunatsiavut to have ever been aboard an Amundsen expedition. For them, the vessel's scientific work is personal.
"This isn't just research for the sake of research. This is research for the sake of Nunatsiavut," said Saunders.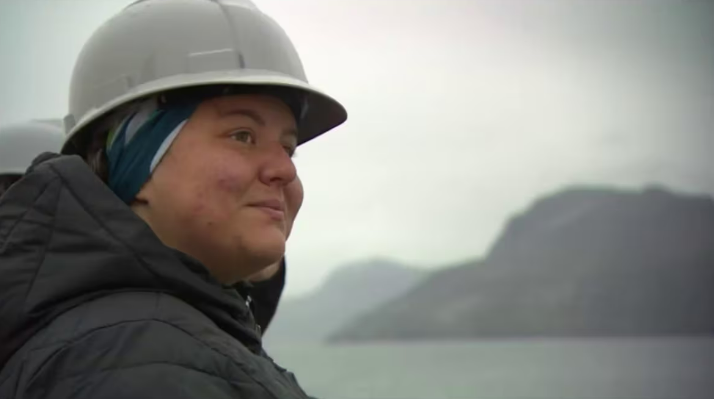 "We're looking at what's in the water, what's in the animals, what's in the sediment," said Pamak. "We want to know where we're living and what we're eating."
Academics from across the country travel on the Amundsen every year to conduct research on a wide range of ocean-related topics. Pamak and Saunders's research on the trip is part of Nunatsiavut's attempt to establish a marine plan for its waters. This plan would manage Nunatsiavut's ocean space and balance the demand for human activities with the need for environmental protection.
Nunatsiavut has been doing its own ocean research but the ocean area that Nunatsiavut covers is huge, almost 49,000 square kilometres of coast and ocean.
"It's integral that we have partners like DFO and Amundsen Science to get out there and understand the deep ocean," said Saunders.
She plans to present their findings to their community in Nain. She hopes it will inspire younger Nunatsiavut members to consider a career in science.
"My hope is that our youth, our next generation coming up, will be the ones that are coming up here doing the work for us, for themselves," said Saunders.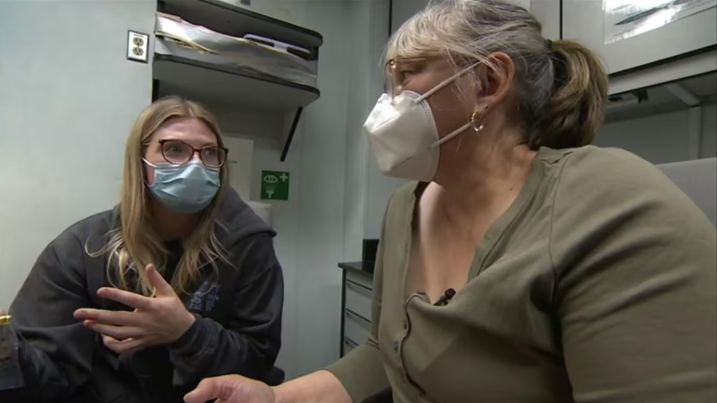 Dave Cote, the Amundsen's chief scientist, says having Nunatsiavut members aboard is a great help toward their research.
"If we're working in the North, ideally we'd like to work with northern communities," said Cote. "The coast of Labrador is the homeland of Nunatsiavut people and they have a really rich cultural knowledge and local knowledge because they've been there for thousands of years."
That local knowledge can come in hand in unexpected ways. During a rough day at sea, the Amundsen sought refuge inside Hebron Fiord, a narrow inlet in northern Labrador, away from the high winds and waves of the coast. While in the calmer waters, Pamak suggested a trip to shore to visit her husband at their cabin in Hebron.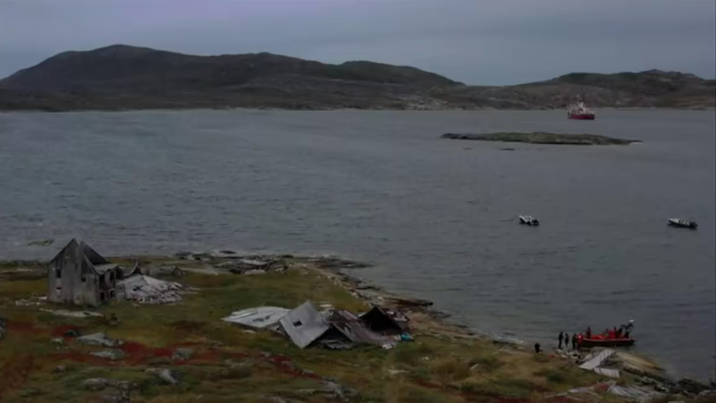 Established by Moravian missionaries between 1829 and 1831, Hebron was once the northernmost settlement in all of Labrador and a vital area for Inuit hunting and fishing. The settlement was later devastated by Spanish influenza and tuberculosis, and in 1959, without warning, the provincial government announced the community would close. Residents were forced to relocate.
The resettlement of Hebron is a painful chapter in the history of Labrador Inuit, as it meant many were forced into unfamiliar areas, causing a loss of livelihood and culture. While Hebron remains uninhabited, today the area is used as a cabin ground by some Nunatsiavut members, including Pamak's family.
"It's so remote, it's so barren," said Pamak. "You wouldn't think that people would come up here and do stuff, but we do. We still do. Every year there's more and more people coming up in these waters, in the winter time, in the summertime. They're coming up here to do their hunting and fishing and gathering."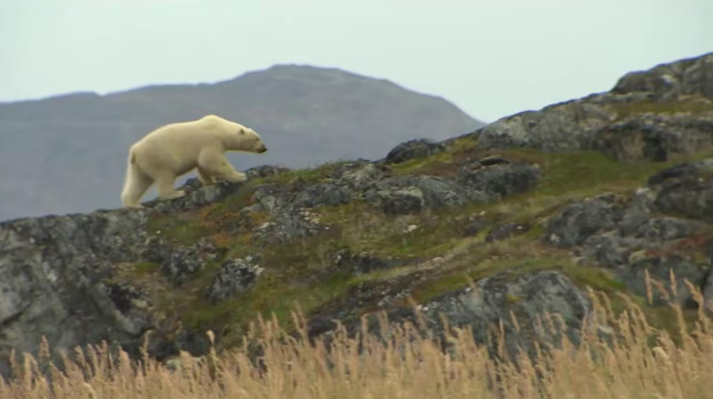 People from the Amundsen were brought ashore by Zodiac boats. Once safely on land, Pamak's husband, Richard, made sure the visitors understood the risks in the far north.
"There's eight bears there," said Richard, pointing toward a crowd of polar bears. "When you're travelling, stay together in groups. Don't wander off." A group of armed men watched over the bears, ready to fire a shot in the air and scare them off if need be.
The former community is now punctuated with dilapidated buildings, a decrepit Moravian church and an old Hudson Bay Company folded in on top of itself. Despite the remnants of a painful past, Richard and other people have found new ways for Hebron to live on.
"In the springtime, I usually come up just to relax and partridge hunt, do some ice fishing," said Richard. "I come up here in the summertime just to get away and do a little bit of char fishing." He makes the trip to Hebron from Nain around six times a year, a voyage that takes about seven hours in his small speedboat.
Richard appreciates the efforts of the researchers on the Amundsen.
"You can see the changes in wildlife and fish," said Richard. "Climate, I think, is having an impact in our area. It's important to document that now."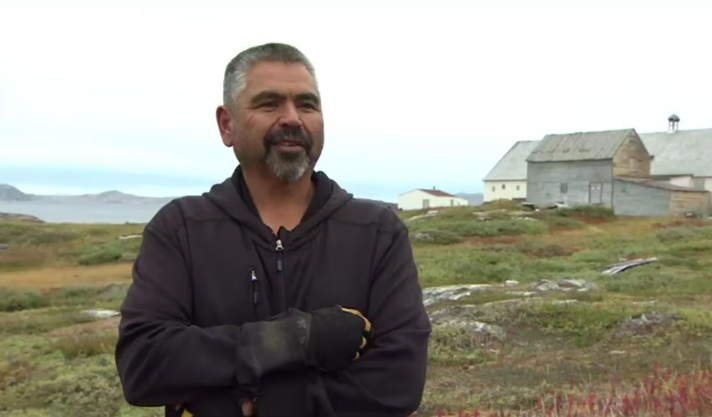 The trip to Hebron also added a new context for the other Amundsen scientists like Eugenie Jacobsen, who studies contaminants, such as mercury, in deep sea fish.
"People still live here, and the work that I'm doing is directly related to the people that are using these foods," said Jacobsen.
Pamak said it's important to give those researchers this perspective. "It's not just them doing the work for their PhD or their programs or whatever. It's doing work that's going to have an effect for the Inuit."
"This is who we are, " Saunders said. "This is how we lived and how we live now. There was people crying and thanking us so much for inviting them and showing them a little piece of who we are."
"It was the most profound part of this mission for me and for a lot of the scientists on board."
With files from Land and Sea
Related stories from around the North:
Canada: Climate change creating vast new glacial lakes, with risk of 'gargantuan' floods, researcher says, The Canadian Press
Greenland: Rise in sea level from ice melt in Greenland and Antarctica match worst-case scenario: study, CBC News
Finland: Miners hunting for metals to battery cars threaten Finland's Sámi reindeer herders' homeland, Yle News
Iceland: Arctic Science Ministerial postponed to 2021 due to COVID-19, Eye on the Arctic
Norway: Climate change hits back at Svalbard, coal mine flooded by melting glacier in Norway, The Independent Barents Observer
Russia: Record-warm Arctic summer fatal to wild reindeer in Russia, say environmentalists, The Independent Barents Observer
Sweden: Ten billion kroner for Sweden's upcoming climate budget, Radio Sweden
United States: Indigenous wildfire knowledge to be key part of new Arctic Council project, Eye on the Arctic