Beaufort Delta men don warm winter parkas they sewed from scratch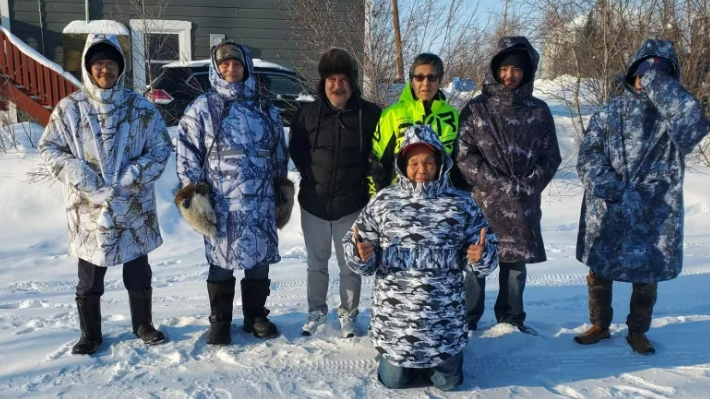 There are a lot of new sewers in the Beaufort Delta these days, all wrapped in cosy handmade parkas — and all of them are men.
The parka-making fever hit Fort McPherson last month, with a program where 10 men learned how to sew coats. Then it spread to Inuvik's Hope House last week, where five more men developed sewing skills of their own.
Alice Vittrekwa, one of the teachers for the Fort McPherson program, said it was the first time participants there had ever used a sewing machine.
"The parkas that they were going to make, it was such a big project," she said. "They didn't even have time to practise … I'm just so proud of them."
The lack of know-how didn't slow them down too much — though it did lead to some good-natured laughs along the way when one man sewed the hood on his parka only to realize at the end that he'd run out of thread partway through.
"I was just talking with one of the guys, and I said it was so cute to see these guys sitting behind a machine and making such a big project," Vittrekwa said.
"One guy there, he finished his parka … he put his parka on. 'Thank you!' he said, and he walked out of there and walked home with his new parka on. I'm just so proud of him."
Ernest Vittrekwa, one of the Fort McPherson men who took part, said he hasn't had much chance yet to wear his new parka. He's planning to use it when he goes on a trip.
"Back to old traditional ways," he said of sewing his own coat.
He laughed when asked whether he ever thought he'd be making his own.
"No," he said.
For some, it brought up memories of a time before Ski-Doo boots, when parents had to sew moccasins, mitts and parkas by hand for 10 or 12 kids at a time.
For others, like Ernest, it was a reminder of the importance of passing skills down from one generation to the next.
Alice Vittrekwa said her hope is that the program will come back and keep getting funding so more men have the opportunity to learn to make their own coats.
Some of the participants are hoping to learn other skills, too, she said, like how to make canvas shoes.
Crash course in sewing
In Inuvik, the five men who took part got a crash course in machine sewing before tackling their parkas.
Wilma Dosedel, one of the instructors there, said they had an intense first day.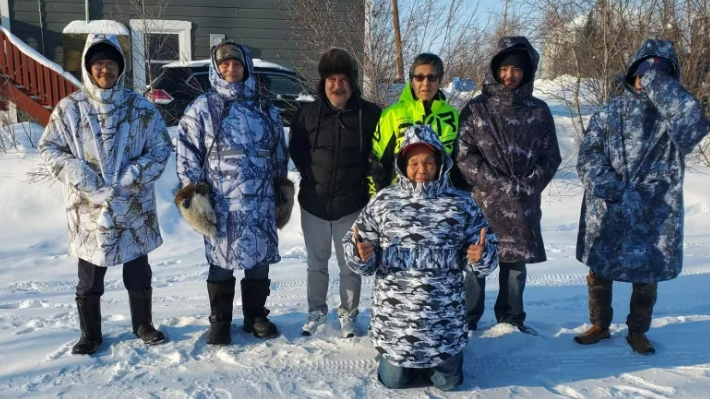 "After the ice was broken and whatnot, these guys are so confident in themselves now, and they're just zooming with their sewing machines and asking lots of questions," she said.
"Oh my, these guys! They're so patient."
Johnny Aviugana, one of the participants, said he made his parka for spring hunting.
"It's something new to learn, you know? I've tried pretty much everything, and I'd like to try it and learn about the sewing machines and how to do parky-making," he said.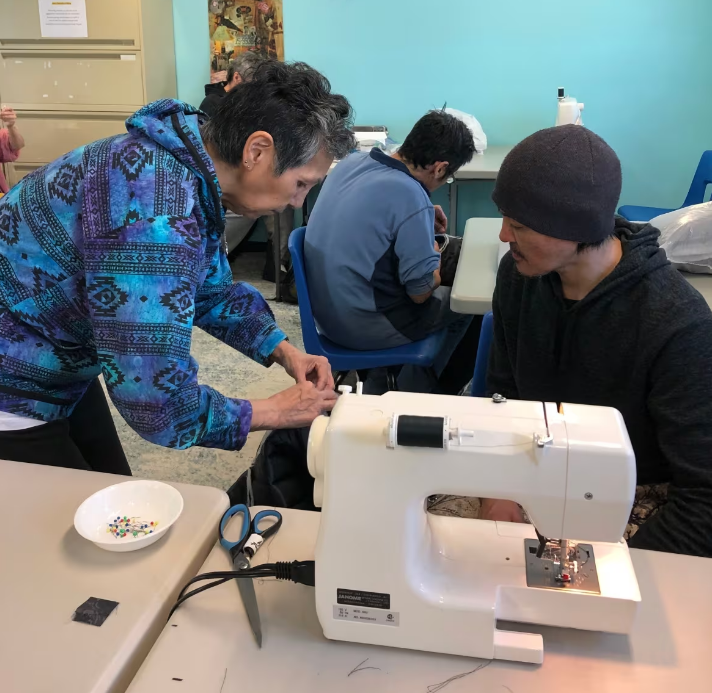 Dosedel said one of the things she taught the class was the importance of learning skills, no matter your gender.
"We share our skills together. Just like for me, growing up, I was taught how to do wood and fishnet and caribou, things like that," she said.
"It's skills that we share together, and you know, it doesn't matter if we're man or woman, girl or boy, that we've been taught from a young age."
Written by April Hudson with files from Wanda McLeod
Related stories from around the North: 
Canada: Arctic Inspiration Prize awards over $2.7M to projects 'by the North, for the North', CBC News
Norway: Certification marks help both Sami artisans and consumers, says council, Eye on the Arctic
Russia: German project to house everything published in Siberian and Arctic languages to seek new funding, Eye on the Arctic
Sweden: 2022 Gollegiella Nordic Sami language prize awarded in Stockholm, Eye on the Arctic