Spring melt in Whitehorse could bring more landslides, geologist says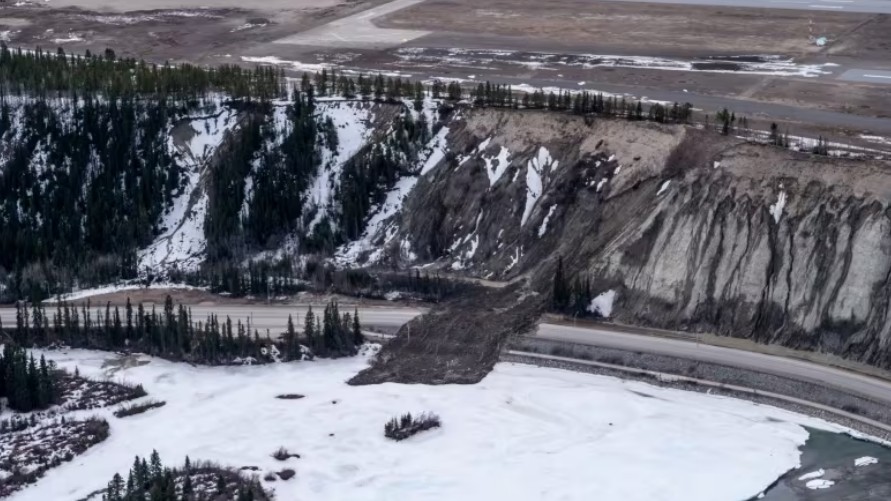 The snow in Whitehorse has been steadily melting over the last week or so — and that's got some people eyeing the escarpment and wondering about the potential for more landslides this year.
"It's definitely the time to start paying attention and make plans for the spring," said Jeff Bond, head of surficial geology for the Yukon Geological Survey.
"We're going to start to see… the snowpack start to penetrate into the ground, and you know, become a part of that groundwater table — which is really the concern."
Last spring saw several landslides along the escarpment that flanks the city's downtown. The most significant one happened in late April, when a large torrent of mud, rocks and vegetation suddenly spilled across Robert Service Way and into the Yukon River. The roadway was closed for several weeks while the city cleared the debris and constructed a barrier to protect against further slides.
More slides happened over the following weeks at other spots along the escarpment. Walking trails and a playground at the base of the cliffs were closed into the summer because of the risk.
Now, as this year's snow melts, that risk will return, Bond says.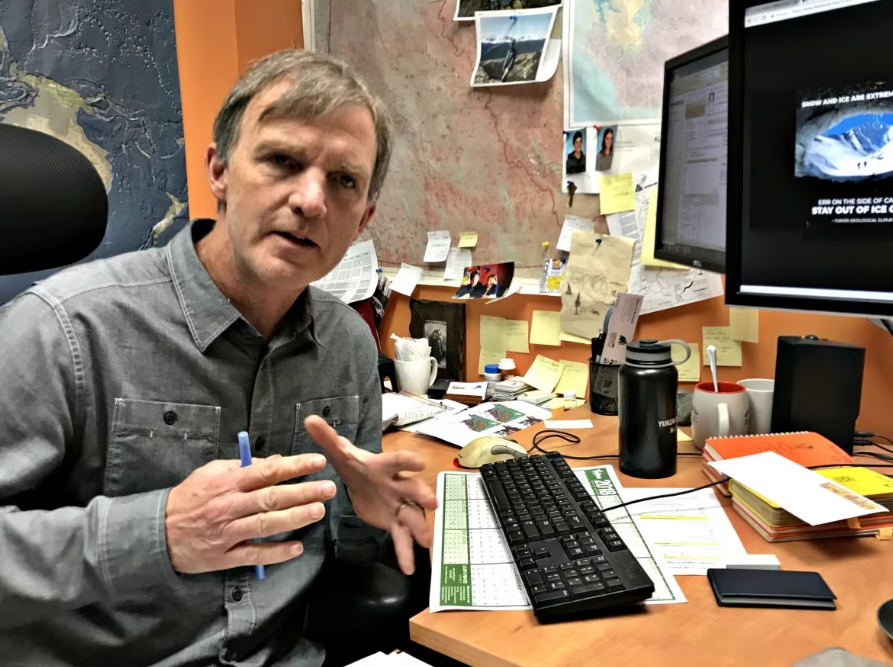 "We… encourage people, as we move into sort of the latter weeks of April and May, to be very, very cautious about their activities around the escarpment, and you know, maybe stay away," Bond said.
"And encouraging your children to not play at the base of the slopes this spring would be, I think, a good idea as well."
Some areas started to slide last year
Engineers connected last year's slides to the winter's heavy snowfall. The unusually high snowpack in 2022 saturated the ground atop the sandy, silty escarpment, making it unstable and prone to slides.
Groundwater levels appeared to still be higher normal earlier this winter, Bond said, so the same risks will be there. He says there are some areas to keep an eye on, particularly around the big slide that closed Robert Service Way.
"There were portions of the escarpment that sort of started to slide last year, or they broke away a bit… there were some tension cracks forming but they didn't actually give way," Bond said.
"There's a high probability, I would say, that some of those could go this spring."
Last month, City of Whitehorse engineers warned of a "large tension crack" on the escarpment above the Marwell industrial area, threatening one of the city's main sewer lines. The crack reportedly resembles those that were seen elsewhere along the escarpment before last year's slides, and suggested a "high probability of imminent slope failure," according to a report to city council. It's expected to be a $10-million fix to protect the sewer line.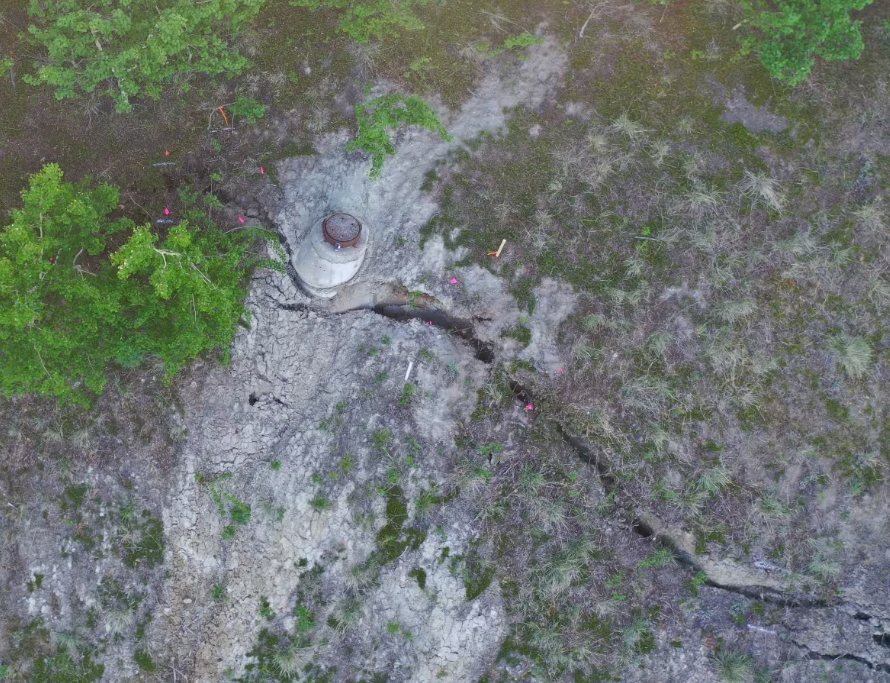 Bond said there are often signals that a slide is about to happen, so monitoring is important.
"If you're out there observing, you can definitely see the signs of these things — so, they will occur over a few days before they actually release," he said.
Nobody from the City of Whitehorse was available to talk about monitoring, or how the city might manage the risk of slides this year. A spokesperson said city officials plan to give a public briefing next week.
The Yukon government's water resources branch, which monitors snowpack and groundwater levels, was also not immediately available for an interview.
But Bond said it's not just up to officials and scientists to watch for potential problems.
"Citizen science is going to play into this in a big way," he said.
"I would recommend, you know, anybody who's seeing any unusual activity to report back to the city or the Yukon Geological Survey."
With files from Robyn Burns
Related stories from around the North:
Canada: Arctic sea ice hits new record winter low, Radio Canada International
Finland:  Warm Easter predicted across Finland… even for Lapland, Yle News
Greenland:  Arctic sea ice, Greenland and Europe's weird weather, Deutsche Welle's Ice-Blog
Norway:  A letter from Svalbard's dwindling sea ice, Deutsche Welle's Iceblogger
Sweden: Storm Helga weather warning for Sweden, Radio Sweden
United States: Ice extent still well below normal in Arctic, Alaska Dispatch News