Kátł'odeeche, N.W.T. wildfire didn't grow at all over the weekend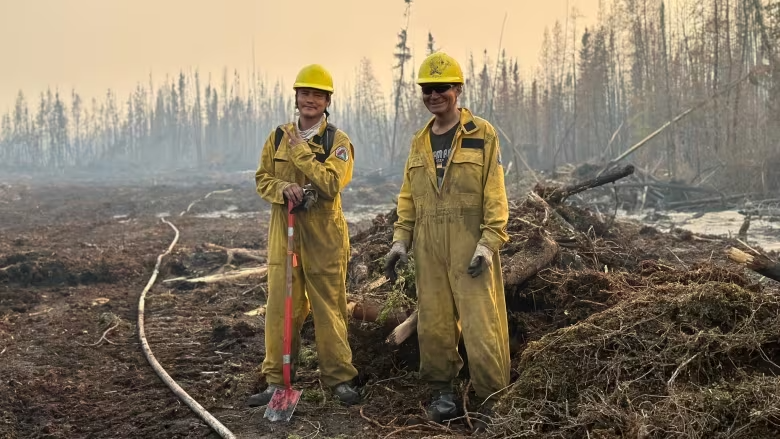 Firefighters working to make reserve safe for residents to return, says N.W.T. Fire
Fire officials in the N.W.T. say the wildfire that burned part of the Kátł'odeeche First Nation reserve and threatened the town of Hay River didn't grow over the weekend.
On Monday, fire information officer Mike Westwick said there are still occasional hotspots popping up in Kátł'odeeche, and firefighters are focusing their efforts on rooting out those spots so residents can eventually return.
The fire is still classified as "being held", meaning it could still grow if conditions change. At last estimate, the fire has burned through 3,209 hectares of land on the southeast side of the Hay River.
"Most of the burning has been localized to the east side of the fire, which is further away from much of the populated areas of the reserve," Westwick said.
Firefighters are expecting temperatures to stay on the cooler side Monday, and possible rain, after a weekend of hot and dry conditions.
"We're hoping to be able to just continue to focus on blacklining and addressing those hotspots," Westwick said.
Blacklining refers to fully extinguishing everything within 100 feet of control lines.
In an update on Facebook Monday morning, N.W.T. Fire said crews are also working to hold the control lines to the south and east, to stop the fire from spreading into a forested area between it and Highway 5. Those lines are also helping to keep the fire from Hay River and the rest of the reserve.
Meanwhile, elsewhere in the territory, a large wildfire 40 kilometres south of Sambaa K'e grew to about 98,000 hectares on the weekend.
Westwick said that fire, which was caused by lightning, is expected to grow larger.
He said fire teams are helping the community build safeguards. More support workers, including specialists on protecting valuables, are on their way to the community.
Related stories from around the North: 
Canada: Ash falling 'on our heads': Hay River, KFN evacuees drive through the night, CBC News
Russia: New NOAA report finds vast Siberian wildfires linked to Arctic warming, The Associated Press
Sweden: High risk of wildfires in many parts of Sweden, including North, Radio Sweden
United States: Wildfires in Anchorage? Climate change sparks disaster fears, The Associated Press