Gigantic Russian flag unveiled on Arctic Ocean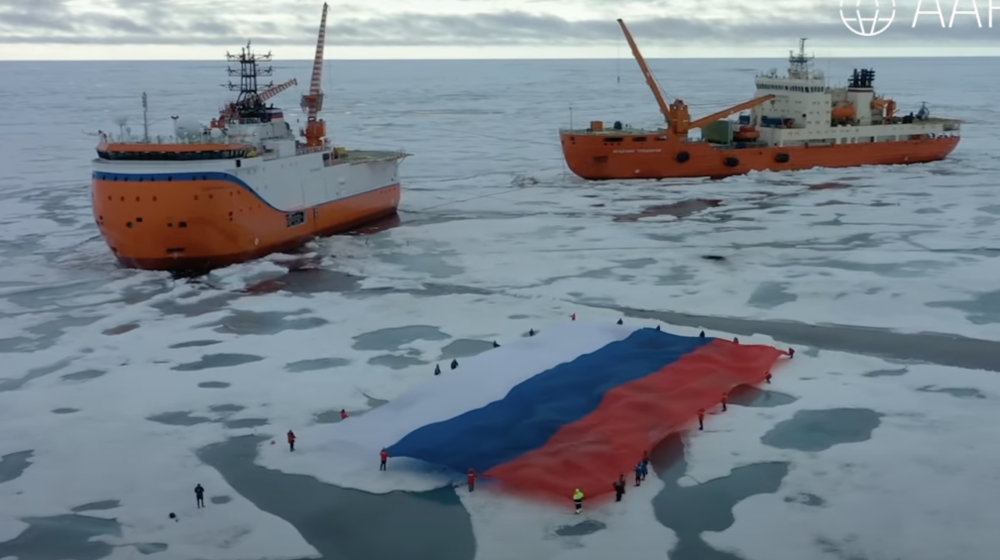 By Elizaveta Vereykina, The Independent Barents Observer 
A group of scientists from the Russian Arctic and Antarctic Research Institute unveiled a 1,400 square metre white-blue-red Russian flag on the sea ice nearby the drifting polar station "Severny polyus-41".
A statement on the institute's website states that the unveiling is part of a project called "All Elements" and was done to celebrate the State Flag Day in Russia on August 22.
"The idea of the project is that the Russian state flag is being unveiled in the most extreme climates and in the most significant places of the planet: in the air, in the water, on a volcano and on soil….", the statement continues.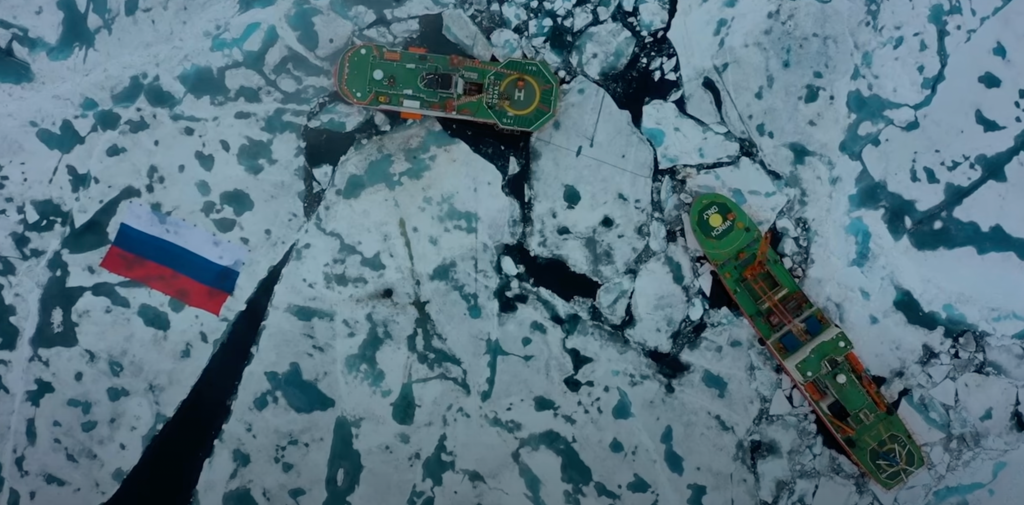 Drone footage posted on the institute's website shows a group of around 20 people unveiling the flag on the floating Arctic sea ice at 83.31°N, 51.48°E, with two scientific icebreakers visible in the background: "Severny Polyus" and "Akademik Tryoshnikov".
"The polar researchers are separated from the mainland by 10 months of drifting in the most difficult climate ever, surrounded by ice and the coldest ocean in the world…. We want them to feel the support. That's why the huge Russian tricolor flag has been unveiled", Alexander Makarov, head of the Arctic and Antarctic Research Institute said.
 "It's a sign of dominance"
The dimensions of the flag are 48.1 m by 29.6 m, the Institute's press release further states.
"They are not just raising a flag. It's a massive flag. It's a sign of dominance. And I suspect it's a sign of defiance", The Arctic University of Norway (UiT) Professor on Security and Geopolitics Gunhild Hoogensen Gjørv told The Barents Observer. "The Arctic Council, including relations with Russia, are on pause. There are very few relations between Russia and the other seven Arctic states. The flag is a signal to indicate that they are still big boys on the block".
The professor is also concerned by the fact that Russian scientists are engaged in such political acts:
"It says something about the scientific community in Russia – it's whether a pressure they are put under to have to engage in such a symbolic act or whether the scientific community is very politically active as well. If you have a very highly politicized scientific community, that hinders the possibility for cooperation with Russia", the professor said.
The unveiling of this giant flag is the latest in a series of symbolic stunts that experts view as Russian attempts to assert their presence and dominance in the Arctic. On the Norwegian archipelago of Svalbard a giant Orthodox Christian cross was recently erected in Pyramiden, and a military-style parade was staged in the mining town of Barentsburg earlier in May.
Related stories from around the North: 
Canada: Northern premiers say Canada can't have Arctic security without infrastructure, The Canadian Press
China: Satellite imagery reveals construction progress on new Chinese Antarctic base, Eye on the Arctic
Denmark: Danish policy prioritizes low-conflict Arctic amidst Russian tensions, Eye on the Arctic
Iceland: Icelandic embassy suspends operations in Moscow, Eye on the Arctic
Norway: Svalbard's travails in a changing Arctic, Blog by Marc Lanteigne
Russia: Russia relocates Tu-22M3 bombers to Kola Peninsula after drone attack, The Independent Barents Observer
Sweden: US bombers land in northern Sweden for first time, Radio Sweden
United States: Russian, Chinese vessels near Alaska reminder of 'new era of aggression': Senators, Eye on the Arctic