Fort Simpson, N.W.T., sees fire protection work as a biofuel opportunity
Kele Antoine, the chief of Łı́ı́dlı̨ı̨ Kų́ę́ First Nation, says building fire breaks around Fort Simpson should be approached the same way Dene people harvest a moose. 
"It's not just about harvesting an animal for the meat. There's clothing, there's artwork, there's tools, there's so much that could come out of that one animal," he explained.
Antoine said timber and brush cleared from the land should be used completely — bigger logs can be used for building projects around the community like picnic tables, benches, gazebos and garden boxes.
What can't be used for construction projects can be used to heat people's homes — offsetting the cost and emissions that come from using heating oil or diesel instead.
"Let's not waste, let's use what's there and in the best way that we can," said Antoine. And, he pointed out, there's no shortage of dense forest around his community — a cause for concern, as the N.W.T. continues to battle an unprecedented wildfire year that has so far spared the Dehcho community of about 1,200.
The Liard and Mackenzie rivers may offer Fort Simpson some protection from wildfire — but the village is still flanked by dense forest on its western and southern sides.
"There's a lot of areas that need a lot of work. There's a lot of untouched areas, you know, that have not had any burns in the last, in our recorded history, really," said Antoine. "We need to get to work this winter, we need to widen fire breaks, we need to harvest any of the biomass that's available."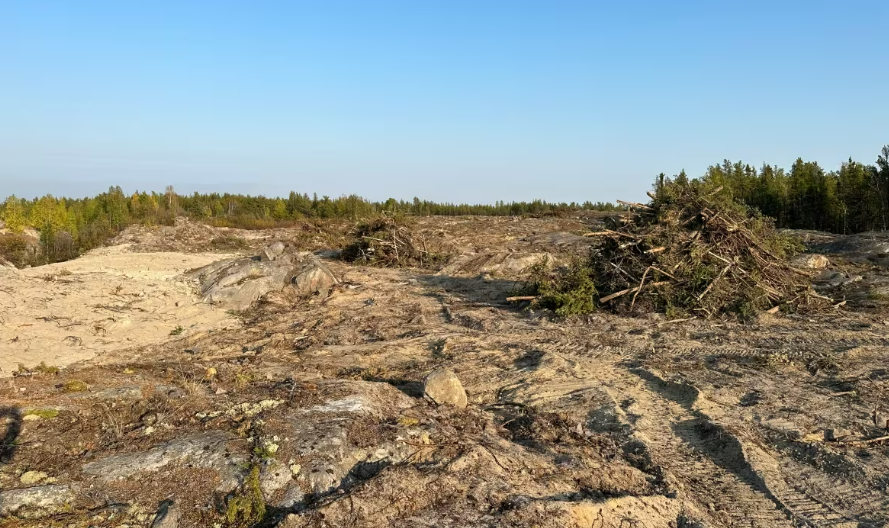 The landscape around Yellowknife has been drastically changed by huge fire breaks, built this summer to protect the city from encroaching wildfires. CBC News reached out to the city to see what had happened to the trees and brush that were cleared away, but did not receive a response by publication time.
How Fort Simpson is protecting itself from wildfire
The Village of Fort Simpson received a little more than $1 million in federal funding, through the Northwest Territories Association of Communities, for fire protection work this year.
Sean Whelly, the village's mayor, said the money will be used to widen a fire break east of the Wild Rose Acres neighbourhood and to thin out mature spruce trees on the island's northern side.
Though some of the brush clearing has already happened along Antoine Drive, Whelly said the village has to get contractors to bid for bigger parts of the fire protection work. He hopes the established fire break can be widened and the spruce trees thinned in the fall or next spring.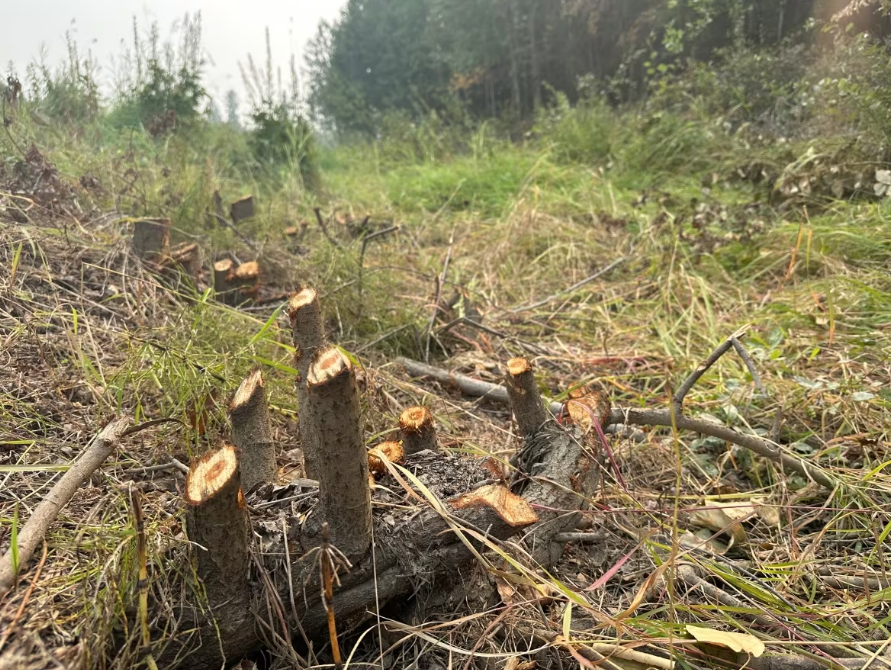 Whelly also expected the village's fire protection plan would be updated soon — adding more projects to the list that the federal funding can be used on, like building a break somewhere along Highway 1, near the landfill, where there are a lot of mature jack pine trees.
The trees around Fort Simpson grow bigger and more densely than they do around Yellowknife, meaning the work to build and maintain firebreaks will be more onerous.
"One million is not going to go that far," said Whelly.
"We're hoping to get more money."
Wood and brush could be turned into energy: Deputy mayor
Like Łı́ı́dlı̨ı̨ Kų́ę́ First Nation's chief — Fort Simpson's deputy mayor also sees opportunities in the trees around his home.
"I think our territory needs to push harder when it comes to green energy development," said James Tsetso. Most N.W.T. communities, including Fort Simpson, rely on diesel generators for energy.
As the cost of running those diesel generators continues to rise, Tsetso said generating energy from wood and brush is the "right move" and a step toward a "better future." Right now, the brush people are clearing away from their homes in Fort Simpson is being turned into mulch at the dump.
Tsetso said material from fire breaks can be turned into wood chips, which can then be turned into fuel through a process of wood gasification. Bigger timbers, he agreed, can be used to build homes and other projects while cleared land could be used for agriculture and farming.
"We can create an industry just by utilizing renewable energy sources," said Tsetso.
"This territory needs to start using resources around their communities in a more productive manner that's hopefully going to save communities from the impacts of wildfire devastation."
A report from Liny Lamberink
Related stories from around the North: 
Canada: Yellowknife hospital emergency at 60 per cent, CBC News
Finland: Doctor shortage in South, patient shortage in North during Finland's summer, YLE News
Sweden: Giving birth in a car: a real rural problem in Sweden, Radio Sweden
United States: Alarming number of patients at Alaskan psychiatric emergency room, Alaska Public Media