Listen
If passed, a law making it a crime to wear a mask at a violent protest would violate Canada's Charter of Rights, argues the British Columbia Civil Liberties Association. The western Canadian group made its case before a senate committee studying the legislation as it makes its way through parliament before becoming law.
Currently there is no federal law banning masks at demonstrations. The criminal code does state that if a person is convicted of committing a crime while wearing a mask they would get an increased penalty. And that, say the opposition parties, is enough to deal with situations involving violent demonstrations.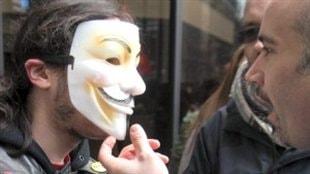 The proposed law would impose heavy penalties for anyone wearing a disguise while participating in a protest that became "an unlawful assembly" or riot. It would mean, for example, that someone wearing a mask at the head of a long protest march could be charged if something illegal happened at the end of the parade.
"Everything is wrong with this"
"We told the Senate everything is wrong with this," said Micheal Vonn, policy director at the B.C. Civil Liberties Association. "It is a violation of freedom of expression. It chills the expression, meaning it makes people less likely to want to participate in these kinds of events.
"There's a problem, of course, with privacy. It suggests you have to make your face, your identity known when you participate in public demonstrations.
"There's the presumption of innocence. Here you haven't committed any crimes. You've just been wearing a face covering in an assembly where other people have committed crimes."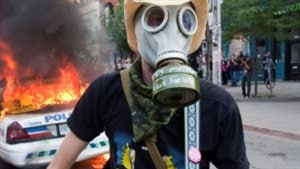 Among the many reasons people cover their faces, Vonn noted the need to protect oneself from tear gas or other substances used by police in riot control. She also gave the example of refugees protesting policies in their countries of origin not wanting to be identified in case family members still there could be at risk from security forces.
Charter guarantees free expression
The proposed law violates the Canadian constitution in Vonn's opinion. "What this is doing is making just wearing a mask when somebody else in the vicinity causes the trouble, they're making that a criminal offense and we say, that is out of the question and something that the constitution is not going to allow."
If the law is passed and someone is found guilty, Vonn says there will "most assuredly" be a court challenge based on the Charter of Rights in the Canadian constitution.
"Our freedom of expression rights are one of the things that is really whittled away (by this proposed law,)" said Vonn.