Despite guidelines that recommend vaccinating dogs every three years, many Canadian veterinarians push annual vaccinations, according to an investigation by the public broadcaster, CBC.
There are an estimated 14.5 million dogs and cats in Canada. Half the cats and 78 per cent of the dogs saw a veterinarian in the past year.
Annual shots are not necessary, says Dr. Jean Dodds, a California-based veterinarian and researcher specializing in dog vaccination protocols. "It's inappropriate and (veterinarians) need to get with the current policies and guidelines," he says, adding there is plenty of research he calls "black and white" on the subject.
The Canadian Veterinary Medical Association says the research on vaccines is still controversial and that the vaccination schedule should be determined on an individual basis.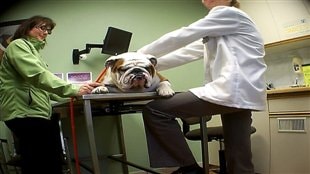 Vet prescribed "unnecessary" testing, treatment
Veterinarians visited by CBC staff and a healthy three-year-old English bulldog prescribed treatments and procedures that experts say are not needed, including unnecessary testing and a weight loss program. Despite the dog being up to date on all vaccinations, six out of 10 vets visited recommended he be given at least one vaccine during the exam.
Vet costs in Canada increased 90 per cent between 1997 and 2009, according to government statistics.
The report is called Barking Mad and was made for the CBC consumer program, Marketplace.