(Veterans Week is the period leading up to Canada's national Remembrance Day commemoration on Nov 11)
In every war in which Canada was involved, it has fought with complete determination to win. If killing is necessary, so be it. During the Cold War, Canada's military was involved in some way in all of the UN peacekeeping missions in locations scattered around the world, sometimes, albeit rarely, involving the use of force.  In the general public's minds in this country, the military became a peacekeeping force.
In the face of this firmly held public perception, a former Chief of Defence Staff, General Rick Hillier, used to take pains to emphasize that the military's primary role was that of a fighting force. Peacekeeping was something the force could do, and do very well, but that was not the primary role.
So, is Canada a warrior nation, or a nation of peacekeepers?
Lee Windsor (PhD) is Deputy Director of the Gregg Centre for the Study of War and Society, and Frederick Eaton Chair for Canadian Army Studies at the University of New Brunswick.
Listen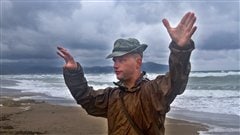 In the First World War, Canada with a 1914 population of less the 8-million,  sent over 600 thousand soldiers to Europe.
It was a motley volunteer force of untrained farm boys, city store clerks, policeman, factory workers, fisherman, lumberjacks, dock workers.
But after just a couple of years of war, Canadians proved to be the fiercest fighters on the Allied side. In the air, several of the highest scoring aces of the war were Canadians. Barker, Bishop, Collishaw to name just three.
On the ground, the Canadians held the line in gas attacks when the others broke and ran. By 1917 Canadians were being used as the shock troops and had to be snuck into the front lines to prevent the Germans from knowing who they were about to face, and rushing in reinforcements.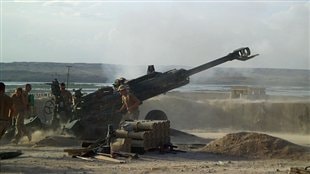 In the last 100 days of the war, Canadians won every battle they engaged in.
In the Second World War it was much the same story, an all-volunteer overseas force that was highly respected by the Allies and again feared by the Germans for their determination.
In Korea , the story was repeated, Canadians holding hill tops in fierce hand to hand fighting agains vastly superior Chinese numbers, while other UN forces abandoned their positions.
Professor Windsor says these fierce military actions do not make Canada a warrior nation. He says a warrior is fierce but not necessarily for moral reasons, and usually adheres to no particular laws.
This is not and never has been the case for Canada's military.  The Canadians in all causes he says, fought fiercely but for a moral purpose they believed in, and an altruistic internationalist cause as well.
"Canada's military experience is very closely tied to its desire to make the world a better place", he says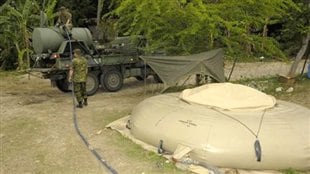 In the Cold War era, Canada earned a world-wide reputation as respected peacekeepers, on rare occasions having to resort to force, but almost always seen as a neutral and unbiased presence, and very often able to de-escalate incidents before they became battles between conflicting sides.
Professor Windsor says don't glorify their nation's military or its exploits as do, or have done, some nations, nor has our military ever gone to war in support of autocratic ideas, or expansionist goals. Instead he says they have been citizen soldiers who are mindful of the constitution and fought to protect it and its ideals when threatened, but did so in accordance with international rules, something "warriors" do not do.
Asking if Canada is a warrior nation, or a peacekeeping nation is too simplistic, and probably not the right question to ask.  Professor Windsor says unlike many other countries Canada has never really undertaken a study of the military, about who the people who put on a military uniform in this country, and what the military has meant and means to Canada today.
Professor Windsor cites a paper produced by a Canadian Great War officer Colonel E M Slader, of St John New Brunswick who in 1920 wrote,
"All units of the Canadian militia have proved their worth in the past, and have preserved a military spirit in the country, not militarism that elevates the soldier above all institutions, but the spirit of the civilian soldier who fights to preserve that measure of happiness which has been attained through free institutions and good laws…… not seeking to impose upon the rest of the world the will of an autocrat….or assisting in the ambition to dominate others."
Although written almost a century ago, about Canadians actions in one of the world bloodiest wars, Professor Windsor says it seems to fit very well with Canada's use of its military, and the Canadian Forces itself.