Toronto is Canada's biggest city, and still growing. It also has one of the biggest condo markets anywhere.
But when parts of brand new towers began falling to the streets below, people began to question the rapid pace of new construction.
A new documentary digs into the issue to find out what's at stake in a film called "The Condo Game", Although using Toronto as it's main focus, the film has implications for condo development and certainly for potential buyers, everywhere.  Helen Slinger of Bountiful Films is in Vancouver, where a similar condo boom in the late 80's and 90's led to massive subsequent problems which destroyed many people's savings and ruined many lives.
Listen
In The Condo Game, filmmakers Lionel Goddard and Helen Slinger look behind the huge glass and concrete structures to reveal the forces at play in a booming condo market, forces that experts say have helped drive real estate prices 30% higher than they should be.
Some of that is due to sales to investors, foreign and domestic, who snap up almost half the units as a place to park their money.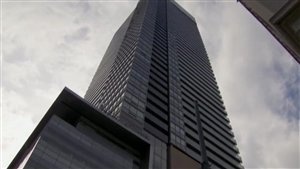 One of the people interviewed is a major condo broker, Charles Hanes. He says, "The industry is not set up for Joe Average. It's a commodities play for investors," He points out how huge condo developments work in favour of developers and investors and against the average homeowner and the city itself.
As developers race to take advantage of a boom, quality of construction can suffer. Some experts advise people to set aside thousands more than the purchase price in preparation for repairs to their brand new condo.
And when condos aren't well built in the first place, the possibility of major problems multiplies as these giant buildings age. Financial writer Diane Francis says "I think there's a real problem with these monolithic buildings that are sold to foreigners or to speculators, I think the governance is going to be a nightmare, I think they are potentially going to become slums."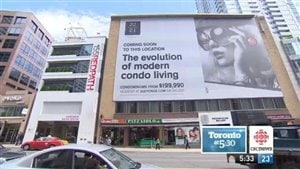 As a corporate realtor, Cathy Strati knew to ask all the right questions when she was buying her condo, yet she still ended up in a unit rife with issues – like a malfunctioning door lock that sometimes left her trapped inside
The film also speaks to a lawyer specializing in condos who points out sales contracts are so complicated, buyers can't really be sure they're promised anything.
Although the condo market is slowing, its still a massive market everywhere.
Helen Slinger says after researching and filming The Condo Game should be a wake up call to cities, and to buyers.
The Condo Game airs in Canada on CBC "Doc Zone" on November 21st, and repeated on the News Net channel on the following Saturday and Sunday.