Its called CHAIN- the Canadian High Arctic Ionosphere Network.
It's a series of monitors that is helping to map the solar wind,  the variations in radiation from the sun that affect communications and navigation. The data is being collected and analyzed at the University of New Brunswick in eastern Canada.
P.T. Jayachandran is with the Department of Physics at the university and leads the project. He and his research team have recently returned from installing eight more GPS systems into the network
Listen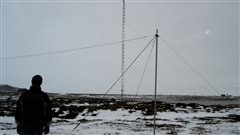 The new equipment brings to 18 the number of stations in the system which monitors the ionosphere about 90 kilometres above the earth.
The CHAIN equipment involves both highly specialized GPS systems and radar/ionosondes.  Both are measuring changes in radiation and deflections in the ionosphere which is where the charged solar wind meets the atmosphere and creates what we know as the northern lights or aurora borealis. The same phenomenon occurs at the south pole as the  aurora australis.
Canada leads in monitoring of solar wind
Dr Jayachandran points out that Canada is the first to install such monitoring equipment and has since been giving advice to other circumpolar nations in adding to the research.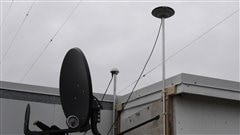 He notes that as climate changes the far north will become more accessible with more development.  This means increased aircraft and ship traffic. It will become critical for communications to be able to know and to switch to frequencies less affected by solar storms and for navigation to be able to know exactly where they are by figuring in the deflections to avoid grounding and accidents.
The plans are to increase monitoring stations to 25 next year, and eventually 45. This will improve resolution and prediction. Professor Jayachandran also says the increased data will mean, "We can basically look at things which we haven't looked at before so that we can understand this phenomenon at the fundamental level."
Funding for the research come from Canada Foundation for Innovation,  New Brunswick Innovation Foundation, Natural Sciences and Engineering Research Council of Canada (NSERC), and the Canadian Space Agency.