Rainfall is generally considered vital to life, but warming in the Arctic means a lot more rainfall, more often and heavier, than historical norms.
Now, a new study has established a direct link between changing climate in the far north and decline in peregrines and very likely other wild birds.
Unequivocal evidence 
University of Alberta Researcher Alastair Franke, with colleague Alexandre Anctil of the University of Quebec, created a nest-box experiment that they say provides "unequivocal evidence" that the recent gradual changes in Arctic temperature and climate are responsible for decline in peregrine reproductive success.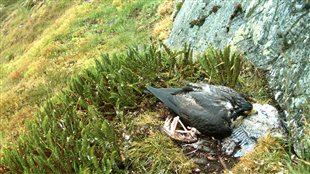 The researchers studied  historical weather data and measures of breeding success dating back to 1980, and compared it with a nest-box experiment from 2008- 2010 near the town of Rankin Inlet on Hudson Bay. This is an area with a dense population of peregrines, a top predator in the Arctic.
The researchers installed motion sensitive cameras which confirmed that more than a third of chick deaths were caused by rain, whether in the nest-boxes or on natural ledges.  Normally when it rains the adults shelter the chicks with their wings, but excessive and heavy rains can force them to give up.
The chicks are also covered in fluffy down which gets wet quickly and leads to exposure and death.
The nestlings died from drowning in flooded nests
"The nestlings died from hypothermia and in some cases from drowning in their flooded nests. Without constant parental care, they are most vulnerable to cold and wet conditions in the first three weeks of life", said Franke.
Where once DDT was a known culprit for the bird's decline, scientists were puzzled by an ongoing decline after DDT use was banned in Canada in 1970 and was no longer an issue in high bird mortality rates.
This led researchers to study the issue of climate change.
Alistair Franke says, that grim as the study's findings are, "they have improved our understanding of the direct effects of long-term changes in weather patterns and have identified the potential importance of indirect effects".
The work also shows that wildlife can be sensitive to many different environmental pressures and that ongoing vigilance and monitoring is critical, he noted.
The researchers also noted that several chicks in nest-boxes died of starvation even when spared the direct effects of rain.  They suspect an increase in storm activity may be reducing the availability of prey for the falcons.
Franke indicates a food supplementation study will be examining this link.
The study was funded by ArcticNet, the U of A's Canadian Circumpolar Institute, the Nunavut Wildlife Management Board and Department of Environment, the Natural Sciences and Engineering Research Council of Canada, the Fonds de recherche Nature et technologies Québec and a W. Garfield Weston Award. –