Race organizers for two major international high profile endurance races in Canada's Yukon territory are nervously watching the forecasts.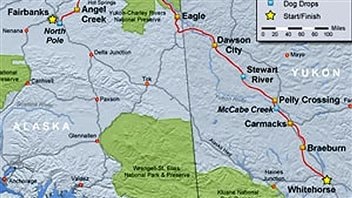 For the past few days it's been unusually warm in the region, with yesterday's high at 10 degrees Celsius.
Organisers for the Yukon Quest mushing race, and the Yukon Arctic Ultra Marathon endurance race, are concerned the temperatures will make the course slushy and perhaps even dangerous.
The Yukon Quest is a 1600 km dogsled race from Fairbanks, Alaska to Whitehorse Yukon Territory taking participants from 10 to 20 days to complete.
The Ultra follows part of the same trail but from Whitehorse going north. Competitors either run, mountain bike. or cross-country ski and can choose a160km race to Braeburn, a 480 km race to Pelly Farm, or a 700km race all the way to Dawson City.
"It's been a crazy winter and it's a dangerous winter because you don't have to get very wet to get in trouble if you're out in the bush," says veteran Whitehorse musher Frank Turner. "The whole idea is to stay dry."
Earlier in the season the Yukon saw warm temperature records broken, extreme winds over 100km/h followed by heavy snowfall which acts like an insulation blanket and can keep still bodies of water from freezing.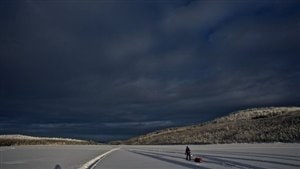 "That trail that we've been using was exposed to the cold air," Turner says, "and that's still hard. But you step a couple of inches off that trail and then you're into water."
Robert Pollhamer who organizes the Ultra says the ideal weather would be -20. If it's too warm the competitors sweat during the day which causes real problems for them at night when temperatures dip back well below zero.
Things should improve however for race start on January 30 for the Ultra and February 1 for the Quest. While temperatures were still above freezing on Friday, the 14 day forecast shows a gradual decline to -11 for Whitehorse by the end of January.
Some 56 competitors have signed up for the Ultra, and 19 mushers for the Quest.
 (with files from CBC)