Many hundreds of people spent hours lined up around the huge block outside a store in Canada's biggest city yesterday. They were all hoping to pick up small cardboard signs advertising the store's various sales over the years.
In fact, the signs are considered momentos of an iconic landmark store, Honest Ed's and the huge crowds wanted a small piece of Toronto history as the store begins to wind down.
From its earliest beginning in 1948, Ed Mirvish plastered his bargain store inside and out with wacky slogans and puns, a store which grew and grew, and sold just about everything imaginable.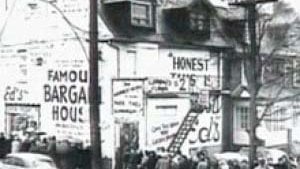 Slogans included- "There's no place like this place, anyplace" or "Come in and get lost", or "Ed's an honest man, only the floors are crooked"
The store with its many thousands of lights became a Toronto landmark, while Ed Mirvish himself became one of the best known names in the city not only for the store but also internationally in the arts scene for his love of theatre by helping to create the city's theatre district, promoting international productions, and restoring glorious old theatres in Toronto and in London England.
The sale signs and pun slogans, themselves were unique in this modern age, being all hand- painted, a rare and dying skill, by two men in a small office above the store. The proviso for the sale signs was that prices were always in red.
Like everything else in the store, the signs were budget-priced, unlike the store itself which occupies a huge space in the heart of Toronto and as such sits on extremely valuable land.
It was sold for a reputed $100 million to a Vancouver development company and it's expected  the 1.8 hectare site will be turned into condominium towers in two or three years.
Ed Mirvish died in 2007 at age 92 and the holdings are run by his son David.