Listen
Canadian fathers are taking more paid leave from work to spend time with their new babies. A new study investigates the way fatherhood has changed in Canada. It suggests dads are becoming more involved with their children to their own benefit and that of their children, partners and society as a whole.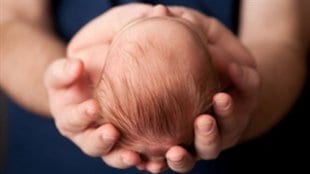 Traditionally fathers went off to work, and women stayed home and shouldered almost all of the responsibility of raising the children. But now as more women join the work force, more men are sharing in child care responsibilities.
Self-described "involved" fathers were chosen for this study which was based on interviews with 53 dads from different economic groups, cultures and family arrangements. Results will soon be published in the White Ribbon Campaign report. White Ribbon calls itself the world's largest movement of men and boys working to end violence against women and girls, promote gender equity, healthy relationships and a new vision of masculinity.
Dedicated fathers planned leave
Several dads in this study reported they had planned well in advance of the birth of their babies to take time off work to care for them. "We really heard about a dedication from these fathers, about how this was so meaningful," said the study's lead author Ian DeGeer, a PhD candidate at Wilfrid Laurier University in Waterloo, Ontario. "These experiences really had an impact on the fathers we talked to."
Isolation reported
On the down side, fathers who stayed at home with their children rather than work reported feeling somewhat isolated. There are many play and activity groups for mothers and children, but the men reported they were often the only males attending such groups.
But the fathers clearly felt the benefits of being more involved with their children outweighed any feelings of isolation.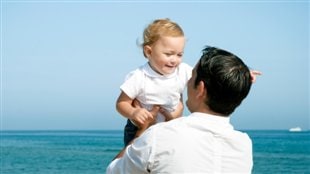 Benefits to children and dads
"The first benefit I think they have is that they are really connected to their children," said DeGeer. "So the earlier fathers can be involved in the lives of their children the more closely connected they feel in the lives of those children. And they certainly talk about it in terms of the attachment they have with their children and the ways they interact."
The dads told DeGeer they had an internal feeling that they are doing something that's "absolutely meaningful to them" and something that, in future, will benefit their communities and society.
Benefits to partners
Fathers also reported their involvement benefitted their partners in that moms got a break from parenting, that partners had more time together, they communicated  more and could benefit from each other's knowledge base.
The children in turn could see the parents working together and DeGeer says that helps promote gender equality.
'Evolution of fatherhood'
In concluding the study, DeGeer says it gave him hope. "When I was done I really felt hopeful that we are seeing an evolution of fatherhood and I think we are moving beyond the simplification of parenthood, you know, dads do this and moms do this. The notion of who does what is completely out the window."