Caleb Hawryliw is just 12 years-old, but he's going to perform in the Olympics…well, the Olympics of Irish dancing.
The Saskatchewan native, from the city of Saskatoon, will soon join hundreds of other dancers at the World Irish Dancing Championships, being held from April 13-20 in London, England.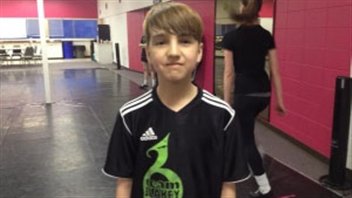 He's says Irish dancing is in his blood, "It's exciting that my feet move that fast," he said. "I don't even have to think while they move."
At the tender age of just four-years-old he got his first taste at a wedding where people were doing Irish dancing and he joined in.
His mother really got him started though at age six.  "He was really a hyperactive wild child," said Jeanette Hawryliw. "I was taking Irish dancing classes for recreation, and they had a younger kids' class, and I just thought, what better thing to have him do than jumping around for a couple of hours."
Caleb is the youngest of a group of five Irish dancers from Saskatoon heading to London to compete against the world's best. The others are; Ben Abelseth, Alissa Hildebrandt, Amy Hildebrandt and Danica McCormac.
They compete in a style  known by many as Riverdance, and features intricate steps and traditional costumes. Caleb says the dancer who most inspires him is Michael Flatley,  the famous "Lord of the Dance".
To prepare for this world competition, they have all been practicing intensely for several hours every day.
Caleb's mother meanwhile, is both proud and a little concerned about the competition which will be intense.
"I'm absolutely terrified for him, because he's not used to competing against so many other kids in his category, and there's 80 other boys," she said. "I don't want his little heart to be broken, but at the same time, I know he's worked really hard and he's going to do his absolute best."