You've been working intensely for three or four years in your particular scientific field, becoming very comfortable speaking in very complicated and arcane scientific terminology to others in that field.
Now, try to explain all that technical and complex work in simple terms, easily understood by non-scientists, and you have just 3 minutes to do it.  It's called the "three minute thesis", or 3MT.
Allison Sekuler (PhD), is associate Vice-President and Dean of the School of Graduate Studies of McMaster University in Hamilton Ontario where the Ontario provincial 3MT competition will be held this Thursday (Apr 24)
Listen
The idea began in Australia in 2008 and quickly spread around the world.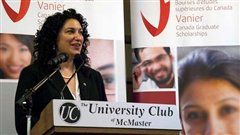 Canadian universities picked up the idea a couple of years ago, and this year all the universities in the central province of Ontario are taking part in the second provincial competition,
Winners from the Ontario championships will join 3 from the western regionals, and 3 from the eastern regionals to compete in the first Canadian nationals.
There is a two-fold purpose to the competition. One is to get scientists to learn better communication skills and how to explain their complex research in simple terms, and the other is to inform the public of the many and varied research projects being carried out at their universities.
Many who have gone through the process say the exercise has helped them better explain their work to funding agencies.
Dean Sekuler, who is also a specialist in cognitive neuroscience and visual perception also went through the exercise herself to see what the university's graduate students were facing.
She says it turns out to be quite a difficult process.
She says when you are so deeply involved in your research, it becomes a real challenge to start rejecting all kinds of aspects to pare it down to the bare essentials to fit into the three minute format, and simplify the language and concepts.
The entire competition and associated events will be live streamed on Thursday, with the presentations only archived and available afterwards on the website
McMaster (Thursday) live stream of events and 3 MT presentations.
Three Minute Thesis presentations only
McMaster's Associate Vice-President and Dean of Graduate Studies, giving her own 3MT® on "The amazing, aging, changing brain," as a demonstration for students.