They are tough, they thrill to rigours of the hunt and the outdoors anywhere from extreme cold to extreme heat. And they are women.
A US reality show has an international competition to find the "Extreme Huntress" and Jeanette Hall of Alberta is in the running for the final six who will travel to Texas to compete against each other in hunting and tracking skills
Listen
Most women are not familiar with, and therefore not interested in hunting.
As Canada has become more urbanized, many in Canada have been brought up to fear firearms and with a certain disdain for hunting.
For a small group of women however, its quite the opposite. They love the outdoors and the thrill of the hunt, with rifle or bow and arrow. They also respect the animals killed, and do not waste the meat.
Jeanette Hall is a taxidermist in Wildwood Alberta. She also feels that many urbanites have a certain disconnect from the fact the nicely cello-wrapped packages of meat in the stores were once living animals.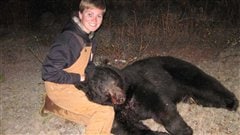 For her though, these too often 'factory-farmed" animals have been injected with chemicals and hormones that she attributes to an illness and as such, she only eats wild game that she has hunted, and grows her own vegetables.
She notes that hunters invest many millions of dollars in conservation efforts and preserving the environment, unlike many of the critics.
Two other Canadian women are finalists, Danielle Bergen  aged 20 of Saskatchewan, and Nikita Dalke, a stay at home mother from British Columbia. They join Jeanette Hall in the international competition which has been whittled down to 20 semi-finalists selected for the US competition to be named "Extreme Huntress".
Voting for the competitors to be chosen for the final six spots on the Extreme Huntress website continues to the end of the month .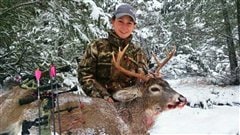 The mission statement of The Extreme Huntress™ Competition is "about preserving our outdoor heritage and create positive role models for women who want to participate in hunting". By watching or learning about the competition it's hoped women will see that hunting and the beauty of the outdoors is not just for men, and by participating may inspire their children.
Jeanette Hall "Game Preserve Taxidermy" site