Listen
There was so much controversy surrounding the firing of an outspoken professor at the University of Saskatchewan that he was reinstated Thursday afternoon, although not to all of his functions. The dismissal violated principles of free speech and struck at the very heart of what is a university in a democratic country, said James Turk, executive director of the Canadian Association of University Teachers before the reinstatement.
Prof. Robert Buckingham was fired on Wednesday from his position as executive director, or dean, of the university's school of public health. This came after he revealed the university had warned deans to not speak out about the university's controversial cost-cutting plan..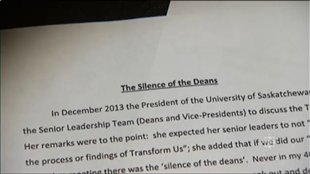 Prof defied gag order
Buckingham defied the order and notified the government of his province of Saskatchewan and the opposition in a letter entitled "Silence of the Deans." Shortly afterwards, his tenure was revoked, his benefits terminated and he was escorted off campus by security officers and told to not come back.
"I was absolutely appalled," said Turk. "It's unprecedented for a university president to fire any faculty member, much less a dean, for publicly disagreeing with her position as to the future of the university."
Firing violates academic freedom, says Turk
"What's unique about universities in any democratic society is that they're places where all aspects of policies, ideas, proposals can be examined, questions, and there's a faith that the best way forward will come as a result of vigorous debate," said Turk. "So there's a long tradition of academic freedom and encouragement of debate and freedom of speech at a university which this president has violated in an egregious way."
Four pillars of academic freedom
The university's provost said the right to academic freedom applies to teaching and research, and not to any leadership role Buckingham had at the university. Turk disagreed. "That's absolutely false. There are four principles of academic freedom: freedom in teaching, freedom in research,…freedom to comment on any aspect of what's happening in your institution—the direction it's going, any views you have about your own university, and then your right as a citizen in a democratic society without retribution by the university as an employer."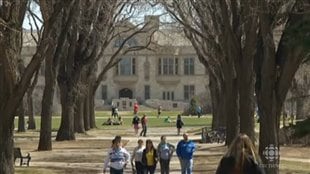 Universities are not like companies
Where companies can expect loyalty from their managers and employees, Turk said that is not true of universities. "What distinguishes a university, unlike other bodies, is (that) debate and discussion is welcome and is seen as fundamental to the university's mission."
Tenure designed to protect faculty
Tenure is awarded to professors in Canadian universities after careful evaluation of five years at their university, and it means they cannot be dismissed except for just cause and through a rigorous evaluation. This is to protect professors who often challenge popular ideas or those of powerful segments of society. Tenure has occasionally been revoked for example where professors are found guilty on criminal charges.
Issue still unresolved
Turk said his organization is pleased the university reinstated Buckingham but that his removal as the head of the School of Public Health is still unresolved. He argued that the removal suggests deans have no right to publicly advocate for their faculties, schools or colleges. A CAUT statement reads, "There is no place in any legitimate university for the notion that deans have a duty of loyalty to the president that overrides their right and obligation to speak publicly on behalf of their faculties, schools or colleges."