Diana Krall filled the streets last night.  One of the signature events of the Montreal International Jazz Festival, the free outdoor concert in Place des Festivals, was all hers.  Over 100,000 people, Montrealers and visitors alike, moved and swayed to the rhythms she and her very tight five-piece band delivered.
'Sultry' and 'spellbinding' are some of the words reviewers are using to desbribe her this morning after a performance that included classic tunes from the 1920's and '30's, such as 'We Just Couldn't Say Goodbye', up to more modern classics such as Neil Young's, A Man Needs a Maid/Heart of Gold.  And she did a beautiful solo version of 'Let's Face the Music and Dance'.
Diana Krall and Montreal began a great relationship when the Nanaimo, British Columbia performer was just starting out twenty years ago. "This is the best place in the world for a jazz festival, or anything else." the five-time Grammy Award winning artist, declared to the audience early in the show.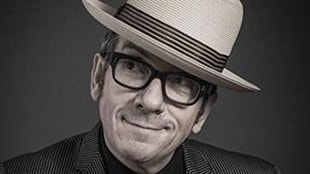 For the encore, husband Elvis Costello joined Krall onstage. He had a sold-out performance of his own earlier in the evening in the nearby Symphony Hall.
During his show, he was presented with the 'Spirit Award', by festival co-founder, Andre Menard.  The statuette, was inspired by a Miles Davis self-portrait, featuring his trumpet.  The award honours the 'quality and innovation of the work of an artist'.
In accepting the award, Costello said it had a special significance for him as his father and grandfather played trumpet, and he didn't completely follow in their footsteps.
Diana Krall's next album, called 'Wallflower' will be out on Verve Records in September 2015. It's a bit of a departure as Krall leaves the piano to producer David Foster, while she concentrates on singing tunes by Bob Dylan, The Eagles, Elton John, The Mamas and the Papas and a new tune by Paul McCartney.