It's no secret that people in western society are getting heavier. Obesity is becoming an epidemic.
Certainly the types and amounts of food many eat is a concern. Also a lifestyle of too much sitting in front of TVs and computers instead of getting outside and being active is a factor.
Now however, researchers have found something else.
We tend to overuse antibiotics and researchers discovered that when pregnant mice or newborns are given even low doses of antibiotics they have a tendency to be obese as adults.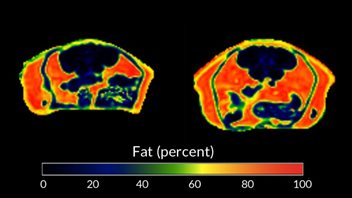 The report was published in the journal "Cell" on August 14.
The researchers found that it wasn't the drugs that affected the mice, but rather how those drugs changed the microbes in the intestines, known as the "microbiome"
We're using antibiotics as if there were no cost," says microbiologist Martin Blaser of New York University, who led the study. "The costs are not immediate but may be long-term.
It is known that the microbiome has an influence in "training" the immune system and metabolism and this study looked at the effects on baby mice when the microbiome is establishing itself.
Several groups of mice were tested including mice given low doses of penicillin during pregnancy and up to weaning about 4 weeks after birth. Others were given no drugs.
Microbiome returned to normal, but effects were life-long
In the weaned mice, the microbiome returned to normal a few weeks later but the changes in the immune system and metabolism lasted their into their adult life.  Treated mice became heavier adults, while treated mice fed a fatty diet became obese, and they had elevated levels of insulin, a precursor to diabetes.
The researchers could not speculate on the effect of short duration antibiotic treatment of children, such as for ear infections, would have long-term effects.
Canadian research shows similar effects in humans
In Canada, research by epidemiologist Anita Kozyrskyj of the University of Alberta in Edmonton seems to indicate early antibiotic exposure may affect human children in a similar manner.
In a report in the "International Journal of Obesity" of August 5,  she and her team found that babies treated with short courses of antibiotics weighed more as teens than children who had no antibiotics as babies.
Researchers are now looking more into the relationship between antibiotics and the microbial influence on human development and how they might create ways to treat childhood infections without adversely affecting future health.