Some of Canada's most riveting criminal cases are described by the lawyers who defended or prosecuted them in a book called Tough Crimes: True Cases by Top Canadian Criminal Lawyers.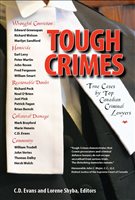 Stories that 'haunt' lawyers
Among them are essays on the trials of serial sex killer Paul Bernardo, Robert Latimer who killed his severely disabled daughter, the case of the Walkerton water tragedy which claimed the lives of seven people and sickened 2,300, and the school shooting in Taber, Alberta. The collection includes accounts from one forensic psychiatrist and 19 lawyers.
"What they (the readers) can take from them is an understanding, possibly more, of what the criminal lawyer…in a very difficult case is up against in their own mind and what sort of things haunt them afterwards," says Christopher Evans, lawyer and co-editor of the book along with Lorene Shyba.
ListenStories describe how criminal justice works in Canada
The cases were chosen for the emotional demands they made on the lawyers and "to inform readers" about the precepts of criminal justice in Canada, says Evans. He mentions the right of every accused person to a defence, the presumption of innocence, the burden of proof which remains on the prosecution, the concept of reasonable doubt and the importance of juries as triers of fact.
One essay outlines a case of wrongful conviction where the accused spent 20 years in prison for a crime he did not commit. This kind of situation has occurred several times in the Canadian justice system and some cases have made headline news.
"We feel that the publication of this book is important because our primary aim was to offer insights and wisdom from some of Canada's most prominent criminal lawyers discussing the cases they actually conducted," says Evans, "but also, to remind our readers of these immutable precepts of what we call our adversarial system of justice."