We often think of the Victorian era as one being very moralistic and prudish, but that attitude was around long beforehand.
Listen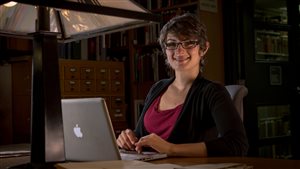 History PhD Jessica Steinberg (ASECS fellow) has just completed an additional scholarship for the American Society for Eighteenth Century Studies.  She's spent the last month looking through the collections of old texts at McMaster University's library collections.
In addition to old texts, religious sermons there are popular works by period authors like Daniel Defoe as well as Hannah More who wrote the Cheap Repository story, "The gamester: to which is added, The story of sinful Sally, told by herself in which one sin leads to another and eventually Sally's own tragic death."
She says that the church was very important in people's lives.  These rare old texts and documents show  how religious language associated with the seven deadly sins and the ten commandments was used to frame ideas around what she calls, "moral failure."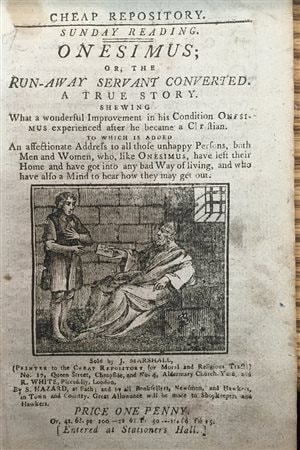 A "sin" at the time was not only against God's laws, but also was thought, and emphasized by the stories, to have immediate negative consequences for the individual. If amends were not made quickly along with a return to the straight and narrow righteous and pious path, then very bad things were bound to happen, to the person and also society and so it was important for people to not enter into "sin" or vice in the first place.
Steinberg says  "In the story of Sinful Sally, we see how an initial transgression leads to a life of sin, crime and ultimately Sally's demise. Once someone committed a transgression, even a seemingly minor offense, like gaming or over drinking, social critics and moralists believed they would inevitably commit more transgressions until they were ultimately caught and punished."
Part of the effort to ensure society didn't fall off its rails were the many short stories which were published at very low cost to try to reach a wide population at the time.
She notes that these tracts and sermons were being distributed at a time when English society was going through some upheaval  during the Reformation and civil war.
It is also a result in part due to an early example of urbanization as people move to the big city of London and it's anonymity.
She says there are similar lessons still to be learned today from the distant situation of the 18th century