Regatta Day is a civic holiday in the province of Newfoundland & Labrador, but it's dependent on the weather, the only holiday in Canada with such a proviso.
It's not so much rain, as it is the wind conditions that dictate whether the event can take place. If it's too windy it won't be happening.
And while the weather didn't start out great this morning, conditions have been improving through the day allowing the 100 crews racing to carry on with the competition.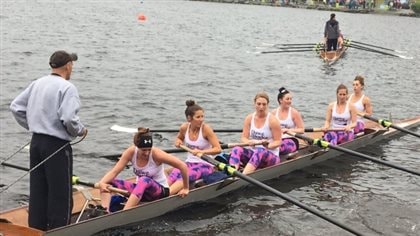 Proudly touted as the oldest continuous sporting event in North America, it takes place on the first Wednesday in August. on the city's Quidi Vidi Lake.
It is believed to have originated in the 18th century when the captains of ships docked in the harbour would have their crews compete for sport.
This regatta is one of the last fixed seat rowing competitions in the world, but there was a little commotion this year about some lubricated derrieres, providing an unfair advantage.
The Royal St. John's Regatta is also the only one in which teams have to round buoys, and return to the start line, in order to finish the race.
Of course the action on the lake is matched by all the action on shore as spectators enjoy the variety of food options.
Popular stands like the Hindu Temple are joined by some of the more recent additions such as the Soul Azteca.
Stephen Hammond, a games vendor told CBC some of those who set up game booths at the Regatta have been doing it for more than 50 years. 
Hammond said the weather has to be really bad to keep people away.
"People will come out anyway, as long as it doesn't downpour it will be fine," he told CBC from the lake.
(With files from CBC)