Haiti was spared, relatively speaking, the wrath of Irma.
The Atlantic hurricane, described as the largest in recorded history, was downgraded on Friday to a Category 4 hurricane.
Nevertheless, southern Florida was in full preparation mode with evacuation orders in effect in Miami, as the powerful storm is expected to make landfall there Saturday night, or early Sunday morning.
"I think Haiti was spared the worst; nature and God were very merciful to us"
Karl Paul, is the country director for CARE Haiti. He was in Port au Prince, during the storm. Now he is busy coordinating the efforts of his team in the different areas of the north and northeastern Haiti, the regions most affected by Irma.
Listen
On Friday morning, the rain had subsided and skies were even beginning to clear.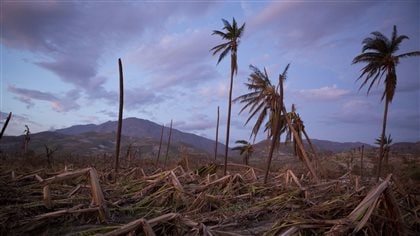 "We think that the hurricane had done less damage than was forecasted" Paul said.
"There are people in shelters and the civil protection department of the Haitian government is really coordinating the effort of the entire international community and NGO's and we are providing support to them"
CARE has teams out in the hardest-hit areas, assessing the needs in order to better work with the government.
"I think Haiti was spared the worst; nature and God were very merciful to us because we are still barely recuperating from Hurricane Matthew in October 2016"
But, Paul says, the flooding and minor damage that generally hits the poorest Haitians, is the challenge and they will be assisting in those areas.
Karl Paul credits the Civil Protection Department for being very well-prepared and organised, as a result the recovery now underway is going very well.
Approximately 3000 people were in emergency shelters, and waited out the storm in safety.
He acknowledges the heightened tensions prior to the storm, with the constant media coverage describing Irma as the largest ever recorded, the size of France Karl Paul says, but it is the route through the Caribbean that will make all the difference.
In last year's hurricane season it was southwestern Haiti that was devastated with more than 140.000 people displaced and 546 people killed, although some agencies suspect the ultimate death toll was three-times higher.
No one is resting on any laurels in the wake of Irma, however, with Hurricane Jose approaching. Karl Paul says it may track further up into the Atlantic Ocean. And as for the never-seen-before, third hurricane, Katia, now building in the Atlantic,that one Karl Paul says will head further into the Gulf of Mexico.