Sheila Kindellan-Sheehan is a gifted writer, but she didn't start sharing her talent until mid-life, in the wake of her husband's death.
"The core of, I suppose writing, has always been loss and, I suppose, survivor's guilt." she says.
Kindellan-Sheehan recently celebrated a mile stone with the publication, by Vehiclue Press, of her 10th book, 'In the Shadows'.
Listen
She has fans all over North America, and now a growing base in Russia.
"The challenge of every book is writing that one sentence that you're proud of"
She says the affinity for mystery or 'thrillers' began in her childhood with her older sister Kay, who included Sheila in her plots and plans.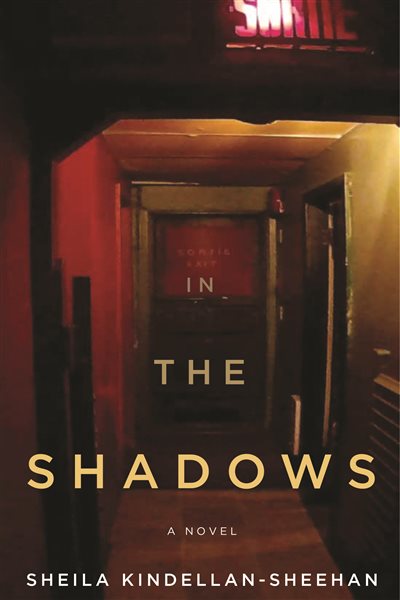 Some of those adventures, including taking baby Jesus on a sleigh ride, because he didn't get out much, and attempting to sell their mother's pots and pans, are recounted in her best-selling memoir, 'Sheila's Take'.
It's the story of growing up in a large Irish-Catholic, Canadian family.
"Loss and guilt and trust, I think are leitmotifs in my books," she says, because she is familiar with all these experiences and emotions.
Her husband died at 53 when Kindellan-Sheehan was in her forties.
A high school English teacher, with an M.A. in English, evntually the stories started coming.
Now she has fans approaching her with intriguing places around Montreal in which to set her stories, places Kindellan-Sheehan is grateful to discover.
One sojourn to see a location, took Kindellan-Sheehan down to the Wellington Tunnel on a cold and icy stormy night.
She remembers "sliding down hills where we saw the most majestic graffiti I've ever seen; it was akin to the Sistine Chapel".
"I realize with each book that I write, you meet such interesting people," she says.
The Russian connection began, her publisher told her, when some Russians had come to Montreal looking for books to bring back, and they liked two of hers.
They went on to buy up the rights to the next, and now her latest work also, is being translated.for the Russian market.
An avid athlete, Kindellan-Sheehan has always trained for 90-minutes daily. She describes herself as "somebody who likes challenge".
Writing, for her, is like taking on a hill when cycling.
"The challenge of every book is writing that one sentence that you're proud of," she says.
Is it just a matter of time until casting agents are looking for the woman who can bring her alter-ego, Lieutenant-Detective Toni Damiano and her quests, to the big screen?
I hope so.