Les Ballets Jazz de Montreal (BJM) has a beautiful new show, an homage to the city's bard, Leonard Cohen.
Since his death, at the age of 82 in November 2016, there has been an outpouring of honours and memoirs to Cohen, the internationally loved poet and singer-songwriter who always kept a home in Montreal.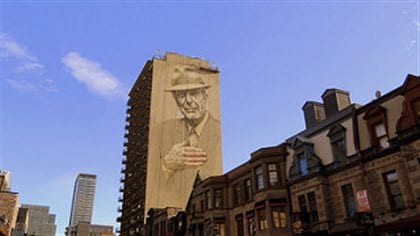 There are two murals now, there was a magnificent concert on the first anniversary of Cohen's death on November 7th. and an exhibit at the Musee d'Art Contemporaine that runs until April 2018.
But BJM's new show is a beautiful experience of the words and music of Leonard Cohen in movement.
"I think it was something important for him."
The much-loved tunes are there, the songs about the women he loved and admired, Marianne and Suzanne, are presented in very different ways, both equally moving.
And Cohen's Hallelujah, quickly becoming one of the most recorded songs of all time is included as well.
And so is the spirit of Cohen.
The show was originally conceived to coincide with Montreal's 375th anniversary, not Cohen's death.
"Never when we started this project did we think about him dying," Louis Robitaille, artisitc director of BJM, told the Montreal Gazette newspaper in a recent interview.
Listen
"We thought Mr. Cohen was eternal."
Four years ago, when it all began, Cohen was reluctant, at first. But Robitaille explains, Cohen knew the BJM dance company and knew its international reputation.
He did have provisos however; one being that the show not focus on his personal life, and secondly that it not be made up of what could be described as his 'greatest hits' but include music from his most recent albums also.
Robitaille says that Cohen's requests were very much in keeping with BJM's vision of the work, and he felt that Cohen trusted them. "I think it was something important for him." Robitaille says, and adds rather wistfully, that he never got to see the show.
"The day he left was a sad day, but also a great, a great loss, great loss for myself, for the project and for the world of course, for all his fans." Robitaille says he believes Cohen "is still with us".
The show received enthusiastic responses and accolades in both Montreal and Toronto following premieres in December.
Louis Robitaille says it was an honour and a gift to have received permission to create the show.
Now the company is working on the upcoming schedule for return performances in both Montreal and Toronto, as well as the international tour for 2018.