Tanya Talaga is an award-winning journalist and the author of 'Seven Fallen Feathers: Racism, Death, and Hard Truths in a Northern City'.
And now she is the 2018 Massey Lecturer in the series that the CBC has been sponsoring since 1961.
Entitled "All Our Relations: Finding the Path Forward" the series will explore the legacy of the cultural genocide of Canada's indigenous peoples, and the attempts at reconciliation.
The Massey Lectures are an annual event, a five-part series of lectures on a topic of  political, cultural or philosophical merit in Canada," delivered by a noted scholar, that takes place in five different cities across the country.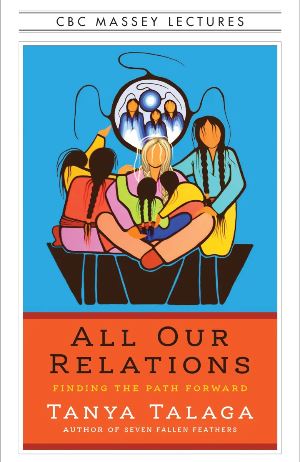 They were created to honour Vincent Massey, then Governor General of Canada.
The original intention was to "enable distinguished authorities to communicate the results of original study on important subjects of contemporary interest."
 Tanya Talaga is joining some distinguished company.
Former lecturers include Northrop Frye, John Kenneth Galbraith, Noam Chomsky, Margaret Atwood, Ursula Franklin, and Nobel laureates Martin Luther King, Jr., George Wald, Willy Brandt and Doris Lessing.
Her book, 'Seven Fallen Feathers: Racism, Death, and Hard Truths in a Northern City' looks at the treatment of seven Indigenous high school students in Thunder Bay, Ontario.
From 2000 to 20011 they seven were found dead in suspicious circumstances. They had all been hundreds of miles from home in search of an education.
The book was among the titles considered this year for the CBC's Canada Reads contest.
The first Massey Lecture takes place October 16, 2018 in Thunder Bay, Ontariol
(\With files from CBC and the Toronto Star)