Since the beginning of WWI, the battles had been raging back and forth with little advance by either side, and only the horrific loss of life in the hundreds of thousands to show for it.
In late 1916, a major Allied offensive was planned for the Arras region of France, and the almost impossible task of taking a high ground known as Vimy Ridge was given to the Canadians. The Canadian divisions, previously spread out among the British army,  would now fight for the first time in the war as a unified force, and under Canadian command.
Vimy Ridge had originally been capture by the Germans early in the war, Over the years they had strongly re-inforced and built up massive defences on the ridge. They then held the ground against repeated French and later British attacks at the cost of well over 150-thousand Allied lives.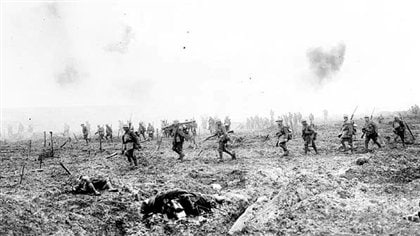 Using newly developed Canadian tactics, and with much planning, the attack began in the early morning of April 9th in a a snowstorm.  The Canadians quickly advanced and after days of ferocious battle, by April 12th, the Canadians had taken the entire ridge, the only real success in the Allied offensive. 
It was, as always, a bloody victory with almost 4000 Canadian dead, and over 6000 wounded. Although it was not of enormous strategic importance in the war, the rest of the Arras offensive mostly having been without success, it was an enormous morale builder for the Allies, and certainly for Canada.
It also solidified the reputation of Canadian soldiers as outstandingly brave and determined amongst both the Allied and German armies.
From this point on in the war, Germany was on the defensive.
In August, Canadians won another almost impossible victory on Hill 70.  Later in 1918, the last months of the war became known as Canada's 100 Days, as Canadian whose reputation for valour and determination was clearly recognized, were used as shock troops winning every battle they were involved in.
However, because Canadians had fought together and under Canadian command, the victory at Vimy Ridge is often cited as the battle in which Canada became recognized both internally and externally as a distinct nation.