In the wee hours of April 9, 1917, tens of thousands of  young Canadian soldiers, lay damp and shivering in the muddy trenches in northern France
Among them was a 21 –year old medical student from Hamilton in southern  Ontario, Lt. Claude Williams.
The subaltern wrote often to parents back home.
"Dear Father, … If Old Kaiser Bill [nickname of the German leader Wilhelm II] only saw the preparations that have been made, he would throw up the sponge, I am sure"
"The attack was at daybreak, we had to lie in the open trenches all the night: the morning turned out grey, cold and drizzling, everybody shivering and chilled to the bone."
"At the arranged time, to the absolute second, suddenly, as dawn was breaking, every gun on the whole front opened up. The roar of the heavy guns was deafening,"
H-hour was 05:30, and the men arose and began the "Vimy glide" advancing 100 yds every three minutes behind the similarly advancing artillery shells falling several hundred yards ahead.  This "creeping barrage" was a new Canadian tactic designed to keep the enemy in their trenches away from their guns, until the Canadians were upon them.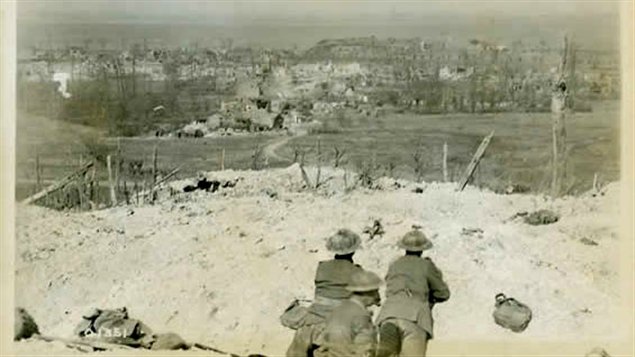 Still enemy fire was intense.
"At one place, we heard a Canadian who was lying deep in a shell hole calling out, 'Water, water!'" Williams wrote. "The top of his head had been blown off, exposing his brain. We could do nothing. Orders were that we were not to stop to attend the wounded. They must wait for the stretcher bearer."
The Canadians continued to advance in spite of the incredible resistance.
By April 12, the Canadians had taken all of the ridge having made greater advances, and captured more arms, and more prisoners (4,000) than any other Allied offensive since the start of the war.
The victory caused immense pride back home. Canadians had begun the war as colonials, as subordinates, but through their demonstrated valour on several occasions earlier, and now with this huge success, were now Allies; they had succeeded where others had failed.